The first release in a while from friend of Ask.Audio and Reaktor developer Flintpope is a multi fx unit for Reaktor consisting of four effects with up to seven dedicated controls each. And you can grab it now for less than the price of a coffee! Here's the details.
Reaktor 6 Multi FX by Flintpope
A unit of four effects: Echo, Filter (4-pole Hi-pass, 4-pole Lo-pass), Reverb and Chorus - use any effects combo by dialling the relevant level and mix up or down. Each effect comes with between four and seven dedicated controls for ultimate tweak-age!

REQUIREMENTS
You will need the Reaktor 6 MFX plug-in full version. This installs as standard alongside the normal Reaktor software (don't forget to use the MFX version or there will be no sound).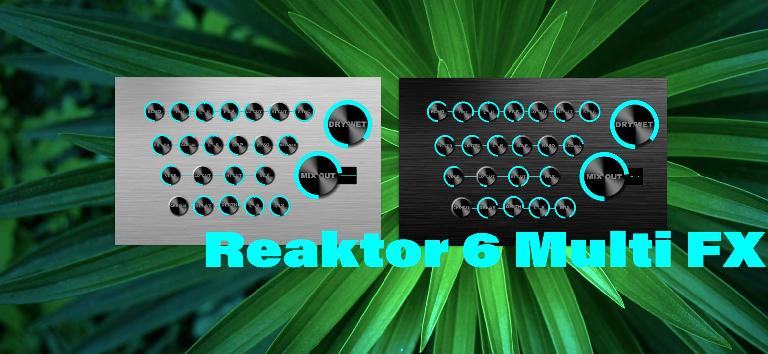 HOW-TO
Unzip the Multi FX file to wherever you keep your music stuff. Open up your DAW, choose an instrument and drop-in Reaktor 6 MFX in the chain after it then open Flintpope Multi FX from wherever you have saved it. OR use Reaktor MFX/Flintpope Multi FX in your DAW effects channel.

OR use it alongside another Reaktor 6 Ensemble by using "Import Ensemble" inside Reaktor. There are seventeen presets that aim to show some of the capabilities of the box.

TECHNICAL DETAILS

Each dial has a dedicated info panel that opens up in the side pane of Reaktor. Or, if you have "Show Info Hints" selected in the "View" section of the Preferences drop-down, the info for each dial reveals itself if you hover the mouse. An oscilloscope shows if a signal is passing through. View A is a dark skin, View B is light.