You might remember learning - or being made to learn - the recorder when you were at school. It wasn't always a bundle of fun. But now Davide Mancini, the man behind Sound Machines and partly responsible for the IK Multimedia UNO Synth, has come up with a new recorder for the new century. Meet re.corder, with all the technology you expect from a modern instrument.
Re.Cording
re.corder is a new take on a traditional instrument used worldwide in schools as a simple and durable tool for music education. By enclosing simple but powerful electronics into a mute-able, fully acoustic wind instrument, a whole world of functions opens up. From enhanced school teaching, to a class orchestra, to an app-based virtual teacher, up to a standard MIDI controller for the music production studio, re.corder, with its portable nature, is the instrument for everyone.
App Magic
The bundled app (iOS and Android) puts several applications at your fingertips! The two UI versions (for children and for grown-up girls and boys!) provides teaching functionality, a comprehensive sound library, a multi-player environment and a simple yet sophisticated looper to create music everywhere you are.
Inside the re.corder there is a set of technologies that works smartly and silently to achieve the functions that allow you to feel a real instrument in your hands and a powerful controller when linked to an application or to software.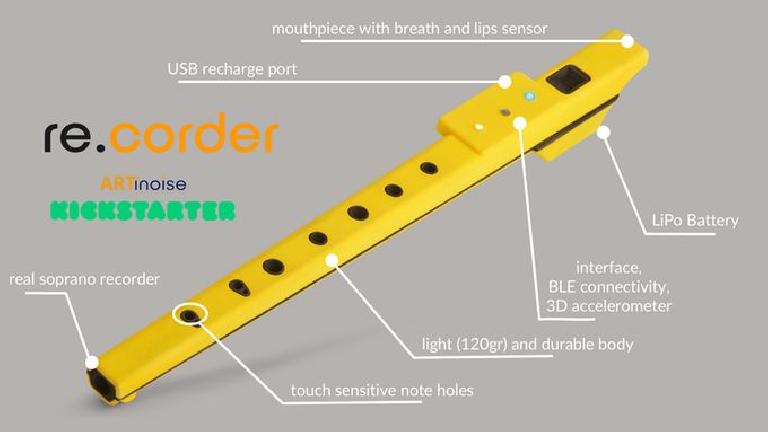 The breath sensor is a high performance pressure sensing device that can measure the strength of your blow, and transform this information into an expression parameter. This is used by the app and most software as a modifier for modulation or other sound characteristics. The mouthpiece of the re.corder can also sense your lips, understanding when you really want to play or not!

Under every note hole there's a single or dual touch sensor that detect your finger and the note that you want to play. The software can be modified to swap fingering styles or to allow impaired mobility players to have their own custom fingering map.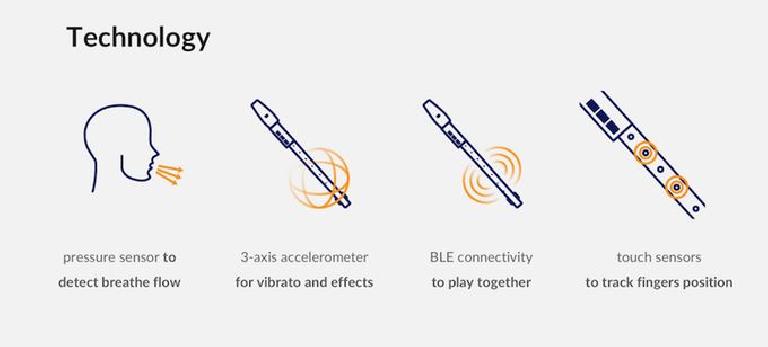 We didn't leave out anything and in fact, to allow extreme expressivity and many other applications, we implemented an inertial platform with a 3D accelerometer MEMS. This sensor is capable of interpreting the movement and the attitude of the product, opening the possibility of modifying the sound following the player's gestures.

Under the hood, there is a powerful MCU that reads the sensors and manages the quick BLE connectivity with the app or the host computer and software. Everything runs for several hours on battery, easily rechargeable with the standard microUSB connector. When out of juice and in desperate need to play, just connect your power bank and the re.corder will recharge itself while allowing you to play without any problems!