Tuesday 5th December 2017, Sydney Australia –Leading pro audio manufacturer, RØDE Microphones, has released its first Audio Interface – the AI-1.
The AI-1 USB Audio Interface adds studio-quality input and output capabilities to your computer, making home recording easier than it has ever been. With its high quality NeutrikTM combo jack input and discrete Class-A preamp, you'll be able to connect either a microphone, guitar or a line level instrument, such as a synthesizer.
Available as part of The Complete Studio Kit, the AI-1 comes with RØDE's peerless NT1 large diaphragm condenser microphone, SMR shock mount with popshield, 20 foot XLR and USB C/A cables – home recording is as easy as opening the box.
Damien Wilson, CEO of RØDE Microphones added, "The AI-1 offers pro-studio quality at a home studio price point. It's simply the best in its class – and it's also incredibly easy to use, thanks to thoughtful design and Australian Made quality. The perfect companion to any RØDE microphone."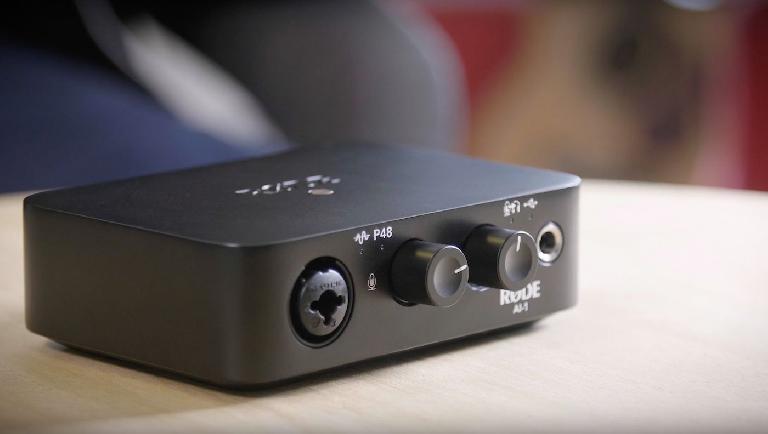 The AI-1 allows zero-latency playback by enabling the direct monitoring feature and playback via headphones/speakers with the high quality discrete headphone amplifier. To ensure the AI-1 is truly versatile it features 48V Phantom Power and is class compliant – so there is no need to install any drivers.
Simultaneous I/O: 1 x 2
Number of Preamps: 1
Phantom Power: Yes
Bit Depth: 24-bit
Sample Rates: 44.1 kHz, 48 kHz, 88.2 kHz, 96 kHz
Analog Inputs: 1 x Neutrik XLR-1/4" combo
Analog Outputs: 2 x 1/4" (impedance balanced), 1 x 1/4" (headphones)
Direct Monitor: Yes
USB: 1 x USB Type C
Bus Powered: Yes
OS Requirements: Mac OS 10.10 or later, Windows 7 or later
Power: USB bus-powered
For more information and full specs, visit www.rode.com/ai1
Price: AI-1 Kit is around £235 GBP. We're waiting for pricing on the AI-1 as a aseparate purchase.
For a limited time only, every sale of the AI-1 comes with a FREE version the recording software Ableton Live Lite, redeemable at www.rode.com/ableton.