RAVEN is a 100% analog synth being developed by Birdkids, an independent Austrian outfit. According to the developers, the system-architectural idea was about going back to the basics of subtractive synthesis. They wanted to capture the raw, non-linearity and honesty of a 100% analog circuit. The main engineering challenge of RAVEN was consolidating a highly complex conglomerate of modular, discrete designs into a slim 3U/42HP (Eurorack) form-factor resulting in a uniquely sounding subtractive, semi-modular, high-performance, musical instrument.
RAVEN is comprised of:
Dual, wide-range Voltage Controlled Oscillators.
The original TheBateleur (â"‡ pending) Voltage Controlled Filter.
Two Voltage Controlled Amplifier outputs -
A high-performance THAT2162 Blackmerâ"‡ VCA and an
Optocoupler VCA reminiscent of legendary West-Coast designs.
"To us, analog is about texture, it's about depth of emotion - it's the beauty in imperfection. Those are human values, they're timeless, they enrich our everyday experiences. That is why we've developed RAVEN, a 100% analog, semi-modular, synthesizer voice.
RAVEN is the synthesizer we've always dreamed of making from day one. Building on a legacy of years of technological research, design and manufacturing as well as the tremendous success of our previous modular line, TheBateleur, we had quite a few challenges to face during the creation process."
Features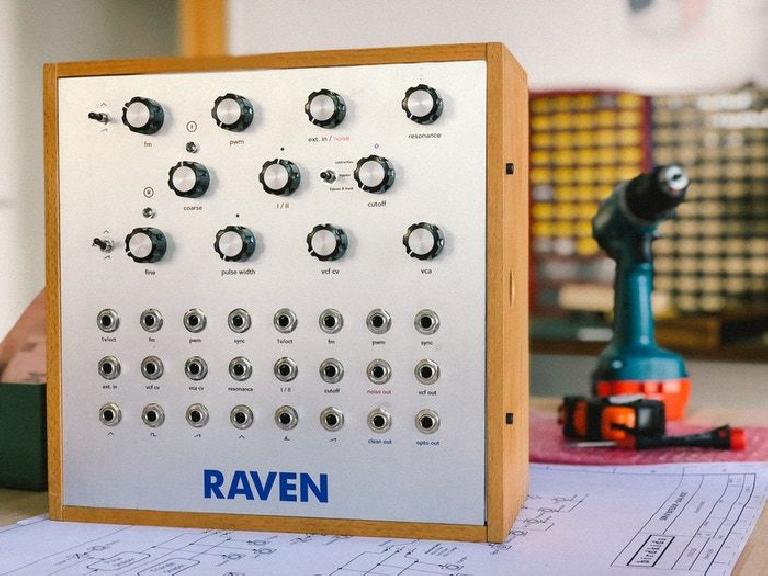 RAVEN combines the simplicity of a performance-friendly, semi-modular synthesizer voice with fully-modular, infinitely flexible, workflow possibilities by assigning Control Voltage I/O's at (almost) every point in the signal workflow. Each modular component can be seen as a standalone, self-sufficient entity.
The VCF can be bypassed to allow for a VCO (I+II Sum) to VCA operation and thus used as a standalone VCF or third voice in self-oscillation, perfectly tracking 1V/Oct by choice.

Input
1V/Oct (Pitch tracking) relative and absolute options for both oscillators and VCF.
FM (Linear Frequency Modulation) per VCO.
PWM (Pulse Width Modulation) per VCO.
SYNC per VCO.
Crossfader between VCO's.
External Audio Signal Input.
VCF Cutoff.
VCF CV Input.
VCF Resonance.
VCA CV Input.
Output
Individual Waveform outs for each VCO (Saw, Triangle, Pulse / Square).
Noise Output.
Filter Output.
Clean Out (Linear THAT2162 Blackmerâ"‡ VCA).
Opto Out (Optocoupler VCA, West-Coast style response).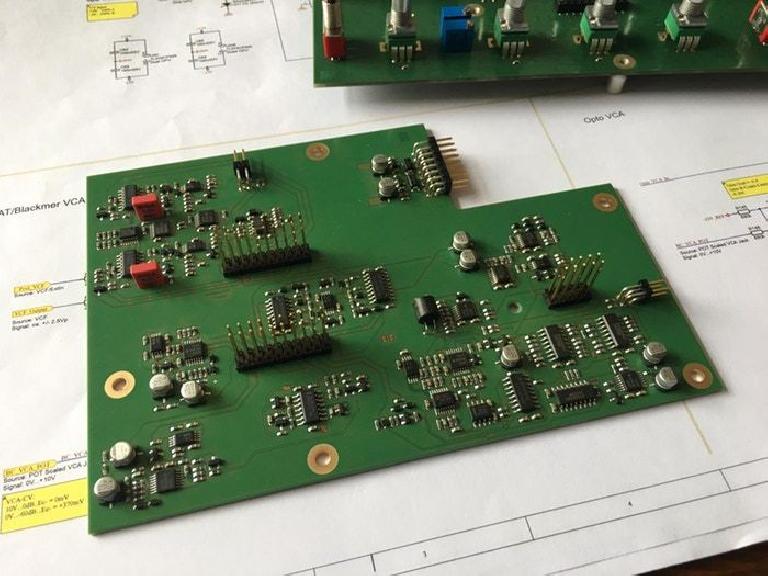 Controls
Waveform selection toggle per VCO.
PW position for VCO II.
PWM amount either individually for VCO I or normalized for both.
FM amount either individually for VCO I or normalized for both.
Coarse Tune for VCO I (relative or absolute via jumper).
Fine Tune for VCO II (relative).
Crossfader position VCOs I/II.
External Audio Signal Input Amount.
VCA CV Amount / Initial VCA Gain.
VCF Cutoff position.
VCF Mode switch*
VCF CV Amount.
VCF Resonance position / CV Amount.