Keith McMillen's just announced the QuNexus 2.0 Firmware Update and QuNexus Software Editor 2.0 are now available to all QuNexus users. (See here for the Ask.Audio QuNexus review from 2013).
"It is hard for a company, especially one as small as we are, to invest so much into an "old" product. This industry is built around product life cycles that typically range from 18-36 months, with new product refreshes that put previous versions at end-of-life with no more updates. It's a very disposable and trend driven business model, one which requires a constant churning and burning of ideas, instruments, and people. We hope that you see the value in what we have done with QuNexus, and that we are making a statement about our new approach to our customers and products."
-Eric Bateman, President of KMI
What's New in QuNexus 2.0?
Three track Arpeggiator/Step Sequencer with 32 steps per pattern
Keyboard and Sequencer are fully MPE compatible. Store up to 8 patterns with pitch, velocity, tilt, and pressure data for every step.
Brand new key sensor algorithm inspired by K-Board Pro 4 for better playability and feel, with more customization.
More CV output assignments, including CV gate/pitch out from multiple tracks (paraphonic voicing).
Completely overhauled editor with real-time editing that stays in sync with the QuNexus hardware.
QuNexus Retrofit Kit
The new QuNexus 2.0 firmware is compatible with the existing version of QuNexus, and Keith McMillen is selling a Retrofit Kit to make that process easier! The QuNexus Retrofit Kit includes a KMI MIDI Out Adapter cable, as well as decal stickers to update the labeling to match the new 2.0 sequencer firmware.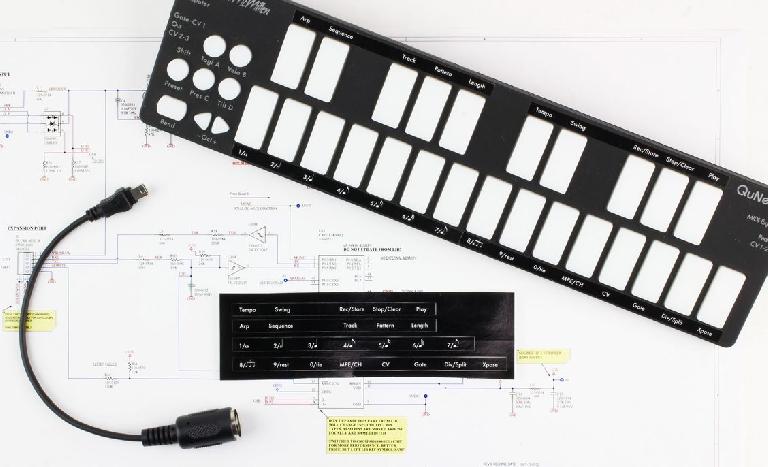 QuNexus Full Upgrade Bundle

Upgrade to the new RED ABS-Polycarbonate enclosure and save $5 while stocking up on adapter cables. This Bundle includes the new enclosure with red feet, the new MIDI Out Adapter cable, and the CV Cable Kit.

Learn about MPE at Ask.Video