C'est incroyable le nombre de boucles de batterie, percussions, riffs de guitare, et plus viennent avec la Raison . Il ya tellement, en fait, que ce serait vraiment facile de construire des chansons à partir des boucles incluses long ... Et beaucoup de gens.
Sometimes, you may run in to situations where you are working on a new song, and realize that a loop that you used on another track would work perfectly in this new song.
But won't your adoring fan base notice that you're using the same loop a lot?
C'est un domaine où les boucles de Reason sont extrêmement puissants! Parce que les boucles de Reason sont en fait des fichiers Rex vous pouvez très facilement restructurer à toutes les boucles de nouveaux, car ils sont partiellement construit à partir de MIDI.
Dans ce tutoriel, je voudrais vous montrer un moyen facile de faire rapidement une nouvelle boucle d'une boucle existante.
Etape 1
Créer une table de mixage (pour décence) 14h02 et un docteur Octo Rex .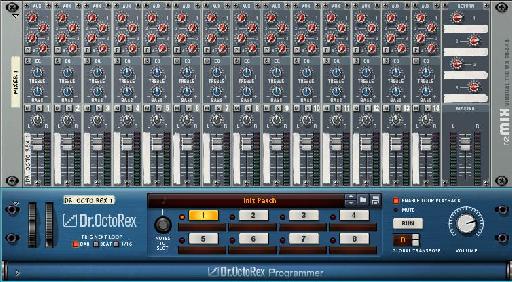 Etape 2
Appuyez sur le bouton Parcourir sur le Dr Patch Octo Rex et charger jusqu'à Batteries acoustiques / Collège 130-1 du dossier Dr Rex Octo correctifs.

Étape 3
Ouvrez le Dr Rex Octo lecteur en appuyant sur la petite flèche dans le coin inférieur gauche. Appuyez ensuite sur la boucle de copie à la piste bouton. Ce sera la terre quatre copies de la boucle dans la fenêtre de votre séquenceur, ou plus ou moins selon l'endroit où vos repères ont été placés en boucle quand vous avez commencé l'exercice.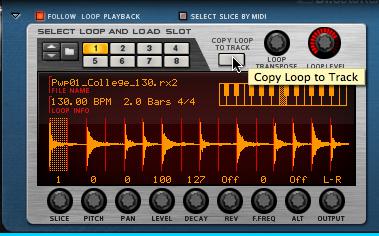 Etape 4
Réglez votre localisateurs boucle au début et la fin d'une des répétitions en boucle, puis activez la fonction de boucle sur la barre de transport. Cela va nous permettre de jouer cette copie une boucle particulière, encore et encore dans le séquenceur. Ensuite, sélectionnez la boucle elle-même.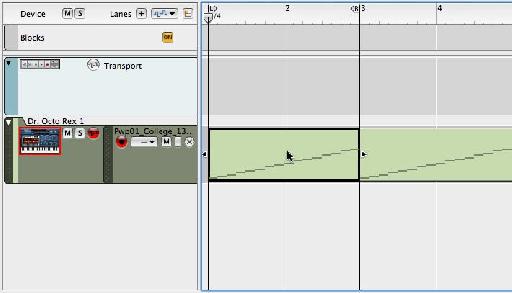 Etape 5
Désactiver la lecture en boucle sur le Dr Rex Octo en appuyant sur ​​le bouton Activer la lecture en boucle. Si ce n'est pas allumé en rouge, la fonction est désactivée. Cela permet de garder le Dr. Rex Octo de jouer sur le dessus de la copie ci-dessous en boucle quand on a frappé le bouton de démarrage.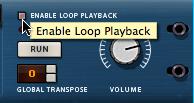 Etape 6
Appuyez sur F8 pour ouvrir la fenêtre Outils. Assurez-vous que vous êtes sur la page Outils Séquenceur de la fenêtre Outils. Dans Notes Alter la section de la page Outils, fixer le montant à environ 40%, et appuyez sur Alter.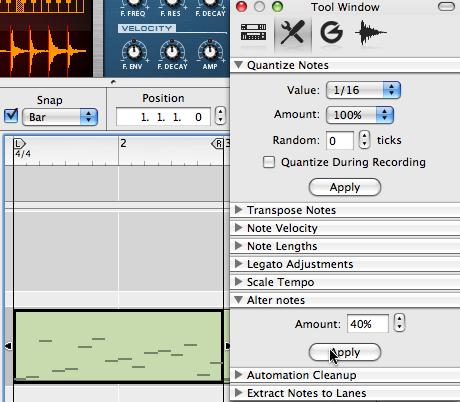 Essayez de jouer la boucle maintenant, car elle joue long, essayez de modifier des notes, encore et encore. Si vous obtenez une boucle qui vous plaît dans la fonction Remarques Alter, copiez simplement la boucle à un emplacement différent, puis appuyez sur Alter note à nouveau. Vous pouvez faire de nouvelles boucles toute la journée, en appuyant simplement sur «Notes Alter».
Je voudrais aussi vous inviter à régler le pourcentage d'Alter incréments différents. Incréments plus petits, et plus va augmenter l'intensité de l'évolution dans votre boucle.
C'est un truc vraiment amusant et facile pour construire des parties de batterie différent pour une chanson. Vous pouvez générer comble, les pauses, et de plus vous le faites en cliquant simplement!
En savoir plus Motif trucs et astuces.