Have you just purchased a new DAW software package like Logic Pro, Reason, etc? Have you had a DAW package for a while, and feel like your workflow could be a little quicker? In this quick tip, I'm going to offer you a few suggestions that can really optimize your workflow right off the bat! With some minor adjustments you can make major enhancements to your workflow within your chosen DAW!
Read on to find out how...

Find your sounds!
All of us have those signature FX and Instruments that we always use within a song. For example, I tend to have a Quad-Tap delay somewhere in my songs, along with a synth bass sound. As you work through your first projects, make a point to organize your settings into a 'ME' directory. This saves you time later, in the sense that you don't have to look around for certain presets to match 'your sound', you already have them organized!
For example, once you have an instrument of effects setting you like in Logic Pro, click-hold on the Channel Strip Setting Button and choose 'Save Channel Strip Setting as...' and choose 'New Folder' at the bottom of the 'Save As...' window.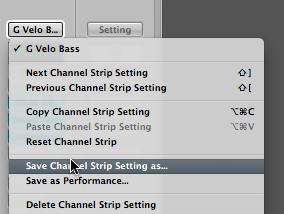 Save the setting of choice within this folder. Don't forget to give it a meaningful name too. Once the folder is created, all sounds saved within will appear in you library!

Reason also gives you an option like this within it's patch browser in the form of a 'Favorites List'. Press Command+I in Reason, select a sound you like. In the mid section of the Reason Patch Browser, press the little button with a star and a plus sign, shown below. This will create a favorites list, in which I would suggest renaming by double-clicking on it.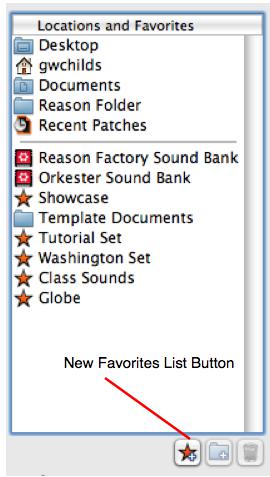 Once your list is created, simply drag the preset into the Favorites list. From now on, your list will appear in the patch browser. And, if you click on the favorites list, your sounds will there waiting for you!
Templates
Every DAW worth it's grain of salt allows you to set up templates. This is very worthy of your consideration because templates allow you to, for example, start with a set of auxiliaries set up with all your favorite effects. Also, you can even set specific EQ settings you spent hours on before. But to make things even better, you can also save specific instruments, with specific settings within your templates. Even controller assignments that you spent hours setting up! Check your owners manual and the relevant tutorials at macProVideo.com for info on how to set up a template!
Setup your MIDI Controllers... Fully!
Don't be content with just having your MIDI controller set up with a default 'MIDI Controller' setting. Make sure you have all of your drivers installed for the MIDI device AND, make sure that your DAW does, in fact, list the name of your MIDI controller within it's preferences. The reason that this is important is that you may miss some serious functionality with all of those knobs and buttons at the top of your MIDI controller.
For example: Reason will, when set up properly, display a picture of your controller within it's MIDI preferences, but this is far more than cosmetic. This means that all of your knobs and sliders will be instantly mapped once you create an instrument in Reason. Don't miss this important feature!
These are a few minor suggestions, but over a period of time, they can really save you from digging around and can help make your sessions fun and keep those ideas flowing.