Delay is one of the most useful spatial effects at our disposal but often the effect can sound a little generic in nature. To add an extra edge to your delays you can combine different processes and effects.
Read on to find out how...

Using Modulation Effects with Delay
One of the most simple ways to liven up a delay return is to add a modulation based effect to the chain. Anything from a mild chorus to an intense, high feedback phaser will add movement and width to your delayed signal.
My personal favorite is the phaser, I feel it adds a real psychedelic edge to any delayed sound. Try inserting an intense phaser effect straight after your delay line on the return channel. Remember to mix some of the dry signal in so that you hear the delay though!
If you find this a little intense you can step down to a chorus, ensemble or flanger. These effects will not be quite as pronounced but they will certainly transform your delay sound.
Audio: A guitar line treated with just stereo delay:
Audio: And a phaser is added:
Delay and Reverb Combos
Delay and reverb can work really well together as long as they are mixed correctly. If either one of these effects is too intense the end result can be pretty confusing to say the least.
Try inserting both reverb and delay plug-ins on your return channel and sending some signal to it. Make sure you experiment with different decay and feedback settings... I would start with lower, less intense settings and move them both up until you find what works best for your sound.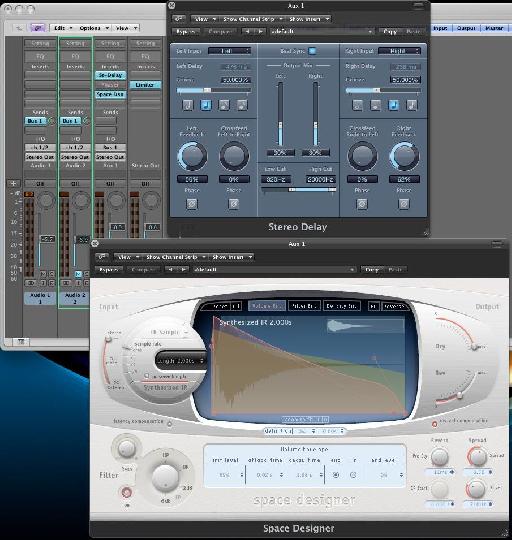 Also try different orders of effects (reverb first, delay second and visa versa) as this will drastically alter the sound. Which ever order you choose be sure to mix the first effect at 100% wet and the second at around 20-40%. This will allow the first effect to breathe and the second to be introduced as an insert.
Audio: A guitar lick with just delay
Audio: And now with some reverb added directly after the delay:
Distorted Echoes
For something a little edgier try adding a distortion to your delay lines. Combine this effect with high feedbacks and stereo panning for something extra special. You can hear in this example that great results can be achieved.
Audio: The delay and distortion mix in action:
Filtered Delay Lines
Of course this list could go on forever but another favorite of mine is filtering high feedback delays. Really dubby effects can be created here and the filters resonance and cut off can be automated to add extra movement.
Try using the filter directly after the delay effect for maximum impact here. You may even have a delay plug-in with a built in filter section. A great example of a filtered delay is Ohm Force's legendary 'Ohmboyz' plug-in. Well worth a try if you like this sort of effect.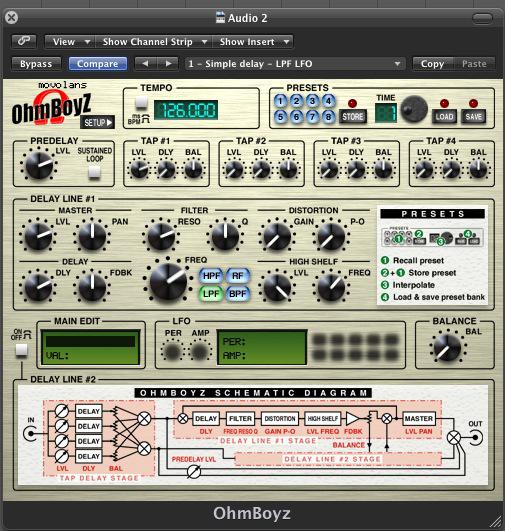 Ohmboyz features a built in filter effect
Audio: Ohmboyz doing it's thing:
There's lots more creative applications for using delay effects in your music. Check out the tutorials here for more info.