Gone are the days when you had to export your audio from Reason to edit it. Let's face it this was always a convoluted task, so the introduction of a Sample Editor built into a few select instruments makes total sense.
Here we take a quick look at the Sample Editor in general... how it works, where it lives and what it can do.
Finding the Sample Editor
The Sample Editor is available in a few instruments in Reason 5, not surprisingly the ones with access to samples! The NN-XT, NN-19 and Kong all have access to the Sample Editor.
The editor remains exactly the same wherever you access it from, so no need to worry about any instrument specific features. The only thing that does differ is the way we access the editor.
Depending on which instrument you are using the method you use to access the Sample Editor will change a little. The most straight forward access is probably through Kong's 'Nano sampler' generator. A simple 'Edit Sample' button is all you need to know about here.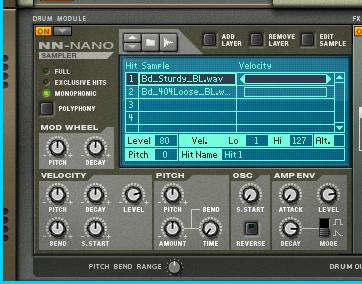 Other instruments such as the NN-XT and NN-19 samplers require you to actually sample something first. This is achieved by using the dedicated sample button, once you are recording you can gain access to the editor directly from the Sampling Window.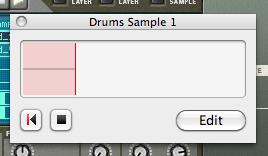 If you are a fan of the sample management system in the Tool window, it's worth knowing you can also access the editor in this window.
Using the Basic Functions
With the Sample Editor open you will be greeted by a clearly laid out interface with all the controls you might need to knock even the most demanding samples into shape.
Everything you would expect to see in a pro Sample Editor is here. You can normalize, reverse, crop and fade using the shortcuts at the top of the Editor's interface. You can also select specific areas of your sample to edit. To do this simply click and drag over the part of the sample you want to focus on.
There is a dedicated playback button to audition your work and next to it you will find a solo button, this will isolate your playback and mute any other active elements in your mix. This is very useful for 'on the fly' editing and helps you to focus on the task in hand.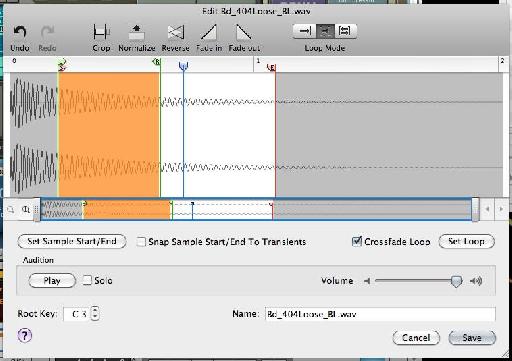 And the Loop Modes...
Apart from it's basic functions Reason's Sample Editor also features a great looping tool. Simply select some of your audio, move the start and end points, choose a loop mode and hit 'Set Loop'. You have the choice of a standard loop or an alternating forward/reverse mode here. Once all this is set you will have your first loop up and running.
To ensure you get completely smooth loops try using the crossfade loop function. This will add a small crossfade at the exact point of transition smoothing out any clicks or pops usually associated with traditional looping.
Once you have completed your editing hit Save and you will be magically transported back to Reason's rack with your newly tweaked sample sitting happily in the memory of your chosen instrument.
Learn more about sampling in Kong here!