When you need to fine tune MIDI events or CC data don't zoom right into the Piano Roll or Hyper Editor... turn to Logic's Event List. To the uninitiated, The Event List can seem like a... well, numerical list-like place. It is a editor, which in my humble opinion, makes numerical values sexy! Furthermore, it is a very convenient way to accurately view and fine-edit MIDI data by position, channel, Pitch/Number, value and length. As with most parameters in Logic you can edit a value by double clicking on the specific text or dragging the numbers up or down to alter the values. Used in conjunction with your 'visual' MIDI Editor of choice the Event List can get you working more efficiently with MIDI data.
Step 1 - Where is it?

The Event List can be found in the Lists area and opened from the tab. Alternatively, you can open the Event List as a separate window from the Window Menu.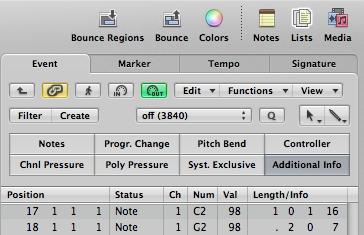 Step 2 - Getting Around

The Event list shows you the contents of a selected MIDI region by default. In the picture below we can see that one region Sub Bass 5 is selected and it's contents are displayed in the Event List.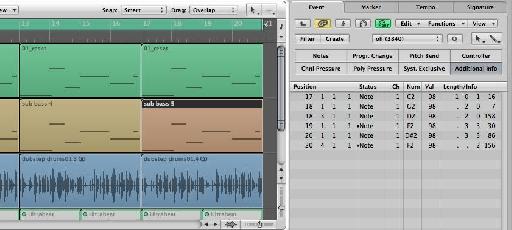 You can navigate your Arrangement by clicking on the hierarchy button (top left of the Event List) to view all the regions by position, name, track number and length! Double click the name of a region in the List to view it's contents.


Step 3 - Filter Display

When you record MIDI data to a track, it's possible that you wish to view/edit specific data, e.g. Note Events, or perhaps you wish to only see the Pitch bend data as you decided your performance on the pitch bend wheel needs editing... No problem in the Event List. Simply click on the event type buttons which you wish to be filtered out from the display in the Event List.
In my example I've selected all the event types except the Pitch Bend. All other data event types are hidden from view. I can now edit individual Pitch bend data or select all (Command + A) and delete them if I wish to remove it completely.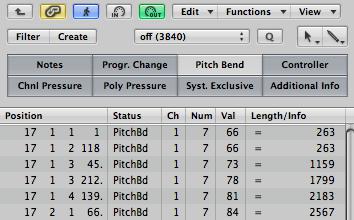 Step 4 - A Full-Blown MIDI Editor!

With a bit of exploring you'll find the Event List has many of the same tools and commands as the Piano Roll and the other visual MIDI Editors. I find the most convenient way to use the Event List is in combination with my preferred MIDI Editor, the Piano Roll. It makes it a cinch to move, resize, change the velocity, pitch, length in small degrees and see the resulting effects within the Piano Roll. I also love being able to easily view selected MIDI events and adjust their values at tick level numerically.
You should note, that regions and notes that have a black dot to the left of their name are muted. So in the picture below, F2 at 19 1 1 1 and F2 at 20 4 1 1 1 are both currently muted.

Step 5 - Event Float

Whether you're working on a massive 27" screen or a humble 13" display, screen real estate in Logic is always at a premium. Having multiple editors open can take up a lot of room and be a distraction. So, if you don't need to see a long list for all the events or regions in your arrangement, and want to work on isolated events or regions, the Event Float may be for you!
Choose: Options > Event Float

It works in much the same way as the Event List just with a smaller view and requires you to select single events in your MIDI Editor of choice (or a region in the Arrange area) and then you can make fine adjustments to the event with your compact Event Float.
One more tip. Both the Event Float and Event List can display event position and event length in SMPTE or using Bar, Beat, Divisions & Ticks.
To switch display modes, in the Event Float click on the note icon on the right of the floating window.
In the Event List choose View > Event Position and Length in SMPTE units
The Event List is a really powerful MIDI editor whether used in combination with other editors or by itself. I hope you find a use for it when editing your MIDI data.

Interested to learn more about Logic's hidden features? These tutorials will help you master Logic and discover tips and tricks you didn't know you could do without.