Automation is literally one of the best things about modern music production software. Hopefully I don't sound old when I say that I can clearly remember using systems that had zero automation or callback and it was, well... a nightmare!
Now we can record, automate and edit any movements we make on just about any parameter in our DAW. This is truly a great thing but there are a few pitfalls that you have to look out for. Here we take a look at understanding the various automation modes in Logic Pro.

Writing Automation
When writing your very first automation data to a freshly recorded or programmed track, you can use any of the three automation modes (write, latch and touch). Any of these modes will happily record your movements to the appropriate automation track.
So get your project playing, get into a write mode and start moving your levels, pans and plug-in parameters. When you're done you'll find that everything has been recorded and it's ready to use.

Why use Latch vs Write Mode?
So why then, you ask, has Logic got three write modes and when do we use them? Well, Latch mode is one of the most useful modes as it continues recording automation data when Logic is playing and you have finished moving the parameter/fader. It will also not write over any existing automation data until AFTER you move a parameter with your controller or mouse.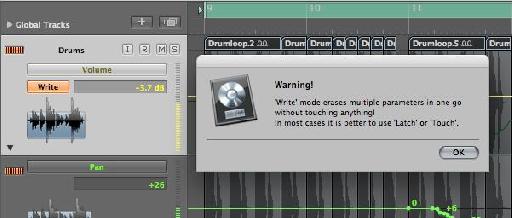 The more destructive Write mode should generally be avoided like the plague.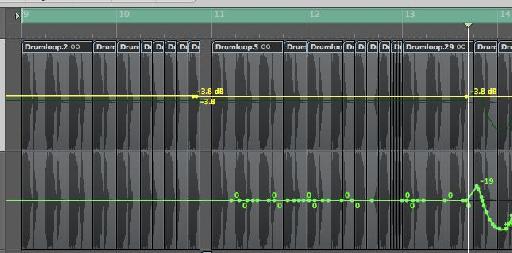 It does write automation data in the traditional sense but will wipe anything else that has been recorded on all tracks. Even Apple state in their manual that you will rarely need it and that "it is only there to complete the automation modes".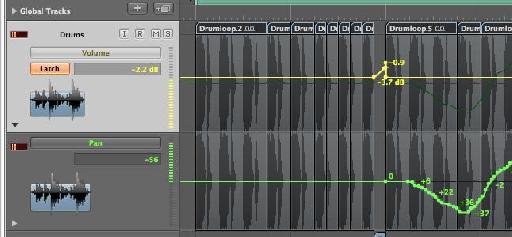 What is Touch Mode?
Touch mode is a really usable mode and is very similar to latch mode in that it is non destructive and leaves your recorded data intact when not adjusting the parameter in question.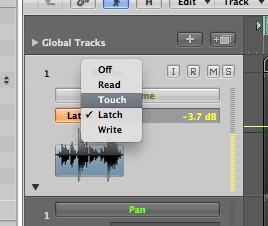 Editor's Tip: Touch Mode essentially works like Read mode. All existing automation data will be read until you make a change to the parameter with a touch controller or your mouse. Once you release the mouse button or controller the existing automation data will be read.
Touch Mode is great if, for example, you want to automate the volume only in a chorus section... then as soon as you release the volume level fader, the fader will jump back to whatever the existing value was before you began applying automation.
Playing Things Back
Once you have recorded your automation playing it back is as simple as putting the track into 'Read' mode. Anything recorded will then playback as your project does. Simple.
Of course it's worth remembering that when in latch or touch modes your data will also playback, so this is yet another reason to use these modes over the more superfluous write mode.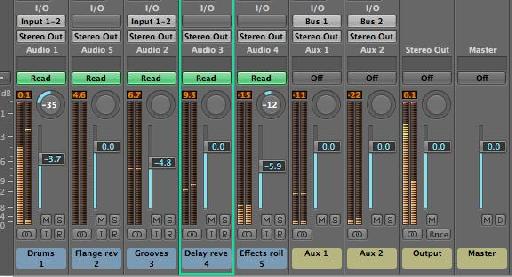 Check out the Logic 101: Core Logic 9 tutorial for more Automation Tips and tricks and this blog tutorial for 5 Automation Power-User Tips and Tricks in Logic Pro!