Whenever you need to remove low frequency from a sound, you may reach for your newest equalizer plug-in. This is fine but a simple high pass filter will often suffice. This approach can save time and CPU. Every DAW, from Logic to Ableton Live to Cubase to Pro Tools has a high pas filter.
Let's look at this super simple technique.
01 - Pick the Sounds you Want to Treat
This is as simple as picking the sounds that need low end removing. In most mixes a huge number of the elements will need their lower frequencies filtered to some degree. In fact, it's often the case that the only sounds that escape this process are the dedicated low end instruments, such as kick drum and bass.
02 - Insert your High Pass Filters
Now what plug-in you use here will vary form application to application. The general rule of thumb is, use the simplest processor available. There is little point in using a fully parametric, linear phase EQ for a simple high pass treatment.
Try filtering at least 100 hz from sounds that aren't supplying any actual low end to your mix. Higher frequency sounds can be filtered with even high values. You can even try going up to 300 hz, as long as you are not coloring your sound or removing any required frequencies you are good to go.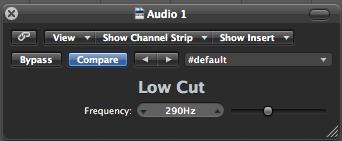 Logic's super simple 'Low cut' plug-in
Some DAWs feature dedicated high pass filters, while others will include stripped down equalizers that are perfect for the task. Below is a picture from Ableton Live.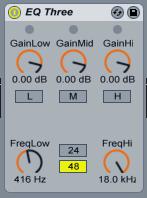 Live 8's stripped down EQ three
03 - Get your Mix on!
With all your sounds sufficiently filtered and a nice distinction made between low and high end elements you can now go ahead and mix your project. You should find with your cleaning job complete things slip into place much more easily.
To learn more check out these Ableton Live and Logic tutorials.