当音乐灵感来袭你准备好了吗?所以,你已经有了一个音乐的想法和你想的最后一件事情,你想要的是失去潜在的命中轨道而设立您的工作区和创建的磁道数等你需要把这个想法在逻辑!有没有需要从头开始每次启动逻辑时,你就可以开始直自己的模板,可以帮助您将其转移到你的Mac的思路,从你的头快和最小做文章?
In this Quick Tip, we're going to explore how to customise your project and then create your own templates in Logic 8 and 9. Not only that, but we'll explore how you can easily organize your templates into custom collections. Read on to find out more!

第1步-启动

Ever wonder why your most recently opened project is opened every time you launch Logic? Knowing what action Logic takes upon launching is fundamental to getting started quickly and efficiently. You can customise this in Logic Pro > Preferences > General [Project Handling]
From the Startup Action drop-down menu you can tell Logic to do a number of actions, from doing nothing to create new project from template. The later will allow you to choose an existing template (or empty project) from the New Templates window.

步骤2 -集合
您可能已经非常熟悉,在逻辑的新模板窗口...左边的列的集合 (基本上文件夹),其中包含的项目模板。模板基本上是一个项目。如果你曾经选择创建一个" 空项目 ",你会被要求创建轨道填充您的安排当地,从那里要载入乐器,效果,通道条设置,成立了编辑器等,从无到有。
不过,也有其他可用的模板,它可以为你做所有的工作生活更轻松。当然,苹果有包括模板,这是有用的,的伟大指南....它们的设计是很重要的出发点的各种需求。例如,如果你要开始组成一个嘻哈的轨道,然后选择撰写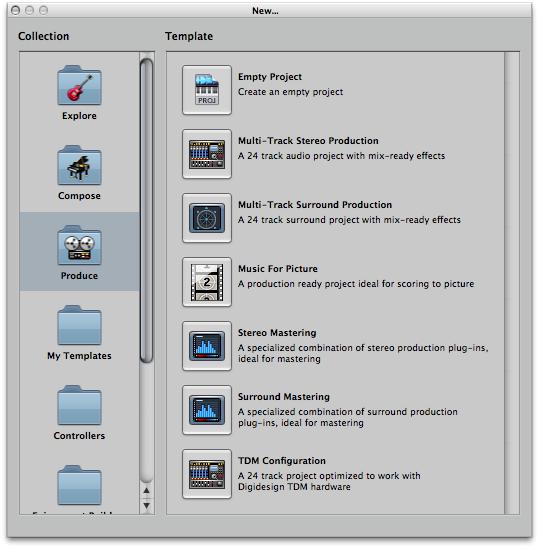 第3步-从头开始

虽然我强烈建议开放,并在所提供的所有包括前模板,我们将从头开始创建我们自己的开始。
在任何包括3集合( 探索,撰写和制作 ),你会看到在列表的顶部空项目 。选择它来创建一个香草项目。
你会立即与对话的新的轨道。对于这个快速的提示,我想创建一个项目,我将使用环境/电子生产。所以我要创建8个软件乐器轨开始。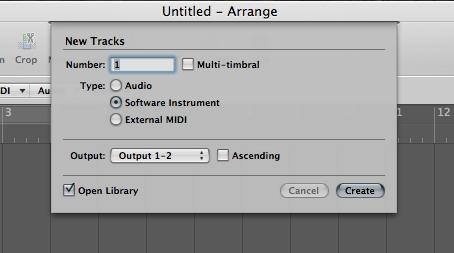 步骤4 -通道条设置

我有一些最喜爱的起点在撰写时的声音。这些模板将使它更容易直接跳在创造和记录想法。因此,对于每个软件乐器的音轨,我要加载一个通道条设置从库...往往一对夫妇不同Ultrabeat/EXS24套鼓,合成器,垫,世界文书... ...设立多仪器和复杂的环境,并把它们保存为模板,它也是有用的。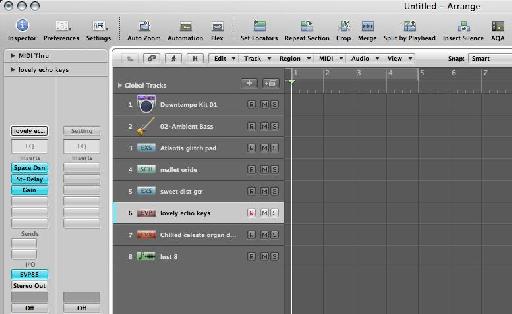 步骤5 -自定义您的工作空间

This step really depends on the purpose for your project template. Any changes you make to the workspace and editing windows will be reflected in your project template... So, I'm going to hide the top Toolbar View > Hide Toolbar to give me more screen real estate. Next, I won't need the Library, so I'll close that. For this main Arrange area I'm not interested in the Inspector, so I'll hide that using the key command I. Finally, I'll use the zoom sliders to zoom in vertically and zoom out horizontally. So, I get something without any unnecessary distractions like this!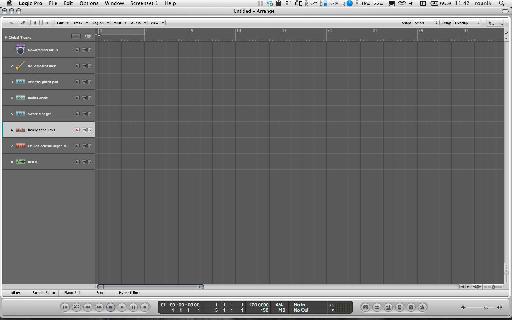 第6步- Screensets

Screensets是一个伟大的方式来保存常用的屏幕布局,并呼吁他们使用键盘上的数字键(或从Screenset菜单中)。
按键盘上的2。我要到我的编辑区Screenset 2。对于这方面,我要去:

Hide the Toolbar

Zoom out vertically in the Arrange area

Open the Piano Roll and zoom to taste

Open the Event List

It'll look something like this: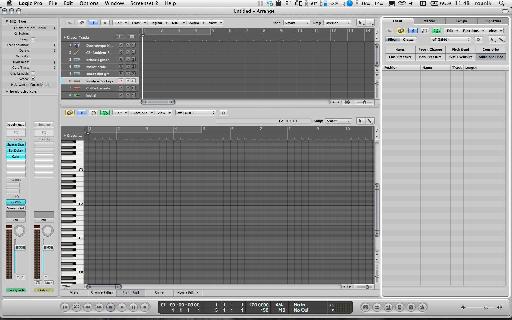 下一步,我将创建一个我的键盘上按3混合的第三screenset:

Hide the Toolbar (again, this is just my preference)

Hide the Inspector

Open the Mixer

Zoom out vertically in the Arrange area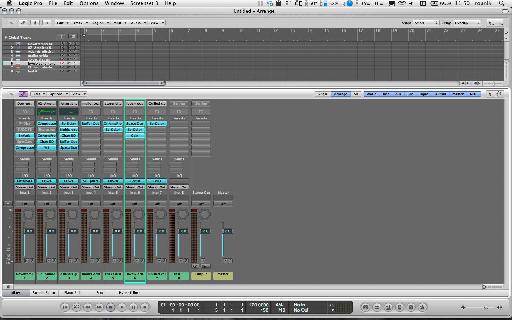 现在这些screensets之间切换,只要按下键盘上的1,2,3容易。不,真的,它的字面是!
注 : 您可以从Screenset菜单锁定screensets防止任何更改你的布局上,screenset永久。总是screenset将恢复到它的布局,当你锁定它 。 您可以从保存菜单解锁。
第7步-保存您的模板

当你愉快地完成您的模板的自定义的时间来保存它,以便您可以访问新模板窗口。
选择"文件"
在这里,您可以创建一个你的模板文件夹(S)。我强烈建议这里您创建的任何文件夹将出现在"模板"窗口的集合,这是一个伟大的方式来分类整理你的模板。
我已经创建了一个文件夹叫macProVideo博客。这将显示作为一个集合。我的模板将被称为MPV的电子博客会议。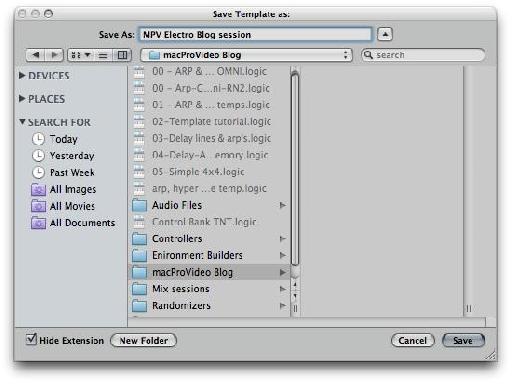 单击" 保存 "一旦你完成。
If you want to find or manually organize your customized template files in the Finder, navigate to:
~/Library/Application Support/Logic/Project Templates
。

第8步-打开您的模板

它的时间关闭您的模板项目。逻辑会问你是否要保存它(作为一个项目)。既然你已经保存为模板,这是没有必要的的。
选择" 文件"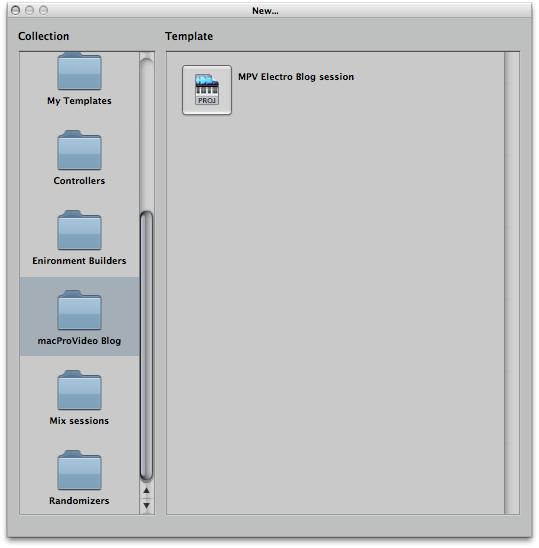 使用这种技术,你可以创建一个伟大的起点,为您的所有逻辑项目需要的阵列。一旦你创建了一些模板,如果你想与大家分享他们的逻辑社会的其余部分 ,在这里参观我们的逻辑论坛。谢谢!
想了解更多吗?查看我们的逻辑教程 。