Quando a inspiração musical você está preparado? Então, você tem uma idéia musical e você quer colocar essa idéia em Lógica a última coisa que quero é perder essa faixa hit em potencial durante a configuração do seu espaço de trabalho e criar o número de faixas etc que você precisa! Não há necessidade de começar do zero cada vez que você iniciar Logic quando você pode começar em linha reta o seu próprio modelo, que pode ajudá-lo a transferir suas idéias de sua cabeça para o seu Mac mais rápido e com o mínimo de barulho?
In this Quick Tip, we're going to explore how to customise your project and then create your own templates in Logic 8 and 9. Not only that, but we'll explore how you can easily organize your templates into custom collections. Read on to find out more!

Passo 1 - Iniciando

Ever wonder why your most recently opened project is opened every time you launch Logic? Knowing what action Logic takes upon launching is fundamental to getting started quickly and efficiently. You can customise this in Logic Pro > Preferences > General [Project Handling]
From the Startup Action drop-down menu you can tell Logic to do a number of actions, from doing nothing to create new project from template. The later will allow you to choose an existing template (or empty project) from the New Templates window.

Passo 2 - Coleções
Você pode estar muito familiarizado com a janela do novo modelo no Logic já ... Na coluna da esquerda são coleções (basicamente pastas) que contenham modelos de projeto. Um modelo é essencialmente um projeto. Se você já optou por criar um "Empty Project", você será solicitado a criar trilhas para preencher o seu Organizar área, ea partir daí é necessário para carregar instrumentos, efeitos, definições do canal strip, configurar os editores, etc a partir do zero .
No entanto, existem outros modelos disponíveis que podem facilitar a vida fazendo todo esse trabalho para você. É claro, a Apple ter incluído um número de modelos que são guias úteis e grande .... Eles são projetados para serem ótimos pontos de partida para uma variedade de necessidades. Ex.: Se você queria começar a compor uma trilha Hip-Hop, em seguida, escolher Compose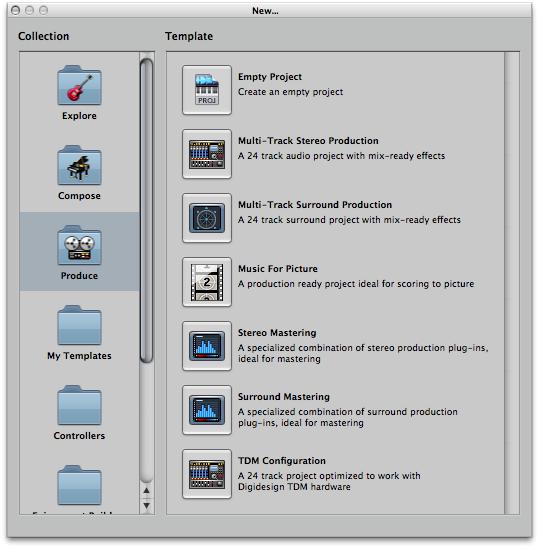 Passo 3 - A partir do zero

Embora eu recomendo abertura e olhar para todos os modelos pré-incluídos na oferta, nós vamos começar por criar o nosso próprio a partir do zero.
Em qualquer um dos três coleções incluído (Explore, compor e produzir), você verá projeto vazio no topo da lista. Escolhê-lo para criar um projeto de baunilha.
Você vai ser imediatamente apresentado com o diálogo New Tracks. Dica Rápida para este, eu quero criar um projeto que eu vou usar para a produção de Ambient / Eletrônica. Então eu vou para criar oito faixas de Instrumento Software para começar.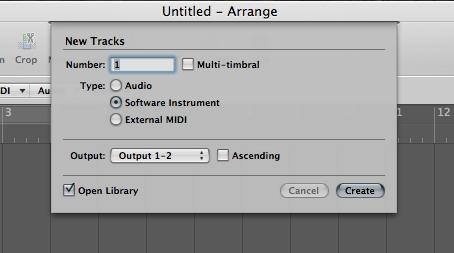 4 º Passo - Canal Faixa de Configurações

Eu tenho algum ponto de partida sons favoritos ao compor. Adicionando estes a um modelo tornará muito mais fácil ir direto para a criação e gravação de idéias. Assim, para cada faixa Instrumento Software vou carregar uma faixa de canal configuração da biblioteca ... Muitas vezes, um par de drumkits Ultrabeat/EXS24 diferentes, alguns sintetizadores, almofadas, instrumentos mundo ... Também é útil para configurar ambientes multi-instrumentos e complexo e salvá-los como modelos.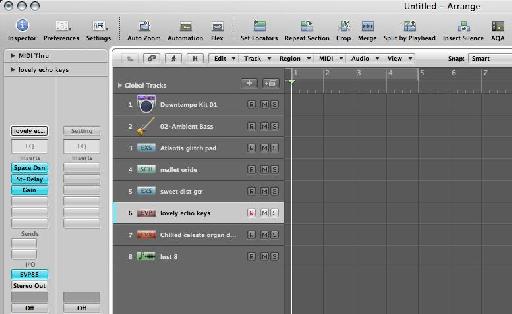 Passo 5 - Personalizando o seu Workspace

This step really depends on the purpose for your project template. Any changes you make to the workspace and editing windows will be reflected in your project template... So, I'm going to hide the top Toolbar View > Hide Toolbar to give me more screen real estate. Next, I won't need the Library, so I'll close that. For this main Arrange area I'm not interested in the Inspector, so I'll hide that using the key command I. Finally, I'll use the zoom sliders to zoom in vertically and zoom out horizontally. So, I get something without any unnecessary distractions like this!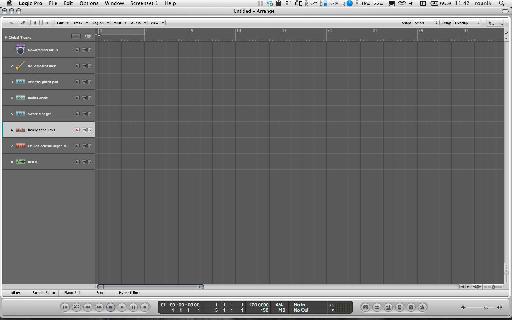 Passo 6 - Screensets

Screensets são uma ótima maneira de salvar layouts de tela usadas e chamá-los usando as teclas numéricas do seu teclado (ou no menu Screenset).
Pressione 2 no teclado. Eu vou fazer Screenset 2 em minha área de edição. Para esta área que eu vou:

Hide the Toolbar

Zoom out vertically in the Arrange area

Open the Piano Roll and zoom to taste

Open the Event List

It'll look something like this: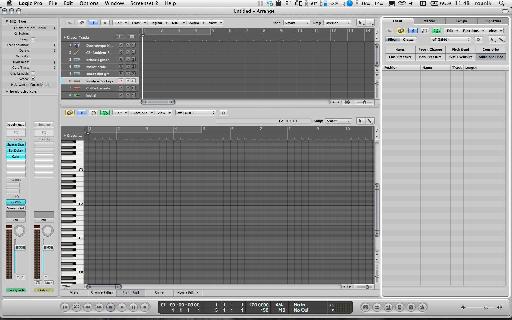 Em seguida, eu vou criar um screenset 3 para mistura pressionando 3 no meu teclado:

Hide the Toolbar (again, this is just my preference)

Hide the Inspector

Open the Mixer

Zoom out vertically in the Arrange area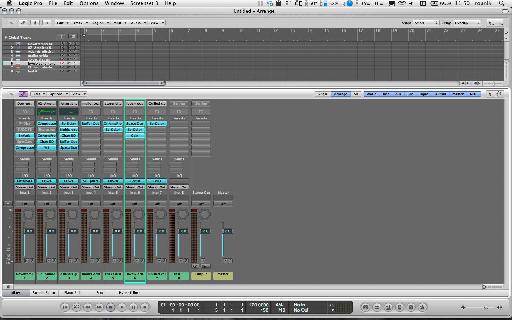 Agora comutação entre estes screensets é tão fácil quanto pressionar 1, 2, 3 no seu teclado. Não, realmente, ele é literalmente!
Nota: Você pode bloquear screensets a partir do menu Screenset a evitar qualquer alteração ao seu layout em que screenset de ser permanente. O screenset sempre voltar à sua disposição quando você trancou-a. Você pode desbloqueá-lo a partir do menu salvar.
Passo 7 - Salvando seu Modelo

Depois que você terminar de personalizar feliz o seu modelo está na hora de guardá-lo para que você possa acessá-lo da janela de novos modelos.
Escolha Arquivo
Aqui você pode criar uma pasta (s) para seus modelos. Eu aconselho isso como qualquer pasta que você criar aqui vai aparecer como uma coleção na janela Templates e é uma ótima maneira de organizar seus modelos em categorias.
Eu criei uma pasta chamada macProVideo Blog. Isso será exibido como uma coleção. Meu modelo será chamado MPV sessão Blog Electro.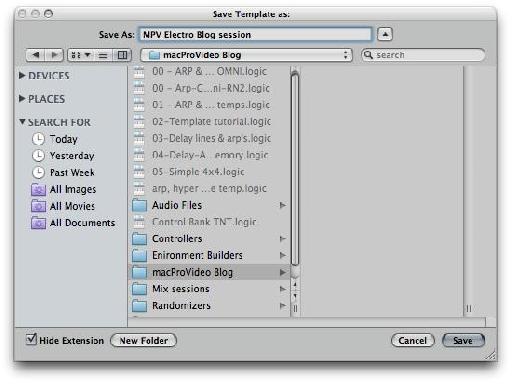 Clique em Salvar quando você está feito.
If you want to find or manually organize your customized template files in the Finder, navigate to:
~/Library/Application Support/Logic/Project Templates
.

Passo 8 - Abertura seu Modelo

É hora de fechar o projeto do modelo. Logic vai perguntar se você quer salvá-lo (como um projeto). Desde que você já salvou-a como modelo isso não é necessário.
Escolha Arquivo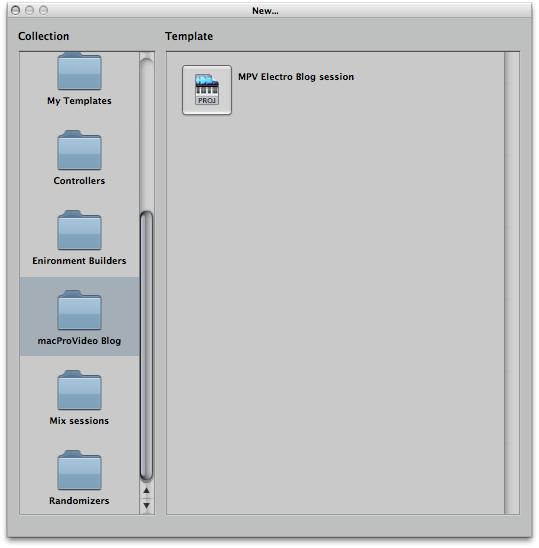 Usando essa técnica você pode criar uma matriz de grandes pontos de partida para todas as suas necessidades de projeto Logic. Depois de ter criado alguns modelos se quiser compartilhá-los com o resto da comunidade Logic visite o nosso forum Logic aqui . Muito obrigado!
Quer saber mais? Confira nosso tutoriais Logic .