Quando colpisce ispirazione musicale siete pronti? Quindi, hai un idea musicale e volete mettere questa idea in Logica l'ultima cosa che vuoi è perdere quella traccia potenziale colpito durante la configurazione dello spazio di lavoro e di creare il numero di tracce, ecc hai bisogno! Non c'è bisogno di ripartire da zero ogni volta che si lancia Logic quando è possibile avviare direttamente il proprio modello che può aiutare a trasferire le vostre idee dalla testa sul vostro Mac più veloce e con il minimo sforzo?
In this Quick Tip, we're going to explore how to customise your project and then create your own templates in Logic 8 and 9. Not only that, but we'll explore how you can easily organize your templates into custom collections. Read on to find out more!

Fase 1 - Avvio

Ever wonder why your most recently opened project is opened every time you launch Logic? Knowing what action Logic takes upon launching is fundamental to getting started quickly and efficiently. You can customise this in Logic Pro > Preferences > General [Project Handling]
From the Startup Action drop-down menu you can tell Logic to do a number of actions, from doing nothing to create new project from template. The later will allow you to choose an existing template (or empty project) from the New Templates window.

Fase 2 - Collezioni
Si può essere molto familiare con la finestra nuovo modello di Logic già ... Sulla colonna di sinistra sono le raccolte (fondamentalmente cartelle) che contengono i modelli di progetto. Un modello è essenzialmente un progetto. Se avete mai scelto di creare un "Progetto vuoto", ti verrà chiesto di creare tracce per popolare il Organizzare zona, e da lì è necessario caricare gli strumenti, effetti, canale impostazioni strip, impostare gli editori, ecc da zero .
Tuttavia, ci sono altri modelli disponibili che possono rendere la vita più facile da fare tutto il lavoro per voi. Naturalmente, Apple ha incluso una serie di modelli che sono guide utili e di grande .... Essi sono progettati per essere ottimi punti di partenza per una varietà di esigenze. Se ad esempio si vuole iniziare a comporre un Hip-Hop traccia quindi scegliendo Scrivi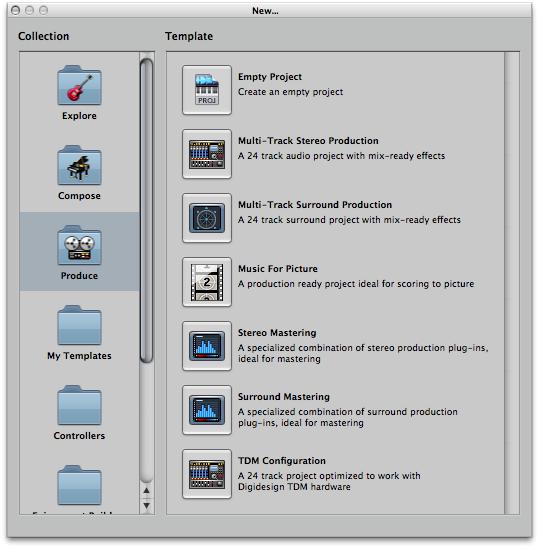 Fase 3 - A partire da zero

Anche se io consiglio vivamente di apertura e guardare tutte le pre-inclusi i modelli in offerta, inizieremo con la creazione di nostro da zero.
In una delle 3 collezioni inclusa (Esplora, comporre e produrre) si vedrà progetto vuoto in cima alla lista. Scegliere per creare un progetto di vaniglia.
Sarete immediatamente essere presentato con il dialogo New tracce. Per questo piccolo trucco, voglio creare un progetto userò per la produzione di Ambient / Elettronica. Quindi ho intenzione di creare 8 tracce di strumenti software per cominciare.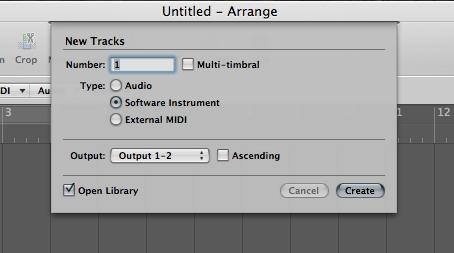 Fase 4 - Channel Strip Impostazioni

Ho un certo punto di partenza preferito suoni durante la composizione. L'aggiunta di questi a un modello renderà molto più facile passare direttamente per la creazione e la registrazione di idee. Quindi, per ogni traccia di strumento software che sto per caricare una striscia di canale impostazione dalla libreria ... Spesso un paio di diversi drumkit Ultrabeat/EXS24, qualche synth, pad, strumenti del mondo ... E 'inoltre utile la creazione di ambienti multi-strumenti e complesso e salvarli come modelli.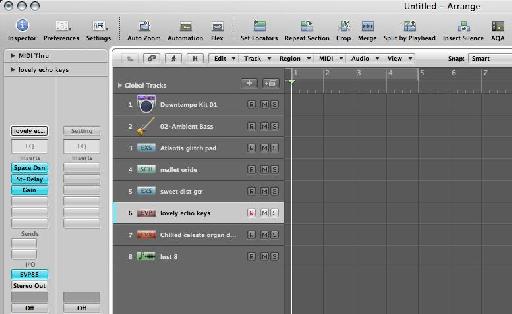 Fase 5 - Personalizzazione dello spazio di lavoro

This step really depends on the purpose for your project template. Any changes you make to the workspace and editing windows will be reflected in your project template... So, I'm going to hide the top Toolbar View > Hide Toolbar to give me more screen real estate. Next, I won't need the Library, so I'll close that. For this main Arrange area I'm not interested in the Inspector, so I'll hide that using the key command I. Finally, I'll use the zoom sliders to zoom in vertically and zoom out horizontally. So, I get something without any unnecessary distractions like this!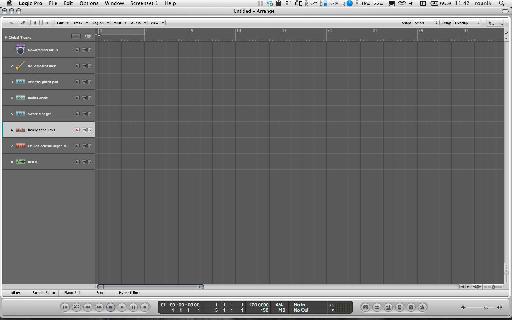 Fase 6 - Screensets

Screensets sono un ottimo modo per salvare il layout dello schermo di uso comune e richiamarli utilizzando i tasti numerici sulla tastiera (o dal menu Screenset).
Premere 2 sulla tastiera. Io vado a fare Screenset 2 nella mia zona Editing. Per questo settore ho intenzione di:

Hide the Toolbar

Zoom out vertically in the Arrange area

Open the Piano Roll and zoom to taste

Open the Event List

It'll look something like this: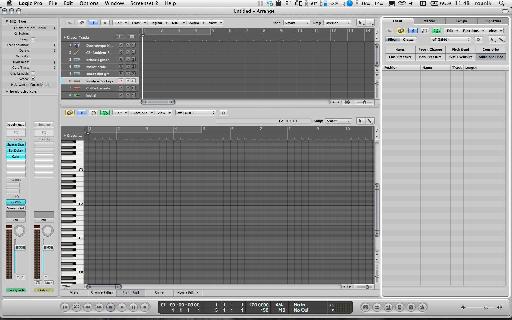 Successivamente, ho intenzione di creare un screenset 3 ° miscelazione premendo 3 sulla mia tastiera:

Hide the Toolbar (again, this is just my preference)

Hide the Inspector

Open the Mixer

Zoom out vertically in the Arrange area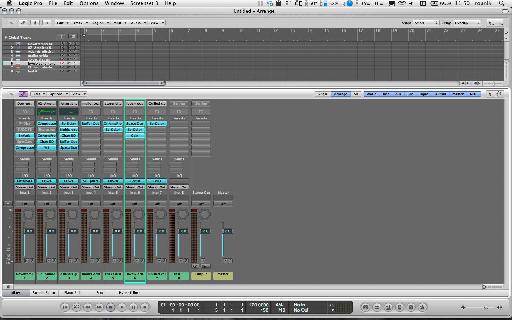 Ora il passaggio tra queste screensets è semplice come premere 1, 2, 3 sulla tastiera. No, davvero, è letteralmente!
Nota: è possibile bloccare screensets dal menu Screenset per impedire modifiche al layout su quella screenset di essere permanente. Il screenset sempre tornare alla sua disposizione quando ne hai bloccato. Si può sbloccare nel menu di salvataggio.
Fase 7 - Salvataggio del Modello

Dopo aver felicemente finito di personalizzare il modello è il momento di salvare in modo da potervi accedere dalla finestra di nuovi modelli.
Scegliere File
Qui è possibile creare una cartella (s) per il vostro template. Io consiglio vivamente questo come qualsiasi cartella si creano qui appare come una raccolta nella finestra di modelli ed è un ottimo modo per gestire i vostri modelli in categorie.
Ho creato una cartella chiamata macProVideo blog. Questo appare come una collezione. Il mio modello sarà chiamato sessione Blog MPV Electro.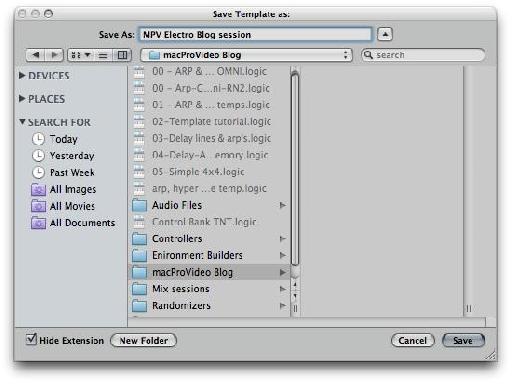 Fare clic su Salva una volta il gioco è fatto.
If you want to find or manually organize your customized template files in the Finder, navigate to:
~/Library/Application Support/Logic/Project Templates
.

Fase 8 - Apertura template

E 'ora di chiudere il progetto modello. Logic vi chiederà se volete salvare (come progetto). Dato che hai già salvato come modello questo non è necessario.
Scegliere File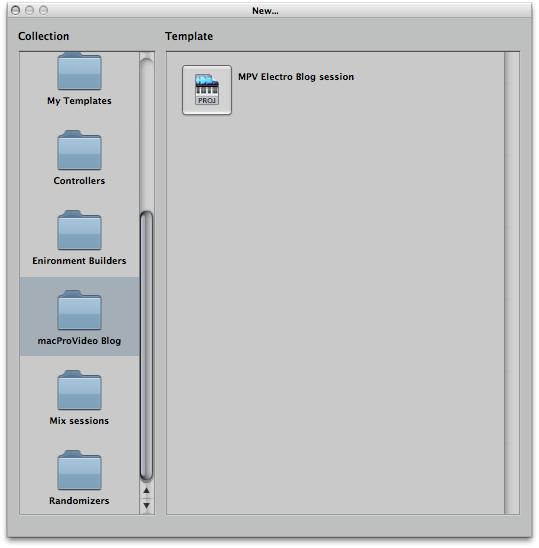 Utilizzando questa tecnica è possibile creare una serie di ottimi punti di partenza per tutte le esigenze Logic vostro progetto. Dopo aver creato alcuni modelli, se si desidera condividere con il resto della comunità Logic visitare il nostro forum Logic qui . Grazie!
Vuoi saperne di più? Consulta le nostre esercitazioni Logic .