Si va a crear una cama de ruido, un telón de fondo la atmósfera, un relleno, una avería o construir una, el barrido de ruido basado humilde puede venir en muy práctico. Es un elemento básico de la síntesis de todo el mundo y es algo que usted debe saber cómo construir con los ojos cerrados.
In this tutorial I'll show you how to build a solid noise based effects patch using Ableton's 'Analog' synth. Of course you should be able to repeat this technique using any other similar virtual analog synth.

Paso 1 - Selección de los osciladores
En la programación de parches sintéticos desde cero la elección de los tipos de oscilador está justo en la parte superior de la lista de cosas que hacer. Como estamos creando un efecto de ruido basado en que es fácil adivinar qué tipo de oscilador voy a utilizar aquí ... Eso es el ruido bien!
Analógica en realidad tiene un oscilador de ruido que se dedica, por lo que no hay necesidad de cambiar los modos o echar mano de los menús aquí. Se trata simplemente de un caso de desactivar los osciladores estándar y de encender el ruido de una base. Simple.
He sintonizado la frecuencia de todo el camino hasta, esto nos da lo que se conoce como ruido blanco. Esto significa que solo contiene todas las frecuencias en el espectro y es probablemente el más útil para trabajar con una base para este tipo de parche.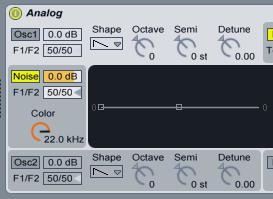 Usando el generador de ruido analógico
Paso 2 - Configuración del Filtro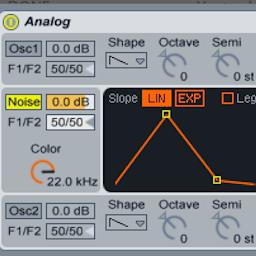 La creación de la sección de filtros analógicos
Lo siguiente que necesitamos concentrarnos en nuestra configuración de los filtros. He utilizado un modelo de paso bajo con una buena cantidad de resonancia. Esta configuración nos permitirá barrer a través de la gama de frecuencias y la resonancia que añadir la cantidad justa de carácter.
Puede marcar el filtro hacia abajo para el segundo como vamos a configurar un sobre para su control en el paso siguiente.
Paso 3 - Sobre los sobres

Sobres innovadoras analógico
Analógica en realidad tiene un sobre independiente para cada sección y este es inteligente en la ventana central cuando se selecciona el filtro del amplificador, u oscilador. Muy fresco.
He puesto un sobre base lineal para mover el filtro de corte arriba y hacia abajo, creando un barrido sencillo agradable a través de casi toda la gama. El amplificador se estableció entonces con una dotación similar, más un montón de liberación para que el sonido se desvanecen de manera natural.
Paso 4 - Toca LFOs y Final
Ahora tiene la base para un barrido simple, pero usted quiere tomar las cosas un poco más se puede añadir un poco de modulación de LFO para condimentar las cosas un toque. Decidí utilizar un LFO para modular la sartén muy ligeramente, pero que podría alterar el filtro o la resonancia.

Presentación de 'bamboleo' una luz con el LFO
Esto es sólo el comienzo de lo que podría convertirse en toda una biblioteca de sonidos. Así que guarda esto y seguir jugando con ella, puede tener un efecto de ruido basado en diferente para cada proyecto en el que trabajar.
Esto es lo que el último parche suena como:
[Audio id = "2089"]
Interesados ​​en aprender más acerca de Ableton Live con un toque electro? Echa un vistazo a este tutorial a continuación: