If you use Multiple-Outputs in Ultrabeat or EXS24, or you like to send to Auxiliary channels, then today's tips may be extremely useful!

Adding track automation to tracks in the Arrange window is a straight forward process. Either press "A" on the keyboard to view Automation or choose View > Track Automation.
From here, you can choose to draw automation on your track of choice offline or use one of Logic's Automation modes to record track automation in real-time.
So, what do you do when you want to automate volume, pan, mute, solo (or any parameter of any effect) on an Auxiliary track? The Aux Channels do not appear by default in the Arrange area. However, there are some simple ways to achieve this.... and like almost every function in Logic, it's a matter of picking and choosing the method which suits your workflow! Read on for more...
Tip 1 - Add to Arrange

So, there's no Aux Channel in the Arrange... How to add one? Well, you'd think the 'Add Tracks' button in the Arrange area's Track List would work, but it only gives the option to create Audio, Software Instrument and External tracks... Let's take a look in the Mixer, where Aux Channels can be viewed.
Click on the Mixer tab to view the Mixer and select the Aux Channel Strip(s) of choice.
From the Mixer's local menu choose:
Options > Create Arrange Tracks for Selected Channel Strips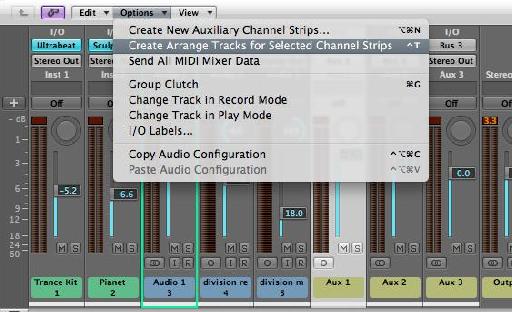 There are other ways to add a channel strip to the Arrange area:
You can use a key command (check your Key Command assignments for the command above). Mine is set to Control-T.
Right/Control-Click on a channel strip in the Mixer or the Inspector and choose Create/Select Arrange Track.
Alternatively, you can select (or create) an extra track in the Arrange area and reassign it by control/right-clicking on the Track Header and choosing:
Reassign Track > Mixer > Aux >

Whichever way you chose to add the Aux Track to the Arrange area, you can now turn on Automation view and place the Aux track into any of the Automation modes (Read, Touch, Latch, Write) as desired.
Tip 2 - Add to Arrange & Automate in One Click

If you have the Logic know-how, it's possible to cut out steps in a process. These time-saving tips are worth their weight in gold... Here's one I'd like to share with you - it's very simple, but very effective.
You can do this either in the Mixer or if you can see your Aux Channel in the Inspector of the Arrange area, this will work there too.
Click on the Automation selection area of the Aux Channel Strip and select any Automation mode. That Channel Strip will be added to the Arrange area and ready to be automated. It's great that this can be done without even opening the Mixer!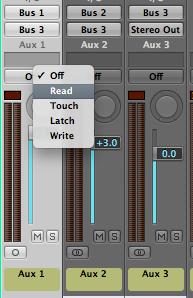 Tip 3 - Final Thoughts

A couple of points to consider... Although regions can be placed on Aux tracks in the Arrange area they will not produce any sound / cannot be read by Aux Channels. So an Aux track could provide a useful storage area for regions...
This method above (tips 1 and 2) will work for both Aux Channels, Output Channel(s) and in fact any channel strips. Adding the Output Channel strip to the Arrange would be a great way to quickly add fades to the beginning and end of your song using track automation for a multi-track project.
If you need further help on this or any other Logic or Mac software issue visit us at www.macprovideo.com/forum/

Interested in learning more about Logic? These tutorials will help you to become proficient whether you are starting out or looking for advanced tips, tricks and techniques! We'd love to hear from your. Let us know what you think by writing a comment below!