Dithering is something which eludes some beginners. Without getting too heavily into the maths, dithering is a process which enables us to move from one bit depth to another without losing too much fidelity. Often audio recorded and produced within Logic is 24 bit, this audio will need to be reduced to 16 bit for distribution, this is where dithering comes in.
The question is when should dithering be applied? And how do we go about it... Read on and all will be revealed. In this Quick Tip, I'm using Logic Pro to demonstrate the dithering process. The theory behind this can be applied to the Digital Audio Workstation of your choice.
01 - Completing the Mastering Process
Once you've completed your mastering chain and you're happy with the way things are sounding you'll inevitably come to the point where it's time to export your work. When you've made sure nothing is clipping and and your locators are set correctly you're good to go and it's at this stage in the session you'll need to apply dithering.

02 - Getting your Settings Right
Once you've hit the Bounce button the Export Window will appear and you'll be presented with a number of options. Amongst these are the Dithering parameters and in reality there are only a few options to choose from, so no huge learning curve here.
There are four algorithms in total, the 'POW-r' options are great and have been available to Logic users for some time now. New to Logic 9 is the Apogee algorithm and I have always been a fan of it's clean sound, so if you're a little stuck on what to choose here, this one's a safe bet.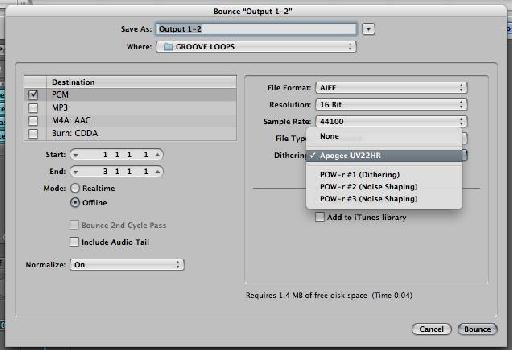 03 - Time to Export
And... Thats it. You're ready to export! Make sure you're set to 16 bit / 44.1khz, this will ensure you are ready to convert to MP3 and/or Burn to CD. Check your results and with a bit of luck you should find little, if any, noticeable difference between this and your 24 bit mix.
And remember only ever dither once during the whole production process and preferably right at the end. Any more than this and you'll start to introduce artifacts. So make sure that you don't make the error of applying dithering when exporting parts for mixing or importing files from other projects.
Learn more about dithering and mastering in these tutorials: Mastering in Cubase, Mastering in Logic, Mastering in Pro Tools.