Il ya beaucoup de simulation de guitare plug-ins disponibles pour les musiciens numériques de nos jours. Inclus avec Logic 9 est Amp Designer et Pedal Board - un départ de bienvenue de l'Amp âgées Guitar Pro plug-in. Ils se comparent très bien contre la concurrence et sont polyvalents dans la tonalité, l'émulation et l'agencement. À mon avis, les amplis nettoyage obtenir des résultats impressionnants lorsqu'on les compare à leurs cousins ​​du matériel.
Au-delà des presets, il est beaucoup plus que vous pouvez faire avec Amp Designer qui est apparent. Toby Pitman va beaucoup plus loin dans son excellent tutoriel, «Logique 402 - Boîte à outils de Logic Guitare Recording" . Emballé avec des trucs et astuces et des pratiques, étape par étape, en utilisant des approches d'Amp Designer et deux Pedal Board.
In this Quick Tip I'm going to highlight 3 useful tips for guitar tone sculpting glory built-in to Amp Designer.

01 - Déplacer le Mic
Lorsque l'enregistrement d'un ampli de guitare classique il ya deux considérations importantes: quel type de micro d'utilisation et de l'emplacement du micro. Le ton qui en résulte peut être très différente si le micro est placé du point mort ou sur le côté de l'haut-parleur.
En Amp Designer, vous pouvez choisir entre l'utilisation d'un condenseur, d'émulation microphone à ruban ou dynamique de la micro pop-up menu.
Passez votre souris sur l'armoire sur la droite de l'interface (au-dessus du Mic pop-up menu) et l'ajustement Président graphique est affiché. Faites glisser le point blanc d'ajuster le placement du micro. Généralement, pour Rock et brillant guitariste tons placer sur le côté, comme indiqué ci-dessous.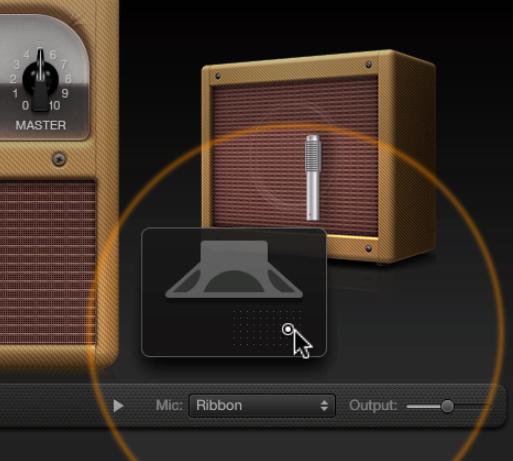 02 - Plus d'égaliseurs
Il ya beaucoup de types d'amplis et de presets. Si vous ne pouvez toujours pas créer tout le son de guitare que vous recherchez, vous pouvez mélanger et assortir le modèle, Amp et le Cabinet de construire votre ampli personnalisé! Cette incroyable ... mais une moindre astuce connue est que vous pouvez choisir différents types de QE par ampère.
Passez la souris sur le mot «EQ» et cliquez pour afficher l'égaliseur pop-up menu. De là, vous pouvez choisir entre Lumineux britannique, Vintage, Etats-Unis Classique, Moderne et Boutique.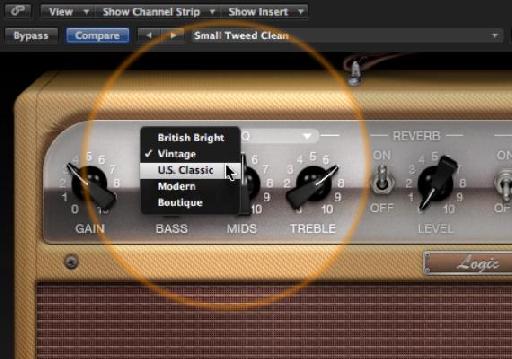 Je me retrouve tendant vers la Vintage et américains classiques le plus souvent.
03 - Plus de réverbération
Plutôt que d'insérer une instance de Space Designer (ou la réverbération d'autres plug-in) sur votre bande de canal de guitare pour ajouter de l'espace à votre son, vous pouvez définir les niveaux de réverbération directement sur l'interface Amp Designer. Comme l'égalisation, Amp Designer est livré avec plus d'un type de réverbération.
Click on the Reverb label (top, middle of the amp) to display this Reverb type pop-up menu.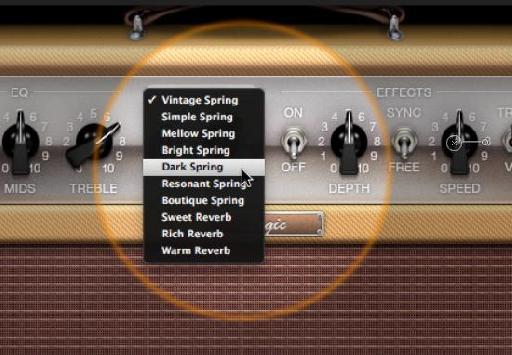 Vous pouvez choisir entre le printemps de cru, simple ressort, printemps Mellow, de printemps, Printemps noir, printemps Resonant, Printemps Boutique, Reverb Sweet, Reverb Reverb riche et chaud.
Il est bien utile de vérifier ces types sur vos sons guitare. La modification de votre son peut être dramatique et vous sauver de l'aide d'une reverb séparés plug-in!
Vérifiez Toby Pitman Logic 402 - Boîte à outils de Logic Guitare Enregistrement d'apprendre beaucoup, beaucoup plus sur la façon de tirer le meilleur parti de l'Amp Designer, Pedal Board et d'autres outils intégrés pour les guitaristes de Logic.