Hay un montón de simulación de guitarra plug-ins disponibles para los músicos digitales en estos días. Incluido con Logic 9 es Amp Designer y pedalera - un punto de partida de bienvenida del Guitar Amp Pro mayores plug-in. Se comparan muy bien con la competencia y son versátiles en el tono, la emulación y el diseño. En mi opinión, los amplificadores limpia lograr resultados impresionantes en comparación con sus primos de hardware.
Más allá de los presets, hay mucho más que usted puede hacer con el Diseñador de amperios que es evidente. Toby Pitman es mucho más profundo en su excelente tutorial, "Lógica 402 - Caja de herramientas de la lógica de la Guitarra de grabación" . Con consejos y trucos prácticos y métodos paso a paso para utilizar tanto Amp Designer y pedalera.
In this Quick Tip I'm going to highlight 3 useful tips for guitar tone sculpting glory built-in to Amp Designer.

01 - Mueva el micrófono
Cuando se graba un amplificador de guitarra tradicional hay dos consideraciones importantes: ¿qué tipo de micrófono a utilizar y dónde colocar el micrófono. El tono resultante puede ser muy diferente si el micrófono se coloca justo en el centro o al lado del cono del altavoz.
En Amp Designer se puede elegir entre usar un condensador, la emulación de micrófono de cinta o dinámico en el micrófono en el menú emergente.
Pase el cursor del mouse sobre la caja de la derecha de la interfaz (por encima del micrófono en el menú emergente) y el ajuste del altavoz gráfico se muestra. Arrastre el punto blanco para ajustar la posición del micrófono. En general, para el Rock y brillante guitarra de tonos de colocarlo a un lado como se muestra a continuación.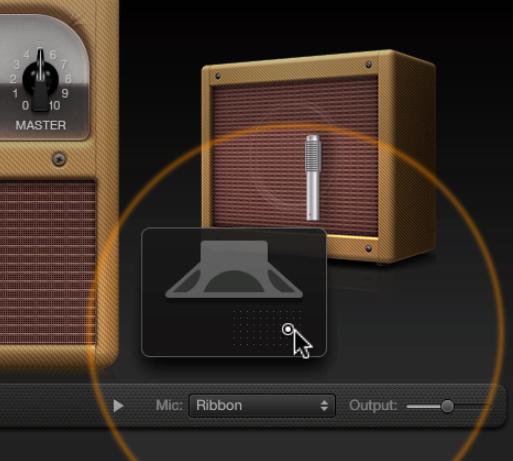 02 - Más Ecualizadores
Hay un montón de tipos de amplificador y presets. Si usted todavía no puede crear un buen sonido de la guitarra que usted está buscando para que usted puede mezclar y combinar el modelo, amplificador y gabinete para construir su amplificador personalizados! Este increíble ... pero una punta menos conocido es que usted puede elegir diferentes tipos de EQ por amperio.
Puntero del ratón sobre la palabra "EQ" y haga clic para ver el ecualizador en el menú emergente. Desde aquí usted puede elegir entre brillante británico, de Época, Clásicos de EE.UU., moderno y con encanto.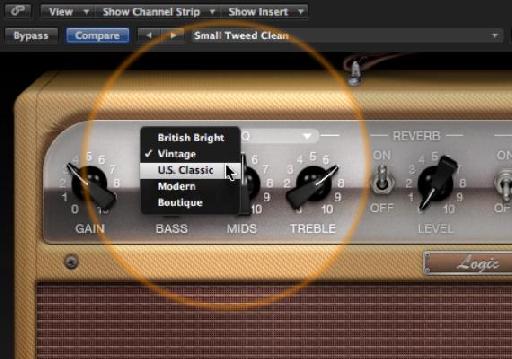 Me encuentro tendiente a la Época y Clásicos EE.UU. más de las veces.
03 - Más de reverberación
En lugar de insertar una instancia de Space Designer (o reverb otros plug-in) en el canal de guitarra para agregar espacio a su sonido, se puede establecer el nivel de reverberación directamente en la interfaz de Amp Designer. Al igual que el EQ, Amp Designer viene con el tipo de reverberación más de uno.
Click on the Reverb label (top, middle of the amp) to display this Reverb type pop-up menu.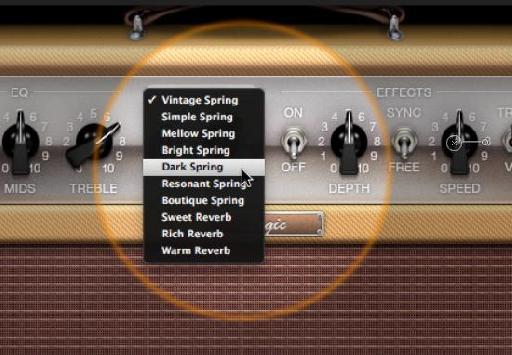 Usted puede elegir entre la primavera de Vintage, simple muelle, primavera Mellow, soleada de primavera, la primavera oscura, la primavera de resonancia, Primavera Boutique, Reverb dulce, Reverb ricos y reverb caliente.
Es bien vale la pena este tipo sobre los sonidos de su guitarra. El cambio en su sonido puede ser dramático y ahorrar el uso de una reverb independiente plug-in!
Echa un vistazo a Toby Pitman Lógica 402 - Caja de herramientas de la lógica de la Guitarra de grabación para aprender mucho, mucho más acerca de cómo obtener lo mejor de Amp Designer, pedalera y la lógica de otras herramientas integradas para guitarristas.