Es gibt eine Menge von Gitarren-Simulation verfügbaren Plug-Ins für digitale Musiker in diesen Tagen. Im Lieferumfang Logic 9 ist Amp Designer und Pedal Board - eine willkommene Abkehr von der älteren Guitar Amp Pro Plug-in. Sie stapeln sich sehr gut gegen die Konkurrenz und sind in Ton, Emulation und Layout vielseitig. Meiner Meinung nach erreichen die cleane Amps beeindruckende Ergebnisse, wenn sie ihre Hardware Vettern verglichen.
Über die Voreinstellungen, es gibt eine Menge mehr du mit Amp Designer, dass offensichtlich ist, tun kann. Toby Pitman geht viel tiefer in seine hervorragende Anleitung, "Logic 402 - Logic Guitar Recording Toolbox" . Vollgepackt mit Tipps und Tricks und praktische Schritt-für-Schritt-Ansätze für die Verwendung sowohl Amp Designer und Pedal Board.
In this Quick Tip I'm going to highlight 3 useful tips for guitar tone sculpting glory built-in to Amp Designer.

01 - Bewegen Sie den Mic
Bei der Aufzeichnung einer traditionellen Gitarrenverstärker gibt es zwei wichtige Überlegungen: Welche Art von Mikrofon zu benutzen und wo man das Mic Position. Die daraus resultierende Ton kann erheblich anders aus, wenn das Mikrofon ist tot-Zentrum oder auf der Seite der Lautsprechermembran platziert.
In Amp Designer können Sie zwischen der Verwendung eines Kondensators, Ribbon oder Dynamisches Mikrofon-Emulation aus dem Mic Popup-Menü wählen.
Bewegen Sie die Maus über das Gehäuse auf der rechten Seite der Schnittstelle (über dem Mic Popup-Menü) und dem Sprecher Adjustment Grafik wird angezeigt. Ziehen Sie den weißen Punkt, um die Platzierung des Mikrofons einstellen. Generell für Rock und heller Gitarrensounds legen Sie sie zur Seite, wie unten dargestellt.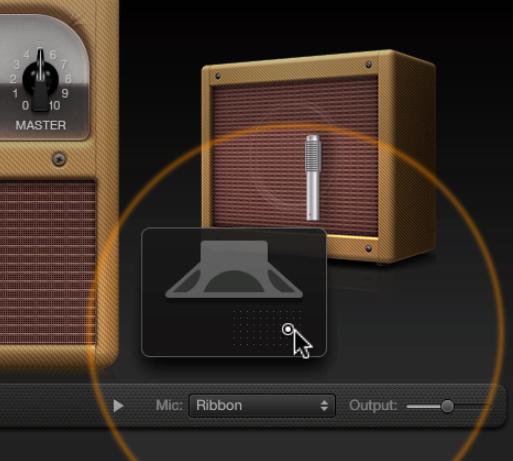 02 - Mehr Equalizer
Es gibt viele Amp-Typen und Presets. Wenn Sie immer noch nicht schaffen ganz im Gitarrensound Sie suchen für Sie mischen kann und Match des Modells, Amp und Cabinet, um Ihre eigenen Verstärker zu bauen! Diese unglaubliche ... aber weniger bekannte Spitze ist, können Sie unterschiedliche EQ-Typen pro Ampere wählen.
Maus über das Wort "EQ" und klicken Sie auf die EQ Popup-Menü anzuzeigen. Von hier aus können Sie zwischen Hell Briten, Vintage, US-Classic, Modern und Boutique wählen.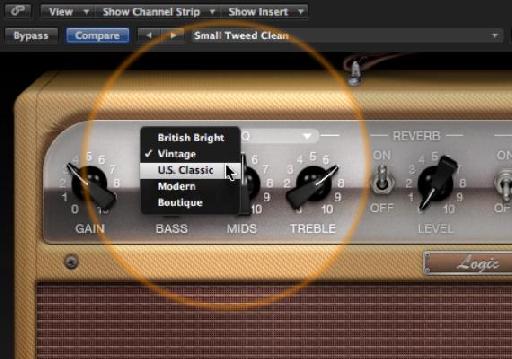 Ich finde mich Stärker zur Weinlese und US-Classic mehr als oft nicht.
03 - Mehr Reverb
Anstatt fügen Sie eine Instanz von Space Designer (oder anderen Hall-Plug-in) auf der Gitarre Kanalzug, um Platz zu Ihrem Sound hinzufügen, können Sie den Reverb-Ebenen direkt am Amp Designer-Schnittstelle eingestellt. Wie die EQ, kommt Amp Designer mit mehr als einem Reverb-Typ.
Click on the Reverb label (top, middle of the amp) to display this Reverb type pop-up menu.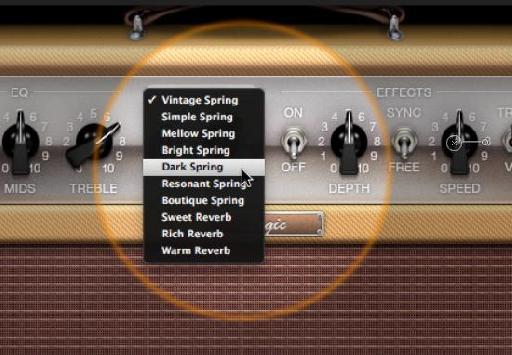 Sie können zwischen Jahrgang Frühling, Simple Spring, Mellow Frühling, Bright Spring, Dark Spring, Resonant Spring, Boutique Frühling, Sweet Reverb, Rich Hall und Warm Reverb wählen.
Es lohnt sich die Überprüfung dieser Art auf der Gitarre klingt. Die Umstellung auf den Sound können dramatisch sein, und speichern Sie von der Verwendung einer separaten Reverb Plug-in!
Schauen Sie sich Toby Pitman ist Logic 402 - Logic Guitar Recording Toolbox viel lernen, viel mehr darüber, wie Sie das Beste aus der Amp Designer, Pedal Board und Logic andere integrierte Tools für Gitarristen bekommen.