There are a lot of guitar simulation plug-ins available for digital musicians these days. Included with Logic 9 is Amp Designer and Pedal Board - a welcome departure from the older Guitar Amp Pro plug-in. They stack up very well against the competition and are versatile in tone, emulation and layout. In my opinion, the clean amps achieve impressive results when compared to their hardware cousins.
Beyond the presets, there's a lot more you can do with Amp Designer that is apparent. Toby Pitman goes much deeper in his excellent tutorial, "Logic 402 - Logic's Guitar Recording Toolbox". Packed with tips and tricks and practical step-by-step approaches to using both Amp Designer and Pedal Board.
In this Quick Tip I'm going to highlight 3 useful tips for guitar tone sculpting glory built-in to Amp Designer.

01 - Move the Mic
When recording a traditional guitar amp there are a two important considerations: what type of mic to use and where to position the mic. The resulting tone can be vastly different if the mic is placed dead-center or to the side of the speaker cone.
In Amp Designer you can choose between using a Condenser, Ribbon or Dynamic microphone emulation from the Mic pop-up menu.
Hover your mouse over the cabinet on the right of the interface (above the Mic pop-up menu) and the Speaker Adjustment graphic is displayed. Drag the white dot to adjust the placement of the mic. Generally, for Rock and brighter guitar tones place it to the side as shown below.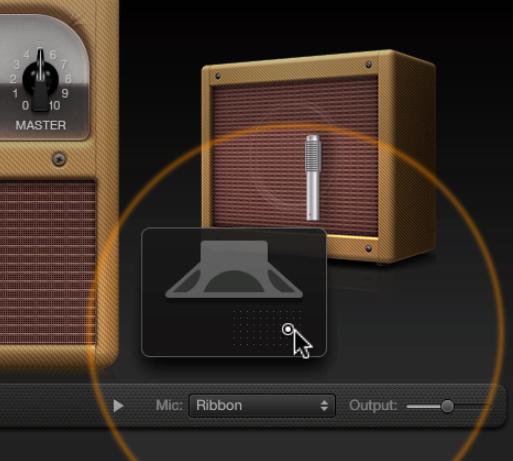 02 - More Equalizers
There are plenty of Amp types and presets. If you still can't create quite the guitar sound you're looking for you can mix and match the Model, Amp and Cabinet to build your own custom amp! This incredible... but one lesser known tip is you can choose different EQ types per amp.
Mouse over the word "EQ" and click to display the EQ pop-up menu. From here you can choose between Bright British, Vintage, U.S. Classic, Modern and Boutique.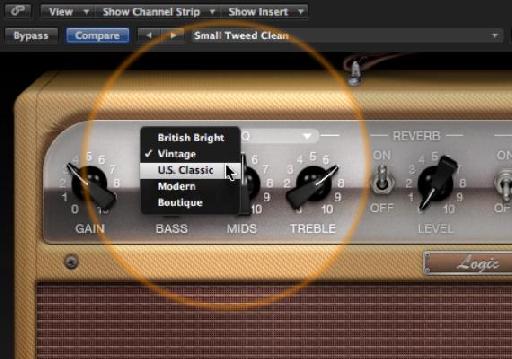 I find myself tending towards the Vintage and U.S. Classic more often than not.
03 - More Reverb
Rather than insert an instance of Space Designer (or other reverb plug-in) on your guitar channel strip to add space to your sound, you can set the reverb levels directly on the Amp Designer interface. Like the EQ, Amp Designer comes with more than one Reverb type.
Click on the Reverb label (top, middle of the amp) to display this Reverb type pop-up menu.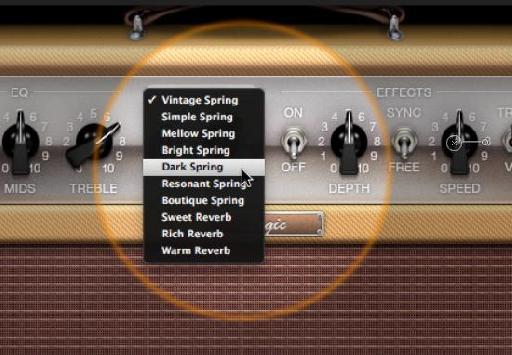 You can choose between Vintage Spring, Simple Spring, Mellow Spring, Bright Spring, Dark Spring, Resonant Spring, Boutique Spring, Sweet Reverb, Rich Reverb and Warm Reverb.
It's well worth checking these types out on your guitar sounds. The change to your sound can be dramatic and save you from using a separate reverb plug-in!
Check out Toby Pitman's Logic 402 - Logic's Guitar Recording Toolbox to learn much, much more about how to get the best out of Amp Designer, Pedal Board and Logic's other built-in tools for guitarists.