Se você tem o ouvido no chão, por assim dizer, na cena do software de música, sem dúvida você já ouviu, e foram chomping no bit para Editar Stutter , novo iZotope e BT. E, sim, alguns baba tem sido visto simpering do meu queixo, bem como quando a demo caiu no meu grubby mãos pequenas.
No entanto, se você estiver apertado no dinheiro e quer algo quase tão divertido, e realmente muito mais simples, deixe-me guiá-lo para um longo tempo favorito plug-in de mina que não vai te custar um centavo. Porém, se você gostar, eu sugiro fazer uma contribuição PayPal.
The Plug-in that I'm mentioning is from Shuriken.se and is known as SqakAttack.

To look at the plug-in, you might think, "It's just a picture of a duck!" And you would be correct in making this observation. However, it's functionality isn't expressed through the interface.
SqakAttack em Ação
Como Editar Stutter, SqakAttack pode ser aplicado a uma faixa de áudio de sua escolha, como você faria qualquer áudio plug-in. Em seguida, você criará uma pista MIDI e definir o foco da pista MIDI para a faixa de áudio com SqakAttack atribuído a ele.
Agora, com a sua faixa MIDI armados, tocar as teclas do seu teclado enquanto o seu sequenciador está jogando. Se você está no registo superior, você vai ouvir beeps alta campal sonoridade semelhante à distorção feedback, digital, etc Se você jogar nas oitavas inferiores, você vai ouvir pouco surpreendente gagueja digital que adicionar todos os tipos de emoção para os vocais, bateria, etc
Em Ação
Aqui está um exemplo de áudio usando SquakAttack. Eu tenho no meu SqakAttack saída de áudio Master, o que significa que está afetando a minha música inteira. Aviso prévio, como o áudio é reproduzido ao longo, de repente ele vai começar a gaguejar ... quase melodicamente. Isso é com o pressionar de tecla no meu controlador MIDI.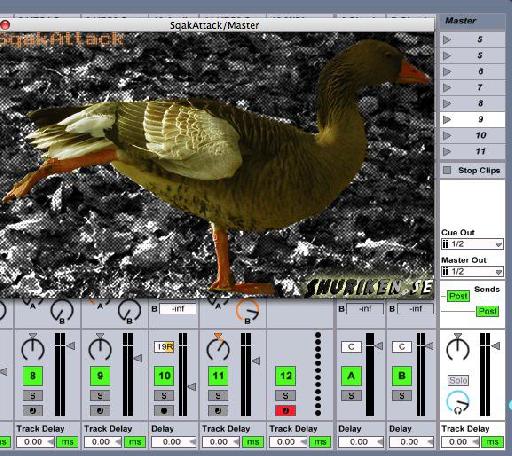 Check it out:
[Audio id = "1679"]
Concedido, SquakAttack não tem todas as funcionalidades do Editar Stutter, no sentido de que você não pode modificar os parâmetros diferentes, atribuir parâmetros, etc É basicamente apenas uma "garota prodígio". No entanto, se você precisa este efeito em uma pitada e não têm as contas para o preço sugerido de editar Stutter, você pode querer verificar para fora SquakAttack.