Se hai l'orecchio a terra, per così dire, nella scena software musicale, senza dubbio hai già sentito parlare, e sono stati chomping al bit per Modifica Stutter , nuovi iZotope e BT. E, sì, qualche bava è stato visto dal mio leziosa guance anche quando la demo è caduto per le mie mani sporche poco.
Tuttavia, se siete stretti in contanti e vogliono qualcosa di altrettanto divertente, e in realtà molto più semplice, lasciate che vi guida per un lungo periodo preferito plug-in che in me non vi costerà un centesimo. Però, se ti piace, io suggerisco un contributo PayPal.
The Plug-in that I'm mentioning is from Shuriken.se and is known as SqakAttack.

To look at the plug-in, you might think, "It's just a picture of a duck!" And you would be correct in making this observation. However, it's functionality isn't expressed through the interface.
SqakAttack in azione
Come Modifica Stutter, SqakAttack il possibile per essere applicato a una traccia audio della vostra scelta, come si farebbe con qualsiasi plug-in audio. Quindi, si creerà una traccia MIDI e impostare lo stato attivo della traccia MIDI per la traccia audio con SqakAttack assegnati.
Ora, con la traccia MIDI armati, giocare i tasti sulla tastiera mentre il sequencer host sta giocando. Se siete nel registro superiore, si sente alta bip acuto suono simile al feedback, distorsione digitale, ecc Se si gioca in ottave più bassa, si sente poco sorprendenti scatti digitali che aggiungono tutta una serie di emozioni a voce, batteria, ecc
In Azione
Ecco un esempio audio utilizzando SquakAttack. Ho SqakAttack sulla mia uscita Master Audio, il che significa che sta condizionando la mia canzone intera. Si noti, come l'audio viene riprodotto insieme, improvvisamente inizierà a balbettare ... quasi melodico. Questo è con la semplice pressione di tasti sul controller MIDI.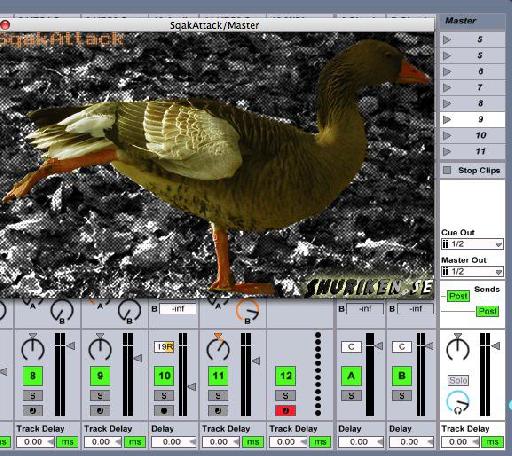 Check it out:
[Audio id = "1679"]
Certo, SquakAttack non ha tutte le funzionalità di Edit balbuzie, nel senso che non è possibile modificare diversi parametri, assegnare i parametri, ecc E 'fondamentalmente solo un' one-trick pony '. Tuttavia, se avete bisogno di questo effetto al limite e non hanno le bollette per il prezzo consigliato di modificare Stutter, si consiglia di controllare SquakAttack.