If you've got your ear to the ground, so to speak, in the music software scene, no doubt you've already heard, and have been chomping at the bit for Stutter Edit, new from iZotope and BT. And, yes, some drool has been seen simpering from my jowls as well when the demo fell in to my grubby little hands.
However, if you're tight on cash and want something almost as fun, and actually a lot simpler, let me guide you to a long time favorite plug-in of mine that won't cost you a dime. Though, if you like it, I'd highly suggest making a PayPal contribution.
The Plug-in that I'm mentioning is from Shuriken.se and is known as SqakAttack.

To look at the plug-in, you might think, "It's just a picture of a duck!" And you would be correct in making this observation. However, it's functionality isn't expressed through the interface.
SqakAttack in Action
Like Stutter Edit, SqakAttack can to be applied to an audio track of your choice like you would any audio plug-in. Next, you'll create a MIDI track and set the MIDI track's focus to the audio track with SqakAttack assigned to it.
Now, with your MIDI track armed, play keys on your keyboard while your host sequencer is playing. If you are in the upper register, you will hear high pitched beeps sounding similar to feedback, digital distortion, etc. If you play in the lower octaves, you will hear amazing little digital stutters that add all sorts of excitement to vocals, drums, etc.
In Action
Here is an audio example using SquakAttack. I have SqakAttack on my Master audio output, meaning that it's affecting my whole song. Notice, as the audio plays along, suddenly it will start stuttering... almost melodically. This is with the press of key on my MIDI controller.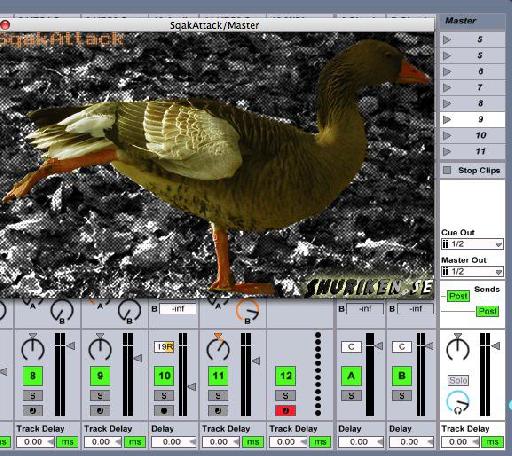 Check it out:
Granted, SquakAttack does not have all the functionality of Stutter Edit, in the sense that you can't modify different parameters, assign parameters, etc. It's basically just a 'one-trick pony'. However, if you need this effect at a pinch and don't have the bills for the MSRP of Stutter edit, you may want to check out SquakAttack.