Reason users have had access to the excellent M-Class mastering processors for a while now, but due to the lack of audio support users were limited to only mastering material that had been created within Reason.
Now using Record any audio can be imported and treated with not only the M-Class processors but the impressive new Buss compressor attached to the console's master section. Let's take a look at a very quick way to get started.
Step 1 - Importing Your Audio
The first step is to import your audio into a fresh audio track. Of course you could actually master a fully-fledged multi-track project in this way but I find it's good practice to make a separate project. An added bonus is that it's much kinder on your CPU!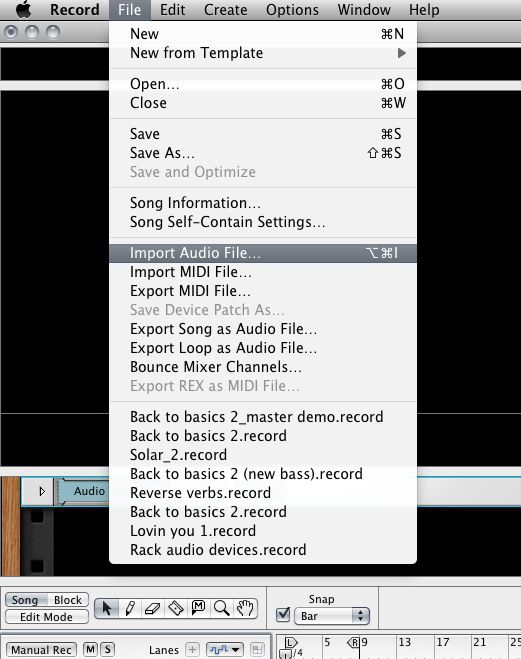 Importing audio into a fresh Record project
So choose File > Import Audio File... (Option-Command-i). You'll now get your standard browser window and you can choose the audio you want to master. This will then be imported on a fresh new track and we are good to go.

The audio to be mastered is in place
The audio from a rough demo clip:
Step 2 - Applying Some Buss Compression
One of the great features of Record is the buss compressor at the end of the console's output stage. This compressor is modeled on SSL's classic Master Buss Compressor found on their large High-end consoles.

Record's buss compressor
The compressor can be found right at the top of the master section in Record's console. For mastering purposes try using a ratio setting of 2, long attack release times, and a threshold setting that induces a 2 to 3dB of gain reduction.
Even this subtle dynamic control will make a difference to your mix, adding cohesion and energy.
Some buss compression is applied:
Step 3 - Using The Mastering Combinator
Next up we can think about using Record's more fully-featured mastering tools. Now when a default project is loaded Record auto-magically loads up a standard set of mastering tools.

The Master Section in its default state
These tools can be found in the '