En las próximas semanas voy a repasar algunos de Logic Pro características de cuantificación y esperamos arrojar alguna luz sobre algunos de los aspectos más avanzados de estas poderosas herramientas de corrección de tiempo.
Establecer la lógica de la función le permite hacer mucho más con problemas de tiempo no sólo la cuantificación de pared de ladrillo. Puede ser tan sutil o, como en su cara que lo desee.
Estas herramientas siempre deben ser utilizados para complementar o mejorar una actuación - no chupa toda la vida de ella. En estos consejos principalmente voy a tratar con los parámetros de la Región ya que creo que le dan la máxima flexibilidad.
Let's start at the top and look at the values you can actually quantize with!

Lógicas de cuantización Valores
Estoy seguro de que todos están familiarizados con la lista de cuantificación de la lógica, pero apuesto a que hay algunos valores en él que nunca se mira. Si este es el caso, entonces esto es lo que hacen!
1 / 192
El valor más pequeño que puede establecer en duración de la nota. A Quasihemidemisemiquaver triplete. Trate de jugar que, o incluso diciendo que! Tan pequeño que es rara vez visto en la música! Por esta razón no es de mucha utilidad como un valor de cuantización!
8
Estas opciones de cuantización son muy útiles ya que son capaces de tratar con pasajes que contienen las notas que caen en las dos divisiones ganan a las dos rectas y un triplete.
En cualquier obra musical de su valor de las notas no siempre será tan directo como los valores de 1 / 2, 04/01, 01/08, 1 / 16, etc Algunas frases pueden contener valores triplete, así como el 03.01, 06.01 , 1 / 12. Que se elija dependerá de los valores más pequeños de tiempo del contenido.
8 & 12 - Contains no values lower than 1/8 notes and 1/8 note triplets.
16 & 12 - Contains no values lower than 1/16 notes and 1/8 note triplets.
16 & 24 - Contains no values lower than 1/16 notes and 1/16 note triplets.
La melodía siguiente contiene 1.8 notas y 1 / 8 tresillos para 8

[Audio id = "6029"]
Tresillos
Grupos irregulares son divisiones irregulares del corazón que se juegan dentro de una duración de tiempo regular.

Esta agrupación es bastante común en la música clásica e incluso Disco / Funk arreglos de cuerda en una armónica diatónica (7 escala de la nota) se reproduce en el interior del último latido de un bar, el tiempo fuerte del bar de al lado está la octava de la escala.
He aquí un ejemplo:

[Audio id = "6032"]
Valores columpio
El siguiente conjunto de valores de Swing. Swing es una especie de cosa difícil de definir musicalmente, sobre todo con la notación. Ajustes de oscilación vienen en variedades nota 8 y 16.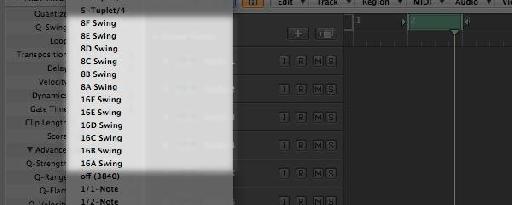 Oscilación existe en la zona gris entre los valores rectos y triplete. En el caso de la nota 16a swing 'e' y 'a' (1-e-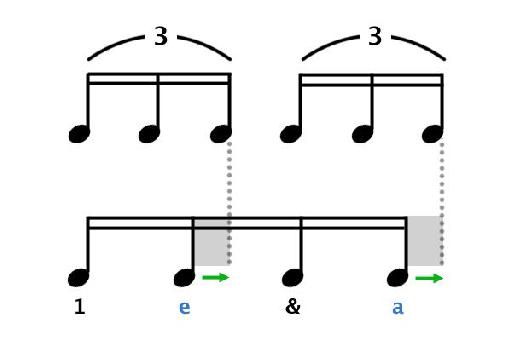 Porque se puede elegir hasta dónde quiere empujar (o 'Swing') estas notas, 'Swing' se aplica a menudo en términos de fuerza. En el caso de las lógicas A - F (F Un ser sutil, ser fuerte). En muchos otros secuenciadores esto se hace por el porcentaje (MPC pensar!).
Aquí hay dos bucles. La primera es cuantificada a la recta 16.01 notas.
[Audio id = "6035"]
Aquí está el mismo bucle con 'Swing 16a D' se le aplica. Creo que la mejor manera de describir verbalmente sería que tiene más "rebote" a él!
[Audio id = "6036"]
Los valores básicos de la notación
The last values are your basic bar divisions. Quarter notes, Eighth notes etc. These are your general purpose settings that you'll use the most.


Que van desde 1 / 1 (un bar) todo el camino hasta 1 / 96 (un Hemidemisemiquaver triplete).
De
Por supuesto, siempre podrá restaurar sus valores cuantizar la opción 'Off' de la Región de parámetros desplegable. Esto le dará la resolución de las lógicas de tiempo máximo de 3840 ppqn (pulsos por negra).
Si usted desea hacer todos los ajustes permanentes cuantificación siempre se puede seleccionar la región e ir a MIDI
Ranura de plantillas
Eso es un juego de pelota al otro! Estate atento a los Hub macProVideo para más información sobre esto ... y ver la lógica 101 y Lógica 201 tutoriales para sobrealimentar su conocimiento de cuantificación lógica!