In a previous article we looked at creating a laid-back Hip Hop-style loop in Logic using Ultrabeat. This time around, we are going to follow the same basic process to produce a house beat.
Everything I'll do here will be using the samples that are bundled with Logic, so you should be able to follow along with a standard installation of Logic Pro 9. This is really aimed at the beginner who is new to programming electronic beats.
Step 1 - Loading Up A Basic Kit
Ultrabeat is packed with loads of very cool, usable kits. This is ideal if you are pretty new to Logic and don't have a huge sample library of your own. When it comes to programing house beats, we actually have a pretty good choice here.
I opted for one of the more obvious house kits here called "Progressive House". Ideally I would build my own kit, but for the purposes of this tutorial it had more or less everything I needed to build a basic house beat.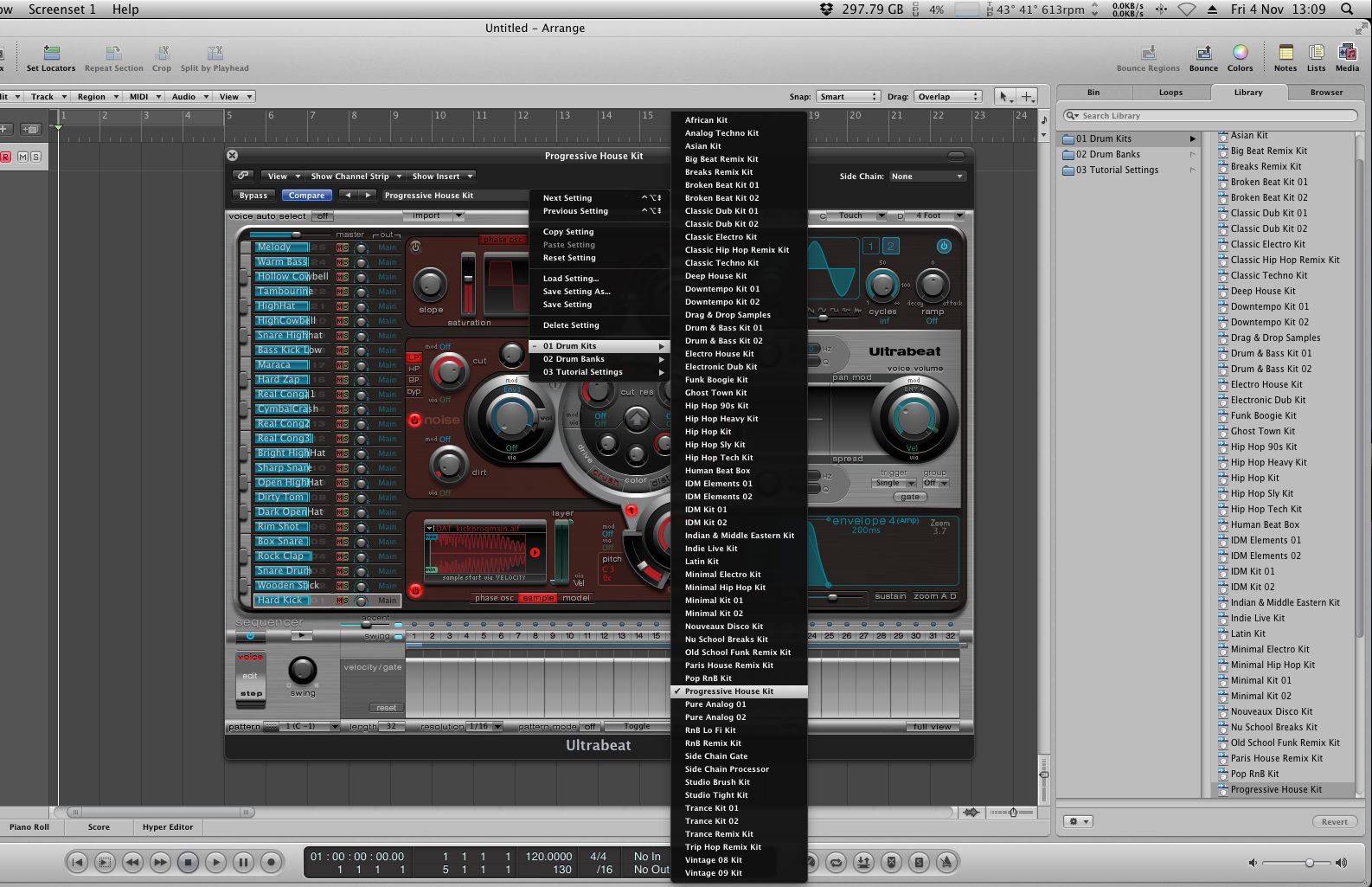 The kit is loaded.
With the kit loaded, we're ready to start programming the basic section of our house beat...
Step 2 - Programming The Backbone Of Your Beat
I used Ultrabeat's internal step sequencer to program the main part of the beat here. Although what you hear below may be a little 'painting by numbers' when new to the world of beat programming this can be a great way to get started.
I simply used a 4/4 kick drum, an offbeat open high hat and a few layered snares on the 2nd and 4th beats. Very simple stuff indeed, but incredibly effective and immediately recognizable as a house beat.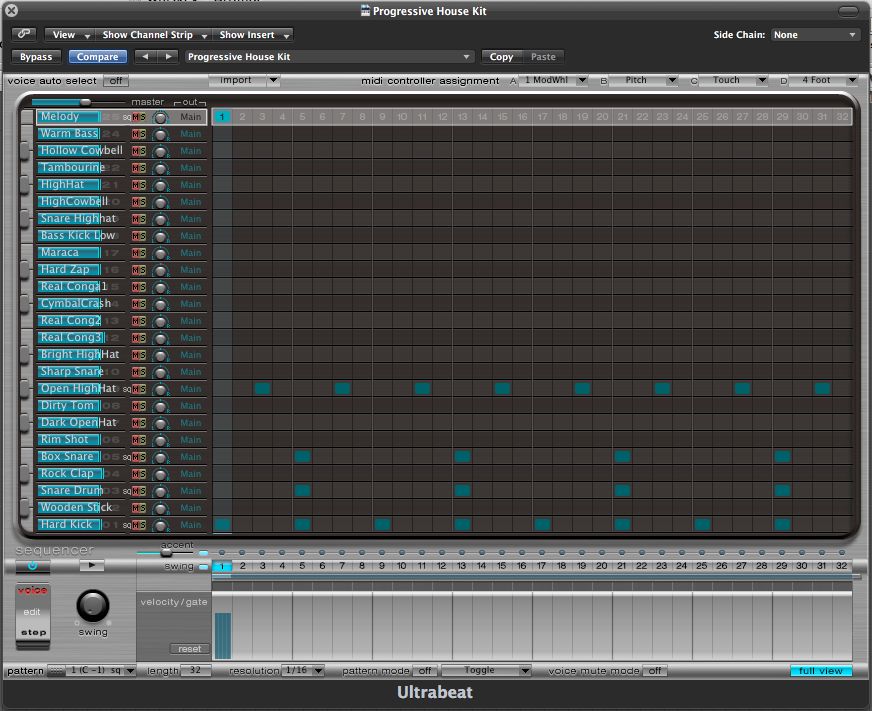 The simple beat in Ultrabeat's sequencer.
Of course the way you make this yours so to speak is by adding further 'decorative' parts. These could be effects or percussion and should add groove and variation to the simplicity we've created so far.
We'll do this using MIDI but first we'll need to get our basic beat into Logic's Piano Roll for editing and we'll do this in the next step...
The simple beat we have at this point:
Adding Parts Using MIDI
As we saw when programming our basic RnB beat, moving the MIDI from Ultrabeat's internal sequencer is nice and straightforward. We simply grab the drag pattern icon and place the info onto the Ultrabeat's track.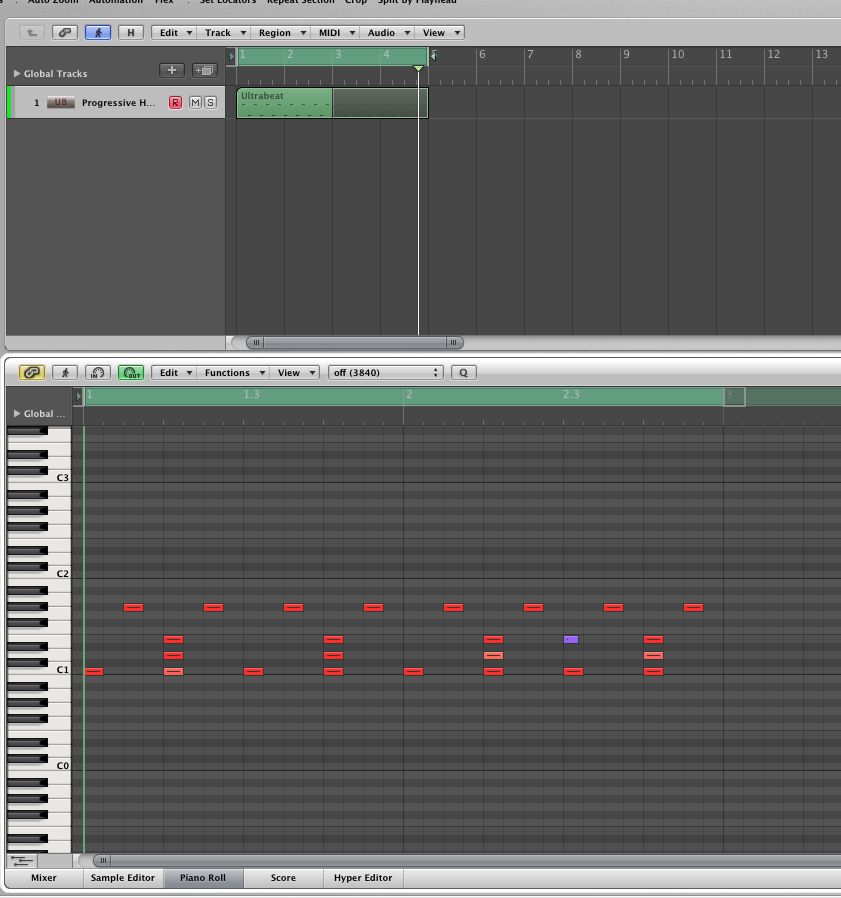 The MIDI is dragged to a new track.
Turn Ultrabeat's step sequencer off, or you will hear everything twice! You can now see the MIDI in Logic's piano roll editor and are ready to edit your work so far or augment the pattern with extra MIDI information.
I moved a few of our previously programmed parts around to create a touch of variation. I then started to add small parts of percussion to the loop using a MIDI keyboard. Even these little sparks of interest can transform a simple loop like this and turn into something a little more individual.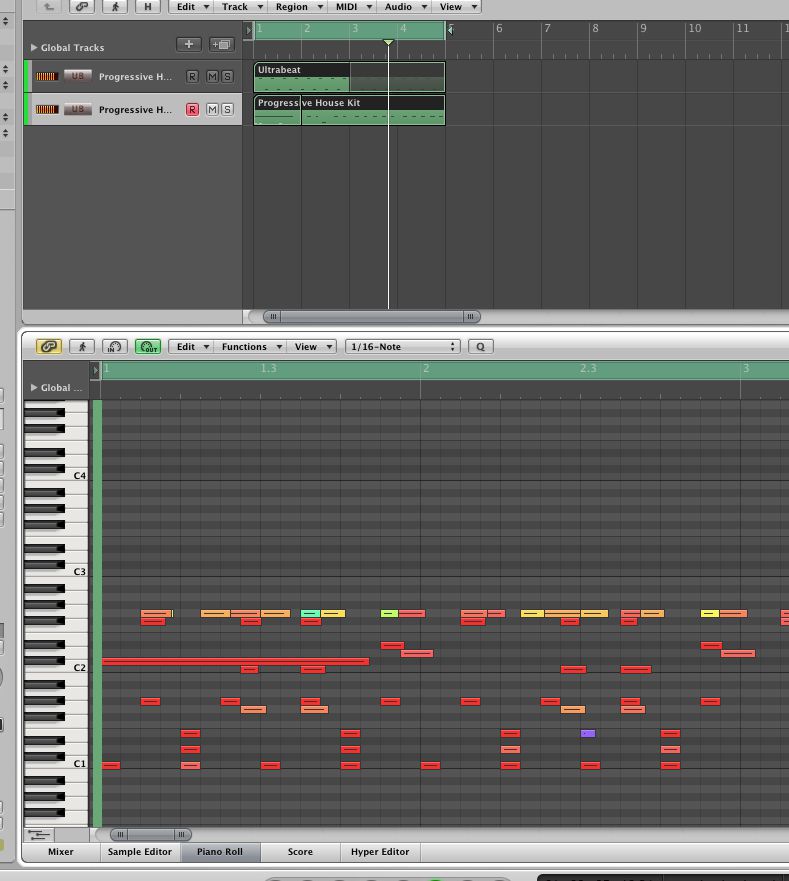 Extra programming is added to our part.
The new parts help to add variation to the loop:
Now try and create your own house beat and mix things up a touch. This is just a launch pad for creating your own unique rhythms in this style.