Avec tambour plug-ins, à base d'échantillons d'instruments MIDI et studios virtuels, c'est très, très facile à imiter avoir un vrai batteur. Cela est particulièrement cool quand tu es le mec seul avec un ordinateur portable. Boucles enregistrées rendre encore plus facile, parce qu'ils sont les performances réelles, dans la plupart des cas, des batteurs réelle.
Cependant, il ya une chose qui trahit portable performances réalisées plus rapidement que n'importe quoi: Une répétition continue d'un battement à travers une chanson sans se remplit, ou changer d'entreprise.
There are a few more things too that will give you away, but for this exercise, let's just talk about 'Fills' in particular.

Qu'est-ce qu'un Remplissez?
Listen to any old Pop, Rock, RNB, or Country track. Right before the chorus starts listen to the drums. Immediately before the first part of the chorus starts, you'll notice an extra couple of snare hits, with a possible tom, or crash. This would be known as a fill. You'll also hear them periodically in the middle of a verse, and other places.
Their main purpose is to break up parts of a song and create definition between parts. We're already geared to subconsciously await a new part, or change when we hear one from years of contemporary music... and... so is your audience. Having fills within your song creates a feeling of familiarity and polish, and no drummer worth his grain in salt will ever not include a fill, unless they are directed not to. Why would anyone want that anyway?!
Facile Création Remplissez
Pour cet exercice, je vais utiliser la Raison, mais cela va fonctionner pour toutes les applications de musique. À mon avis, c'est plus amusant d'enregistrer réellement votre comble pour une chanson après que toutes les pièces principales sont prévues comme l'une des dernières couches de vernis avant de les mélanger. Cependant, je ne peux pas écrire comment les enregistrer avec facilité, donc je vais juste vous montrer comment les dessiner po
Etape 1
Créer un battement de tambour séquencé pour une mesure. J'ai utilisé la Raison à la mienne créer. Je l'ai mis en place pour environ 100 BPM. Mon Snap est fixé à 1 / 16. Cela rend la vie plus facile quand je dessine dans des parties avec mon crayon, car je sais qu'ils seront toujours dans le temps. Snap est un peu comme avoir un pochoir pour quand vous êtes la peinture. Elle permet simplement sûr de ce que vous dessinez les séjours dans un ensemble de paramètres. Logic Pro est une fonction instantanée, appelé "Snap" aussi bien. Pro Tools a, Cubase aussi. C'est tout là-bas.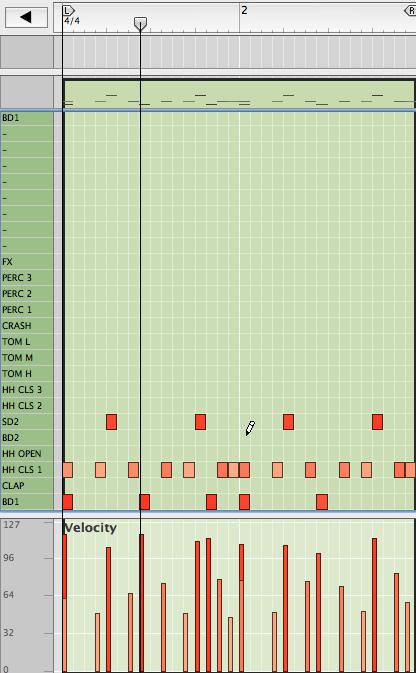 Etape 2
Une fois que j'ai eu mon pattern de batterie où je l'aime, je vais simplement copier une mesure de mes tambours au cours d'une deuxième mesure. Après tout, vous ne pouvez pas avoir une mesure de tambours à travers une chanson, non? Dans les applications de la Raison, et la plupart des données audio, vous pouvez maintenir le bouton de commande, puis faites glisser la région depuis. Cela va créer un instant en double.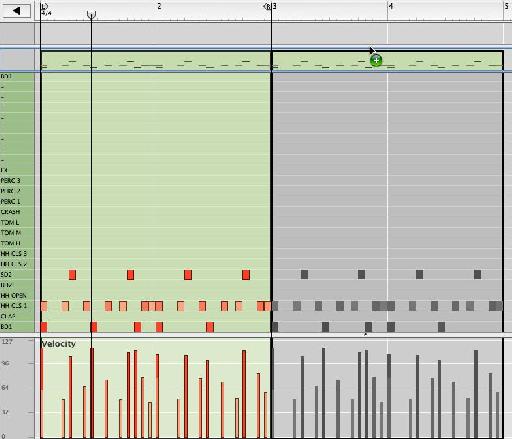 Étape 3
Je vais rejoindre les régions du tambour avec le raccourci J Command. Maintenant, j'ai une région à tambour qui s'étend sur deux mesures. A la fin de ma part plus de batterie, je vais dessiner dans un couple de notes de caisse claire à la fin de mon tambour de la région. Ces coups sont, en fait, tout mon soûl.

Vous pouvez saupoudrer ces notes, ou remplit toute votre chanson pour briser tambours monotone, et amener la définition de votre chanson. En général, je tiens à les placer à la fin de toutes les 4 mesures, tout simplement parce que j'ai une capacité d'attention très faible. Je vous encourage à faire plusieurs variations de votre bien remplit. Lorsque vous avez un un générique utilisé dans tous les sens, ça rend les choses un peu ennuyeux à nouveau.
Aussi, juste avant un changement majeur chanson, comme l'introduction d'un chœur, quelques tes collets remplir d'un accident, cela rendra les choses beaucoup plus dynamique.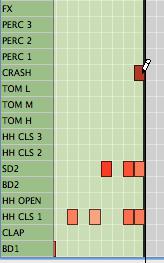 En intégrant remplit de votre musique, vous pouvez vous assurer que vous avez une beaucoup plus fluide, et la chanson polie. Aussi, assurez-vous lorsque vous écoutez de la musique pour se concentrer sur tambour remplit pour vous donner de nouvelles idées!
Jetez un oeil à quelques autres "tambour liés" tutoriels: Exploring Racks de batterie , King Kong des tambours et Superior Drummer: Batterie tueur .