Todo mundo sabe que você precisa usar um compressor, mas depois de deixá-la cair no canal, o punchiness ainda é ilusória para alguns. Deixe-me dizer-lhe o grande segredo. O segredo que vai deixar seus chutes socos pessoas nos ouvidos!
It's All About the Attack Time
NOTE: You should be using studio grade headphones or monitors to hear this effect best!
Se você olhar para um bumbo
Olhe para esse chute. Ele é ampliada o suficiente para eu ver a linha do tempo de milissegundos. Eu posso ver que a parte CARNE punchy do chute começa a diminuir cerca de 30 milissegundos. Isso é um bom indicador de onde eu deveria me definir o tempo de ataque.

Depois de obter esse bocado útil de informações, eu posso soltar um compressor para o canal ou grupo. Vire o Rácio de 4,00: 1 e que o ataque de 30 milissegundos. Então, enquanto o pontapé está sendo jogado, lentamente começar a puxar para baixo o limite até que você pode começar a ouvir aquele soco de serem amplificados. Algumas pessoas gostam de puxar o limiar de todo o caminho e, em seguida, fazer o seu caminho de volta, de qualquer forma funciona, contanto que você encontrar o ponto ideal!
dom
Para esta faixa de estilo hip hop particular eu estou trabalhando, eu tenho o compressor sobre o grupo / ônibus com o chute e laço. Estas são as configurações, e acho que ele está adicionando um monte de soco e presença tanto para o chute, e no laço.
Exemplos de áudio abaixo ...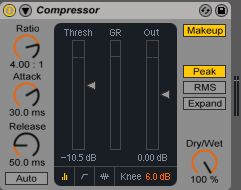 Você pode entrar e usar o mesmo método para o laço pela
Hearing the Changes Better
Estes tipos de técnicas de mistura pode ser bastante pequena, mas eles estão sempre melhorando o produto final quando feito corretamente. No entanto, quando a adição de compressão, a pista tende a ficar mais alto em geral. Esta presta-se à ilusão de que mais alto = melhor.
Uma solução rápida para isso é usar a correspondência ganho relativo para que você possa corretamente A / B o antes e depois, sem a mudança de intensidade.
Para isso, soltar um Maximizer VST para o mestre e definir o limite ea saída para o mesmo nível. Esse nível deve ser apenas sob a saída de nível de pico do mestre antes de quaisquer fichas de mistura ou masterização, como o nosso compressor tambor.
Por exemplo, a minha pista antes da compressão do cilindro foi atingindo um máximo de -2,37 dB. Então, eu deixei cair Loudmax, um maximizador livre, no canal principal e virado para baixo tanto o limiar e saída para -3 dB. Na verdade, Loudmax ainda tem um parâmetro de ligação para se certificar de que eles são exatamente os mesmos.
Agora, quando eu virar o compressor ligado e desligado I pode ter uma noção mais precisa do que ele está fazendo para misturar sem ele impulsionar o volume quando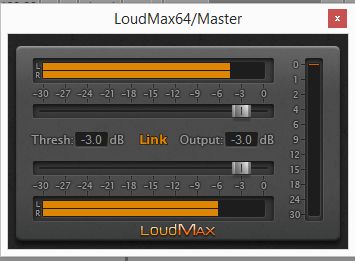 Listen to the Difference
Antes Punchy cilindro de compressão -3 Peak dB, de 24 bits, 41.000 kHz
[Id áudio = "39431"]
Após Punchy cilindro de compressão -3 Peak dB, de 24 bits, 41.000 kHz
[Id áudio = "39432"]
Aprender mais sobre