Tutti sanno che è necessario utilizzare un compressore, ma dopo aver lasciato sul canale, il punchiness è ancora sfuggente per alcuni. Lasciate che vi dica quello grande segreto. Il segreto che vi permetterà tuoi calci pugni la gente nelle orecchie!
It's All About the Attack Time
NOTE: You should be using studio grade headphones or monitors to hear this effect best!
Se si guarda a una cassa
Guardate questo calcio. Si è ingrandita abbastanza per me vedere la timeline millisecondo. Posso vedere che la parte MANZO incisivo del calcio inizia a diminuire di circa 30 millisecondi. Questo è un buon indicatore di dove devo impostare me tempo di attacco.

Dopo aver ottenuto quel po 'utile di informazioni, posso cadere un compressore sul canale o gruppo. Ruotare il rapporto di 4,00: 1 e Attack a 30 millisecondi. Poi, mentre il calcio si gioca, lentamente inizia a tirare verso il basso la soglia fino a quando si può iniziare a sentire quel pugno di essere amplificato. Ad alcune persone piace tirare la soglia fino in fondo e poi farsi strada back up, in entrambi i casi funziona, fino a quando si trova il punto debole!
don
Per questo particolare tracciato stile hip hop in cui sto lavorando, ho il compressore sul gruppo / bus con il calcio e rullante. Queste sono le impostazioni, e trovo che è l'aggiunta di un sacco di punch e presenza sia al calcio e il rullante.
Esempi audio qui sotto ...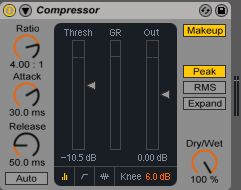 Si potrebbe andare a utilizzare lo stesso metodo per il rullante da
Hearing the Changes Better
Questi tipi di tecniche di miscelazione può essere molto piccola, ma sono sempre migliorare il prodotto finale quando fatto correttamente. Tuttavia, quando si aggiunge la compressione, la pista tende a diventare più forte nel complesso. Ciò si presta alla illusione che più forte = meglio.
Una soluzione rapida per questo è di usare relativa corrispondenza di guadagno in modo da poter correttamente A / B prima e dopo, senza il cambiamento di sonorità .
Per fare questo, cadere un Maximizer VST sul master e impostare la soglia e l'uscita allo stesso livello. Tale livello dovrebbe essere appena sotto il livello di uscita di picco del master prima di eventuali spine di miscelazione o mastering, come il nostro compressore tamburo.
Ad esempio, la mia pista prima della compressione del tamburo è stato un picco a -2,37 dB. Così, ho lasciato cadere LoudMax, un maximizer gratuito, sul canale master e abbassato sia la soglia e uscita a -3 dB. In realtà , LoudMax ha anche un parametro di collegamento per assicurarsi che essi sono esattamente gli stessi.
Ora, quando accendo il compressore e lo spegnimento posso ottenere un senso più preciso di ciò che si sta facendo per mescolare senza aumentare il volume quando si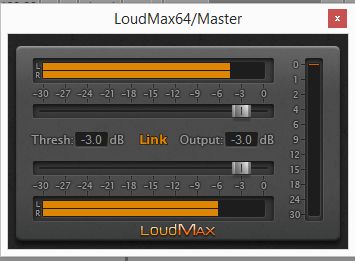 Listen to the Difference
Prima Punchy Drum Compression -3 dB Peak, 24-bit, 41.000 kHz
[Id audio = "39431"]
Dopo Punchy Drum Compression -3 dB Peak, 24-bit, 41.000 kHz
[Id audio = "39432"]
Impara di più riguardo