Tout le monde sait que vous avez besoin d'utiliser un compresseur, mais après une chute sur le canal, l'punchiness est encore difficile à atteindre pour certains. Permettez-moi de vous dire une grand secret. Le secret qui vous permettra de vos coups de pied poinçon personnes dans les oreilles!
It's All About the Attack Time
NOTE: You should be using studio grade headphones or monitors to hear this effect best!
Si vous regardez une grosse caisse
Regardez ce coup de pied. Il est agrandie assez pour moi de voir la chronologie de la milliseconde. Je peux voir que la partie de BOEUF punchy du coup de pied commence à diminuer autour de 30 millisecondes. Qui est un bon indicateur de l'endroit où je devrais me mettre temps d'attaque.

Après avoir obtenu que peu d'information utile, je peux déposer un compresseur sur le canal ou le groupe. Tourner le ratio à 4,00: 1 et une attaque à 30 millisecondes. Puis, alors que le coup est joué, commencer lentement à tirer vers le bas le seuil jusqu'à ce que vous pouvez commencer à entendre ce coup de poing étant amplifié. Certaines personnes aiment à tirer le seuil tout en bas et ensuite faire leur chemin de retour, de toute façon fonctionne, aussi longtemps que vous trouverez le sweet spot!
Don
Pour ce morceau de style hip-hop particulier sur lequel je travaille, je dois le compresseur sur le groupe / bus avec le coup de pied et le filet. Ce sont les paramètres, et je trouve cela ajoute beaucoup de punch et de la présence à la fois le coup et le filet.
Exemples audio ci-dessous ...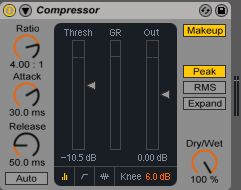 Vous pouvez entrer et utiliser la même méthode pour la caisse claire par
Hearing the Changes Better
Ces types de techniques de mélange peuvent être très petites, mais elles sont toujours améliorer le produit final lorsqu'elle est effectuée correctement. Cependant, lors de l'ajout de compression, la piste a tendance à être plus fort ensemble. Ceci se prête à l'illusion que = forts mieux.
Une solution rapide pour cela est d'utiliser gain relatif correspondant de sorte que vous pouvez correctement A / B avant et après sans le changement de l'intensité sonore.
Pour ce faire, déposez un Maximizer VST sur le maître et régler le seuil et la sortie au même niveau. Ce niveau devrait être un peu moins de la sortie de niveau de crête du maître avant que les bouchons mixage ou le mastering, comme notre compresseur de tambour.
Par exemple, ma piste avant la compression du tambour a été un pic à -2,37 dB. Donc, je suis passé LoudMax, un Maximizer libre, sur le canal principal et refusé à la fois le seuil et la sortie à -3 dB. En fait, LoudMax a même un paramètre de liaison pour vous assurer qu'ils sont exactement les mêmes.
Maintenant, quand je tourne le compresseur sur et en dehors, je peux avoir une idée plus précise de ce qu'il fait de mélanger sans elle stimuler le volume quand il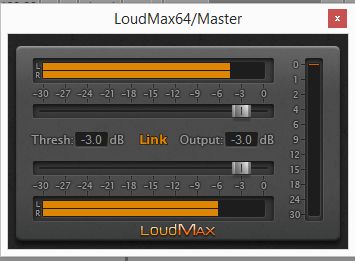 Listen to the Difference
Avant de pointe dB de Punchy tambour de compression, 24 bits, 41 000 kHz
[Id audio = "39431"]
Après crête dB de Punchy tambour de compression, 24 bits, 41 000 kHz
[Id audio = "39432"]
En savoir plus sur