Todo el mundo sabe que es necesario utilizar un compresor, pero después de la caída sobre el canal, el punchiness es todavía difícil de alcanzar para algunos. Déjeme decirle un secreto grande. El secreto que le permitirá a sus patadas puñetazos personas en los oídos!
It's All About the Attack Time
NOTE: You should be using studio grade headphones or monitors to hear this effect best!
Si nos fijamos en un bombo
Mira esta patada. Se ha acercado lo suficiente para mí ver la línea de tiempo de milisegundos. Puedo ver que la parte BEEF garra de la patada comienza a disminuir alrededor de 30 milisegundos. Esto es un buen indicador de donde yo me debería establecer el tiempo de ataque.

Después de conseguir que los bits de información útil, puedo soltar un compresor en el canal o grupo. Desactivar este parámetro a 4,00: 1 y el ataque a 30 milisegundos. Entonces, mientras que la patada se está jugando, poco a poco comenzará a bajar el umbral hasta que pueda empezar a escuchar ese golpe se amplifica. Algunas personas, como para tirar el umbral hasta el fondo y luego hacer su camino de regreso hacia arriba, de cualquier manera funciona, siempre y cuando se encuentre el punto dulce!
Don
Por esta pista de estilo hip hop en particular que estoy trabajando, tengo el compresor en el grupo / en autobús con el bombo y la caja. Estos son los ajustes, y me parece que es la adición de una gran fuerza y ​​presencia tanto a la patada y la trampa.
Ejemplos de audio a continuación ...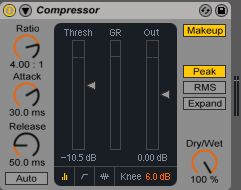 Es posible entrar y utilizar el mismo método para la caja de
Hearing the Changes Better
Estos tipos de técnicas de mezcla puede ser bastante pequeña, pero siempre se mejora el producto final cuando se hace correctamente. Sin embargo, cuando se añade la compresión, la pista tiende a ser más fuerte en general. Esto se presta a la ilusión de que más fuertes = mejor.
Una solución rápida para el que se va a usar en relación a juego de ganancia para que pueda adecuadamente A / B el antes y después sin el cambio de sonoridad.
Para hacer eso, la caída de un maximizador VST en el maestro y establecer el umbral y la salida al mismo nivel. Ese nivel debería ser justo debajo de la salida de nivel de pico de la maestra antes de que los tapones de mezcla o masterización, como nuestro compresor de tambor.
Por ejemplo, mi pista antes de la compresión de tambor fue alcanzando un máximo de -2,37 dB. Por lo tanto, se me cayó Loudmax, un maximizador libre, en el canal principal y rechazado tanto el umbral y la salida a -3 dB. De hecho, Loudmax incluso tiene un parámetro de enlace para asegurarse de que son exactamente los mismos.
Ahora cuando se enciende el compresor encendido y apagado que puedo tener una idea más precisa de lo que está haciendo para mezclar sin que aumentar el volumen cuando se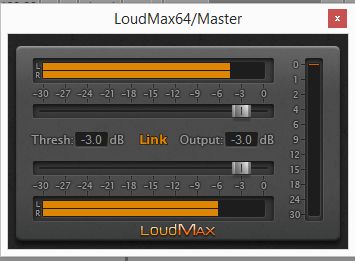 Listen to the Difference
Antes de tambor compresión garra -3 dB de pico, de 24 bits, 41.000 kHz
[Identificación de audio = "39431"]
Después de la compresión del tambor garra -3 dB de pico, de 24 bits, 41.000 kHz
[Identificación de audio = "39432"]
Aprender más acerca de