Jeder weiß, dass Sie benötigen einen Kompressor zu verwenden, aber, nachdem es auf dem Kanal fallen, die punchiness ist immer noch schwer zu fassen für einige. Lassen Sie mich Ihnen sagen, die ein großes Geheimnis. Das Geheimnis, das Ihre Tritte Menschen in den Ohren stanzen lassen!
It's All About the Attack Time
NOTE: You should be using studio grade headphones or monitors to hear this effect best!
Wenn Sie an einem Kick-Drum schauen
Schauen Sie sich das Tor. Es ist genug gezoomt für mich die Millisekunde Timeline zu sehen. Ich kann sehen, dass das druckvolle BEEF Teil der Kick rund 30 Millisekunden zu verringern beginnt. Das ist ein guter Indikator, wo ich mich Attack-Zeit setzen soll.

Danach hilfreich Bit an Information bekommen, kann ich mit einem Kompressor auf den Kanal oder Gruppe fallen. Schalten Sie das Verhältnis auf 4,00: 1 und der Angriff auf 30 Millisekunden. Dann, während der Kick gespielt wird, beginnen langsam die Schwelle nach unten ziehen, bis Sie, dass Punch verstärkt zu hören, beginnen wird. Einige Leute mögen die Schwelle ganz nach unten zu ziehen und dann ihren Weg zurück nach oben, so oder so funktioniert, solange Sie den Sweet Spot zu finden!
Don
Aus diesem Hip-Hop-Style-Spur insbesondere arbeite ich an, ich habe den Kompressor auf die Gruppe / Bus mit dem Kick und Snare. Dies sind die Einstellungen, und ich finde es ist das Hinzufügen einer Menge Punsch und Präsenz sowohl für den Kick und Snare.
Audio Beispiele unten ...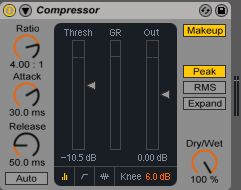 Sie könnten in gehen und die gleiche Methode für die Snare verwenden, indem
Hearing the Changes Better
Diese Arten von Mischtechniken kann ziemlich klein sein, aber sie sind immer die Verbesserung des Endproduktes, wenn es richtig gemacht. Wenn jedoch Kompression Zugabe tendiert die Spur lauter insgesamt zu erhalten. Dies eignet sich für die Illusion, dass lauter = besser.
Eine schnelle Abhilfe für das heißt relativ Verstärkungsanpassung zu verwenden, so können Sie richtig A / B die vor und nach, ohne die Lautstärke ändern.
Um dies zu erreichen, fallen ein Maximizer VST auf dem Master und stellen Sie den Schwellenwert und die Ausgabe auf dem gleichen Niveau. Dieses Niveau sollte knapp unter dem Spitzenwert Ausgang des Masters, bevor irgendwelche Mix oder Mastering-Stecker, wie unsere Trommel Kompressor sein.
Zum Beispiel, meine Spur vor der Trommel Verdichtung wurde auf -2,37 dB Höchststand. Also, ich fiel Loudmax, eine kostenlose Maximierer, auf den Master-Kanal und lehnte sowohl die Schwelle und Ausgang auf -3 dB. In der Tat hat Loudmax sogar eine Verbindungsparameter sicherstellen, dass sie genau die gleichen sind.
Wenn ich jetzt den Kompressor ein- und ausschalten kann ich ein genaueres Gefühl dafür, was es tut, ohne es zu mischen, um die Lautstärke steigern, wenn es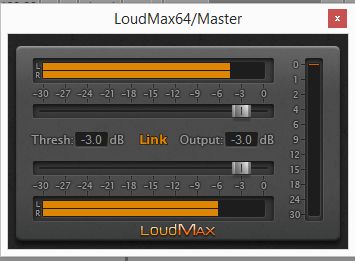 Listen to the Difference
Vor Punchy Drum Compression -3 Spitze dB, 24-bit, 41.000 kHz
[Audio-id = "39431"]
Nach Punchy Drum Compression -3 Spitze dB, 24-bit, 41.000 kHz
[Audio-id = "39432"]
Lerne mehr über