Logic Pro's Pedalboard contains a whole host of effects that are often overlooked by everyone but guitarists. The truth is the suite contains re-vamped effects from Logic that have had their interfaces tweaked to be super usable.
These effects can be used for just about anything and the routing system makes creative processing extremely straightforward. Let's have a look at how we can apply some of the standout processors to an electronic drum group...
Step 1 - Loading Up Pedalboard
Pedalboard is just like any other bundled Logic effect in the way that it loads. You'll find it tucked away in the Amps and Cabinets section and it can be loaded as an insert or return effect. In this case we'll be strictly sticking to insert mode.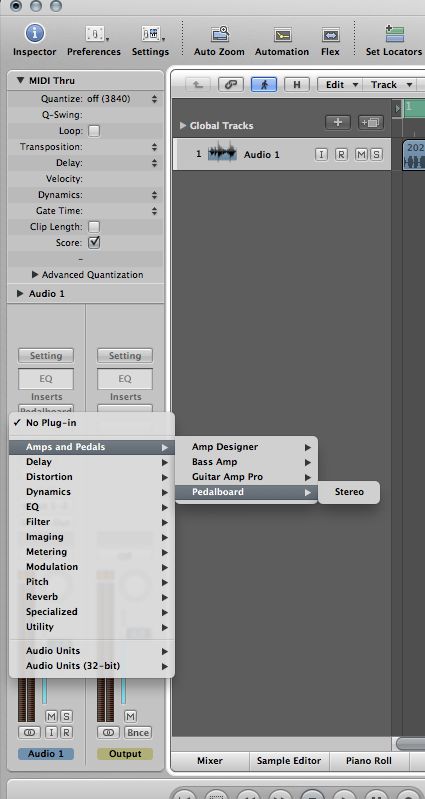 Finding Pedalboard is easy...
Once loaded you'll be presented with a very realistic stomp box flight case, complete with black carpet inlay! All the individual effects are on the right hand side ready to be dragged and dropped in the main area. Let's get into some processing.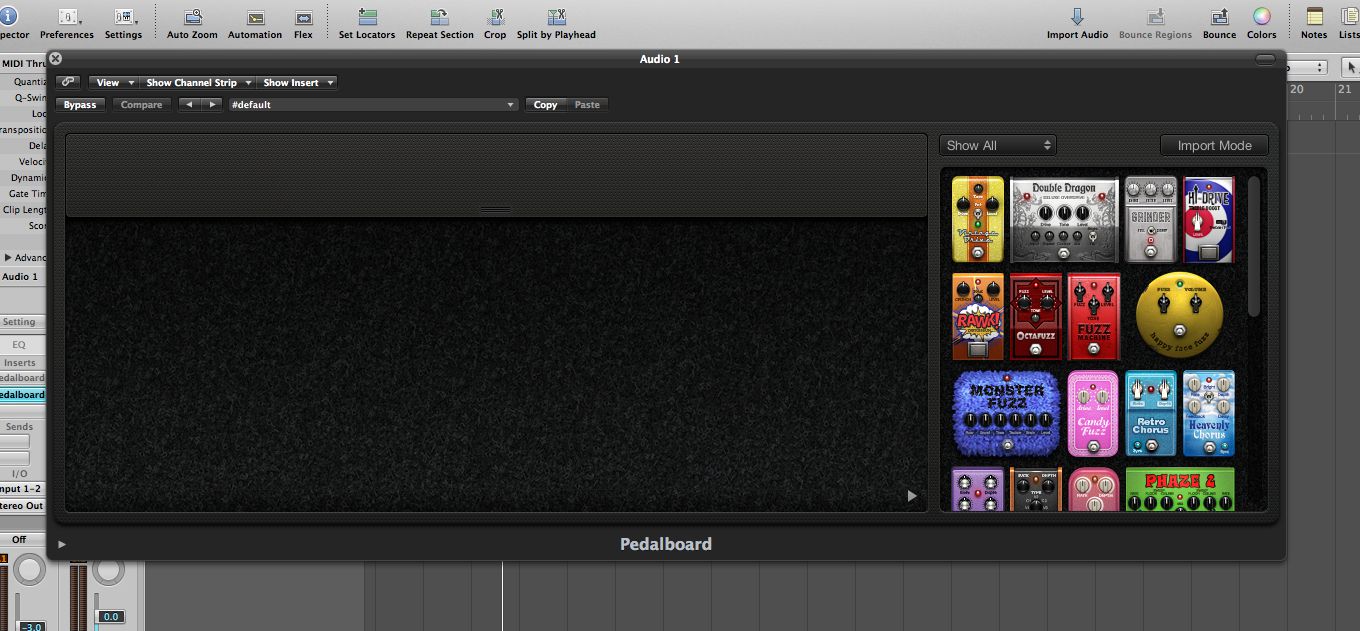 Pedalboard loaded as an insert
Step 2 - Applying Some Basic Effects

Although the pedal board is obviously aimed at guitarists with foot pedal controllers I've found the whole suite more than useful for treating other sounds. Here we'll apply a few key pedals to a programmed drum part. You can hear the part with zero processing below...
The dry untreated audio we'll be using:
In its default state you will see all of the available plug-ins at one glance but if you prefer a more focused list you can use the simple filter menu. This allows you to display only distortions or just delays etc.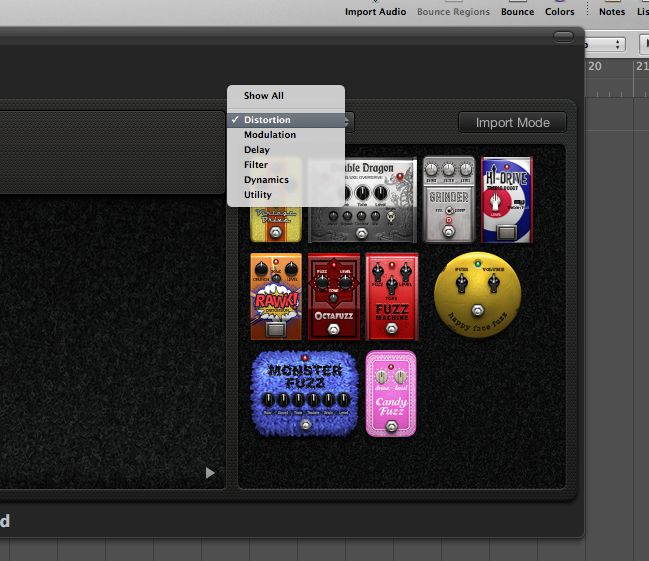 The filter gives you a focused view of all the pedals
By grabbing a pedal and dragging into the main area it's immediately activated. By doing this you'll often find that the sound is immediately and totally transformed. To show you how intense things can get I've applied a distortion a flanger and a delay.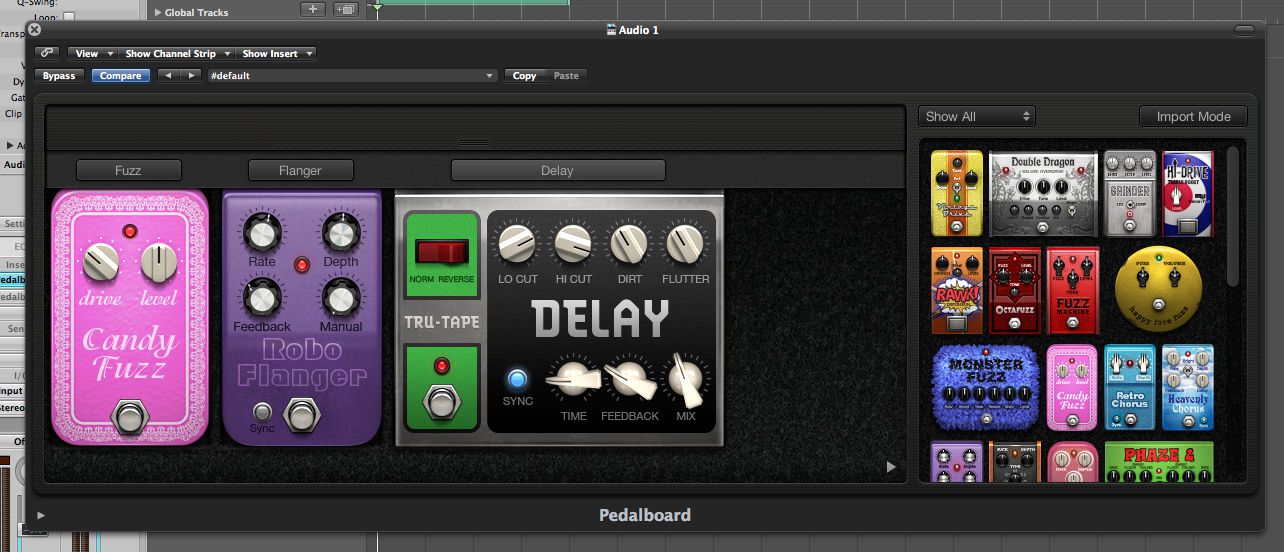 Some basic effects are put in place
As you can hear this isn't ideal as the original sound is totally obscured. Of course you could use this effect as a send return but thankfully Pedalboard has some pretty cool routing options that allow use to create a custom mix. Let's take a look at how it works...
The initial inserts totally obscure our sound:
Step 3 - Parallel Routing And Mixing
By opening the panel above the active pedals you'll reveal a graphical representation of the current routing. When pedals are placed in the manner described above they are simply activated as inserts and the entire signal is processed.
By clicking on the named box for any pedal a new routing is automatically created using a parallel stream. The two signals are then mixed with the original audio at the end of the chain using an automatically generated mini mixer.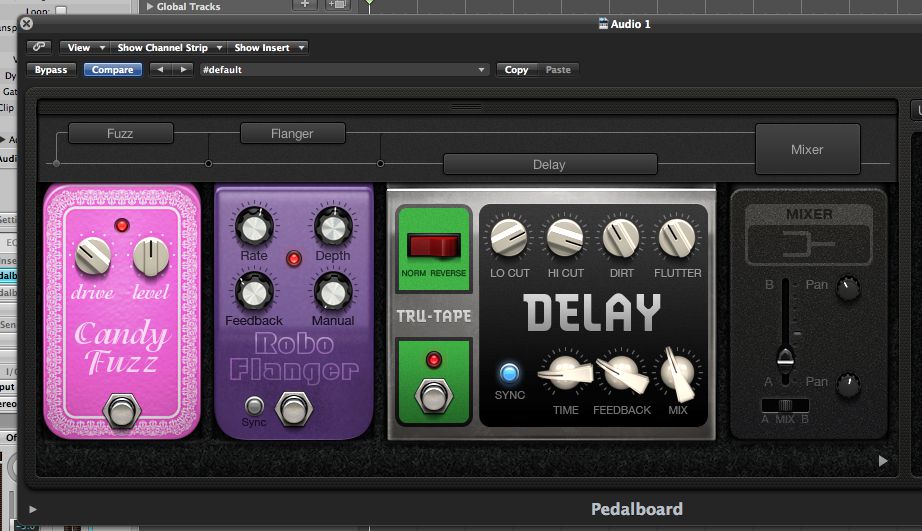 The parallel mix stream is automatically created
You can now mix in as much or as little of the original signal as you like. I have used around 10-20% of the effect in my stream. You will notice I missed the delay out of the parallel line as it has its own wet/dry mix on board.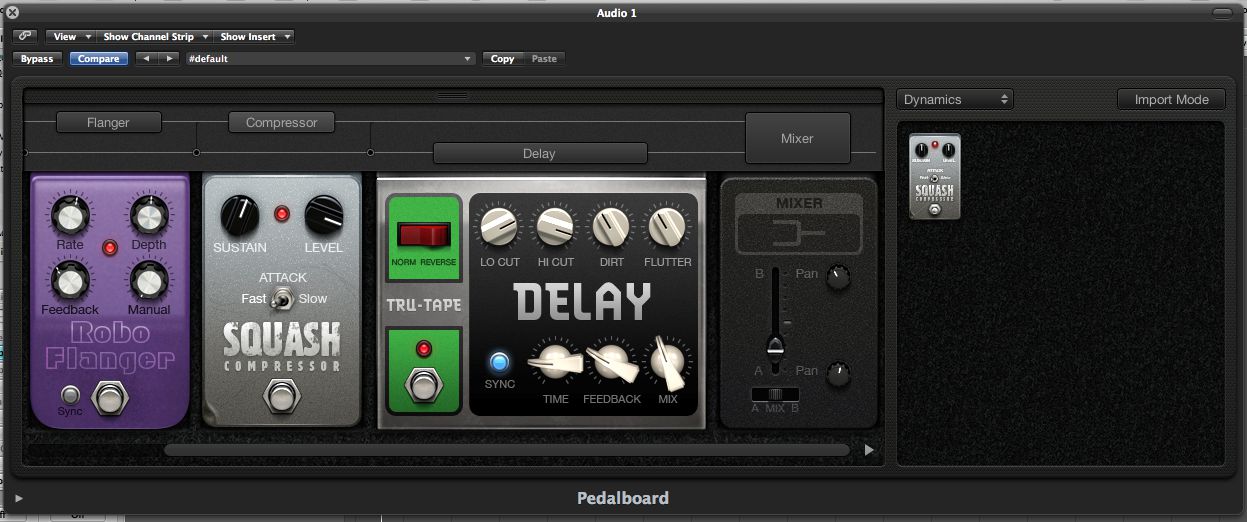 The delay is left out of the parallel mix
The final effect is much more usable and is a healthy blend of the original punchy drum sound and the full-on effects created by Pedalboard. Try making your own creations and experiment with multiple parallel lines and long custom chains.
The final mix is much more useable: