Continuando il nostro sguardo avids
Modelli
Per essere onesti, questo è in gran parte il passato di cui stiamo parlando qui - ciò che nessun Roland RD-700? I quattro modelli offerti da Velvet, con lunghe dichiarazioni di non responsabilità, sono i seguenti:
Fender Rhodes Suitcase 73

Fender Rhodes Mark 1

Fender Rhodes Mark 2 (or 'Dyno Rhodes')

Wurlitzer A200

Quindi nessuna sorpresa! Personalmente mi piace sempre vedere un Hohner Pianet T non, perché è un suono di per sé grande, ma perché lo fa pop-up sullo alcune registrazioni classici come I am the Walrus.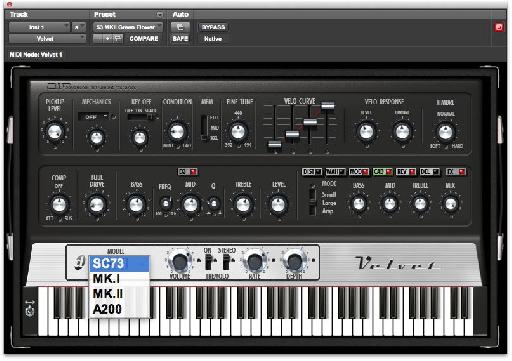 I modelli di tastiera offerti in velluto.
Pannello frontale
Pannello frontale Velluti, a fianco di un pop-up menu per modificare i modelli e per il controllo del volume principale, offre il classico effetto tremolo stereo amato di tutti gli appassionati di Rodi - se non sai cosa voglio dire, causa cassa Jeff Beck siamo finiti come Gli amanti del suo album 1975, colpo su colpo.
A sinistra della tastiera è l'interruttore estensione tastiera. Nella sua posizione di default Velvet limita i tasti si può giocare alla gamma dello strumento originale - un autentico tocco - ma l'interruttore consente l'accesso a tutta la gamma, se necessario.

La tastiera interruttore estensione.
Impostazione
Che non cessa mai di stupirmi su strumenti come Velvet è la lunghezza che gli sviluppatori andare al fine di ricreare non solo uno strumento di grande suono, ma tutte le imperfezioni del disegno che danno gli strumenti il ​​loro carattere. Nella sezione di configurazione, uno dei numerosi controlli offerti è uno Meccanica etichettati, che permette di aggiungere diverse quantità di rumore meccanico associato con piano elettrico, sia con il coperchio o disattivare. Vi è anche un controllo Condizione che vanno da Mint a Bad - perfetto per ricreare il suono di eBay errore! Il Key Off controllo può essere utilizzato per controllare il rumore catturata dai pickup sia quando rilascio di tasti e mediante il pedale.

Il programma di installazione sezione.
Risposta
Se avete mai giocato uno dei pianoforti elettrici qui rappresentati, si sa che uno strumento sarà molto diverso da un altro a seconda della sua età e condizione, che ti fa giocare in modo diverso (ricordate la scena Ray Charles dai Blues Brothers?) Quindi cursori curva di velocità e controlli di velocità di risposta dare un alto grado di controllo sul velluto modo risponde a una tastiera MIDI, e va in qualche modo a ricreare questo fenomeno, soprattutto se si utilizza una tastiera pesata di controllo.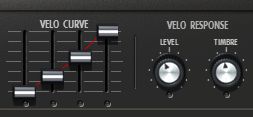 Controllo della risposta dinamica.
Preamp ed effetti
La sezione preamp contiene una serie di controlli per modellare il tono e EQ del suono. Un compressore manopola e controlli Tube Drive sono presenti per aggiungere grinta autentica al suono. La sezione effetti comprende:
Distortion

Wah

Modulation (phaser, flange, chorus)

Cab (cabinet)

Reverb

Delay

L'effetto cabina è particolarmente importante se si sta tentando di far risorgere il suono di un amplificatore Rhodes Suitcase e altoparlanti.

Preamp e le sezioni effetti - con le impostazioni cabina.
Tutti i controlli possono essere mappati a controller MIDI standard facendo clic destro su un controllo in velluto e fare una delle seguenti operazioni:
Choose a MIDI controller from the assign submenu

Choose 'Learn' and move the desired control on your hardware MIDI controller

Good news if you want to use the wah effect with a MIDI expression pedal!

Presets
Ognuno dei quattro modelli qui rappresentati dispone di 70 preset disponibili se si desidera accedere a una gratificazione immediata! Non difficile da indovinare l'ispirazione per A200 Super Dreamer e Mark II Green Flower
Suono
La cosa più importante Velvet suona fantastico in un contesto solista o ensemble. Va detto che, nonostante la vasta gamma di controlli che si possa fare qualcosa di troppo creativo per il suono - per questo hai bisogno di guardare effetti al di fuori Velvet. Ma la flessibilità di controllo sulla sensibilità e reattività fanno di questo uno strumento software estremamente giocabile, e uno che vi ricorderà perché gli originali erano così popolari.