Poursuivant notre regard sur avids
Modèles
Pour être juste, c'est surtout le passé, nous parlons ici - ce pas Roland RD-700? Les quatre modèles proposés par Velvet, avec de longs avertissements, sont les suivants:
Fender Rhodes Suitcase 73

Fender Rhodes Mark 1

Fender Rhodes Mark 2 (or 'Dyno Rhodes')

Wurlitzer A200

Donc pas de surprise là! Personnellement, je voudrait toujours voir un Hohner Pianet T, non pas parce que c'est un grand bruit intrinsèquement, mais parce qu'il ne pop up sur quelques enregistrements classiques comme I am the Walrus.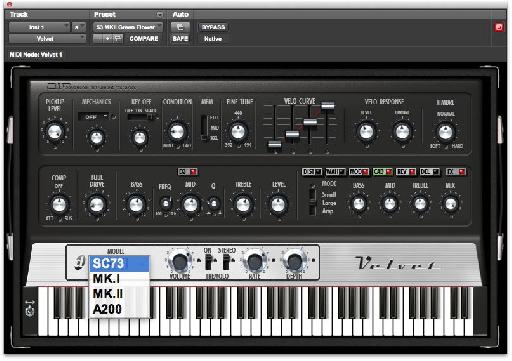 Les modèles de claviers offerts en velours.
Panneau avant
Panneau avant velours, à côté d'un menu pop-up pour changer les modèles et le contrôle du volume principal, offre l'effet trémolo stéréo classique aimé de tous les amateurs de Rhodes - si vous ne savez pas ce que je veux dire, cause achat de Jeff Beck Nous avons terminé en Les amoureux de son album 1975, Blow by Blow.
A gauche du clavier est le commutateur d'extension pour clavier. Dans sa position par défaut Velvet limite les touches sur lesquelles vous pouvez jouer à la gamme de l'instrument original - une touche d'authenticité - mais l'interrupteur permet d'accéder à la gamme complète si nécessaire.

Le commutateur d'extension pour clavier.
Installation
Ce qui ne cesse de m'impressionner sur des instruments tels que Velvet est la longueur que les développeurs aller afin de recréer non seulement un instrument de grande qualité sonore, mais toutes les imperfections de la conception que de donner les instruments de leur caractère. Dans la section Configuration, l'un des nombreux contrôles offerts est une mécanique marqués, ce qui vous permet d'ajouter des quantités variables de bruit mécanique associée à un piano électrique, soit avec le couvercle ou le désactiver. Il ya aussi un contrôle Condition allant de la menthe à Bad - parfait pour recréer le son erreur eBay! La clé de commande de désactivation peut être utilisé pour contrôler le bruit capté par les micros à la fois lors de la publication des clés et l'utilisation de la pédale.

La section Configuration.
Réponse
Si vous avez déjà joué l'un des pianos électriques représentés ici, vous saurez qu'un instrument sera très différent à l'autre en fonction de son âge et de l'état, ce qui fait que vous jouez d'une façon différente (rappelez-vous la scène de Ray Charles par les Blues Brothers?) Donc curseurs courbe de vélocité et les contrôles réponse à la vélocité donner un degré élevé de contrôle sur la façon Velvet répond à un clavier MIDI, et va dans le sens de recréer ce phénomène, surtout si vous utilisez un clavier de commande pondérée.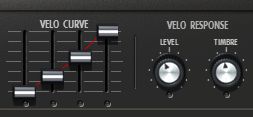 Contrôle de la réponse au toucher.
Préampli et effets
La section préampli contient une variété de contrôles pour façonner le ton et l'égalisation du son. Un compresseur bouton et contrôles Tube Drive sont présents à ajouter grain authentique au son. La section d'effets comprend:
Distortion

Wah

Modulation (phaser, flange, chorus)

Cab (cabinet)

Reverb

Delay

L'effet de la cabine est particulièrement important si vous essayez de ressusciter le son d'un ampli et Rhodes Suitcase haut-parleurs.

Préampli et effets sections - indiquant les paramètres cabine.
Toutes les commandes peuvent être mappées à des contrôleurs MIDI standard par un clic droit sur n'importe quel contrôle en velours et effectuant l'une des actions suivantes:
Choose a MIDI controller from the assign submenu

Choose 'Learn' and move the desired control on your hardware MIDI controller

Good news if you want to use the wah effect with a MIDI expression pedal!

Presets
Chacun des quatre modèles représentés ici ont 70 presets disponibles si vous souhaitez accéder à la gratification instantanée! Pas difficile de deviner la source d'inspiration pour A200 Dreamer Super et Mark II Green Flower
Son
Surtout Velvet semble fantastique dans un contexte solo ou orchestre. Il faut dire que, malgré le grand nombre de commandes vous ne pouvez pas faire quelque chose de trop créatif pour le son - pour que vous aurez besoin d'examiner les effets en dehors de velours. Mais la flexibilité du contrôle sur la sensation et la réactivité font de cet instrument un logiciel extrêmement jouable, et qui va vous rappeler pourquoi les originaux ont été si populaires.