Continuando con nuestra visita avids
Modelos
Para ser justos, es sobre todo el pasado que estamos hablando aquí - lo que no Roland RD-700? Los cuatro modelos ofrecidos por Velvet, junto con renuncias largas, son:
Fender Rhodes Suitcase 73

Fender Rhodes Mark 1

Fender Rhodes Mark 2 (or 'Dyno Rhodes')

Wurlitzer A200

Así que no hay sorpresas! Personalmente siempre me gusta ver a un Hohner Pianet T no, porque es un gran sonido por sí, sino porque lo hace estallar para arriba en un par de grabaciones clásicas como I am the Walrus.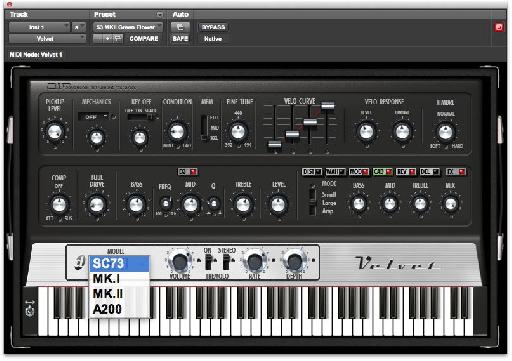 Los modelos de teclado que se ofrecen en terciopelo.
Panel frontal
Panel frontal Terciopelos, junto a un menú pop-up para el cambio de modelos y el control de volumen principal, ofrece el efecto estéreo trémolo clásico querida de todos los aficionados Rodas - si usted no sabe lo que quiero decir, causa la salida de Jeff Beck Hemos terminado como Los amantes de su álbum del 1975, golpe a golpe.
A la izquierda del teclado es el interruptor de extensión del teclado. En su posición por defecto Velvet limita las teclas se puede jugar a la gama del instrumento original - un toque auténtico - pero el interruptor permite el acceso a la gama completa si es necesario.

El interruptor de extensión de teclado.
Disposición
Lo que nunca deja de impresionar sobre instrumentos como el terciopelo es la longitud que los desarrolladores van a fin de recrear no sólo un instrumento de gran sonido, pero todas las imperfecciones del diseño que le dan los instrumentos de su carácter. En la sección Configuración, uno de los muchos controles que se ofrece es un Mecánica marcados, que le permite añadir cantidades variables del ruido mecánico asociado con el piano eléctrico, ya sea con la tapa encendido o apagado. También hay un control que van desde Mint Condition a Bad - perfecto para recrear el sonido de error eBay! La desactivación de tecla de control puede utilizarse para controlar el ruido captado por las pastillas tanto cuando soltando las teclas y utilizando el pedal de pie.

La sección de configuración.
Respuesta
Si alguna vez has jugado a alguno de los pianos eléctricos representados aquí, usted sabrá que un instrumento va a ser muy diferente a otro en función de su edad y condición, que te hace jugar de una manera diferente (recuerde la escena de Ray Charles desde los azules Hermanos?) Así reguladores de velocidad de curva y los controles de velocidad de respuesta proporcionan un alto grado de control sobre el Velvet manera responde a un teclado MIDI, y en cierta manera de recrear este fenómeno, especialmente si usted está usando un teclado controlador ponderado.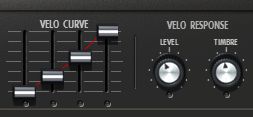 El control de la velocidad de respuesta.
Preamp y efectos
La sección de previo contiene una variedad de controles para dar forma al sonido y ecualizador de sonido. Un compresor de mando y controles tubo de accionamiento están presentes para añadir grano auténtico al sonido. La sección de efectos incluye:
Distortion

Wah

Modulation (phaser, flange, chorus)

Cab (cabinet)

Reverb

Delay

El efecto de la cabina es especialmente importante si usted está tratando de resucitar el sonido de una maleta Rodas amplificador y altavoces.

Preamplificador y secciones de efectos - que muestra la configuración de la cabina.
Todos los controles se pueden asignar a controladores MIDI estándar, haga clic en cualquier control en terciopelo y una de las acciones siguientes:
Choose a MIDI controller from the assign submenu

Choose 'Learn' and move the desired control on your hardware MIDI controller

Good news if you want to use the wah effect with a MIDI expression pedal!

Presets
Cada uno de los cuatro modelos aquí representados con 70 presets disponibles si desea acceder a la gratificación instantánea! Sin difícil adivinar la inspiración para A200 Dreamer Super y Mark II Green Flower
Sonar
Lo más importante Velvet suena fantástico en un contexto individual o de conjunto. Hay que decir que a pesar de la amplia gama de controles que no puedes hacer nada demasiado creativo con el sonido - para que usted tendrá que mirar a efectos fuera del terciopelo. Pero la flexibilidad del control de tacto y sensibilidad hacen de este instrumento un software muy jugable, y que le recordará por qué los originales eran tan populares.