La funzionalità di plug-in AudioSuite ha ricevuto una certa attenzione il benvenuto nella sua ultima versione di Pro Tools . L'utente ha ora la possibilità di creare maniglie che esistono al di fuori dei confini della selezione Edit, che consente di tagliare la clip trattati oltre quei confini.

Prima e dopo
In basso versioni di Pro Tools, quando si rese una clip (o una regione come era noto) che era la sua dimensione. Il file è stato reso esattamente la stessa durata della selezione, quindi se avete deciso che l'effetto sarebbe un buon suono su più bit a della pista l'unica opzione era quella di rendere una nuova selezione.
In Pro Tools 10 si può decidere di applicare l'elaborazione AudioSuite per qualsiasi cosa, da 0 a 60 secondi oltre i confini clip, o scegliere l'intero file. Questo permette poi di cambiare idea su quanto della pista dovrebbero essere interessati dal processo di scelta, dopo l'elaborazione ha avuto luogo.
Come specificare Lunghezza maniglia
In Pro Tools 10, plug-in AudioSuite hanno guadagnato un paio di opzioni in più accanto al pulsante Render sul plug-in.
The Handle Length field - here you can enter any value from 0 to 60 seconds.

The Whole File option - select this to process the entire file

E 'importante ricordare che qualsiasi cosa si seleziona qui, inizialmente solo in grado di vedere e sentire il materiale reso per tutta la durata della selezione corrente, fino a che il taglio della clip elaborati.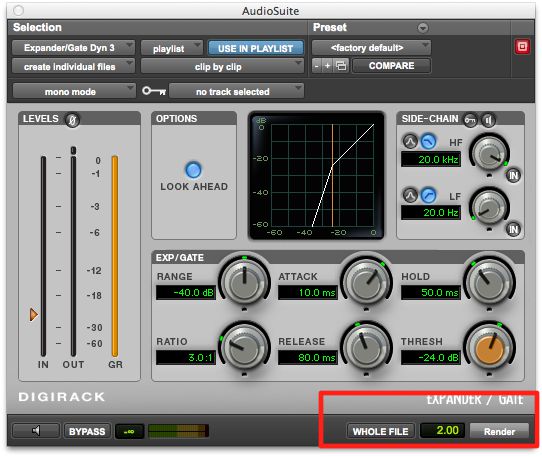 Gestire Opzioni.
Taglio di una clip Rendered
Una volta che un clip è stato reso possibile tagliare i confini clip con lo strumento Trimmer (o lo strumento intelligente come Trimmer) fino al limite definito nella finestra plug-in. La clip estesa di recente reso andrà a sostituire il materiale non-reso in quella posizione.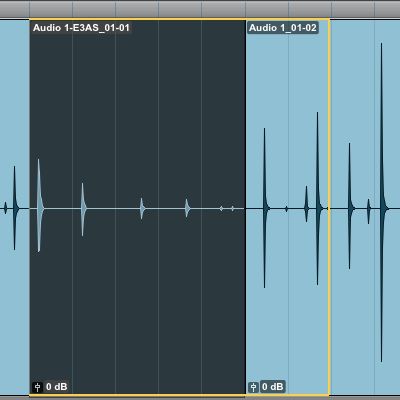 Ritaglio di un clip di reso.
Impostazione delle preferenze
È possibile impostare la lunghezza del manico default nella scheda Elaborazione della finestra delle Preferenze (Setup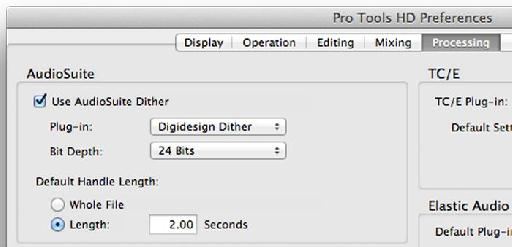 AudioSuite preferenze.
Clip di guadagno
Nella maggior parte dei casi ciò che guadagno clip è stato applicato l'intera clip saranno resi alla nuova clip (che si basa sulla selezione Edit) e il guadagno clip viene riportato a 0 dB. Questo avviene nel seguente ordine:
Render Clip gain

Apply AudioSuite processing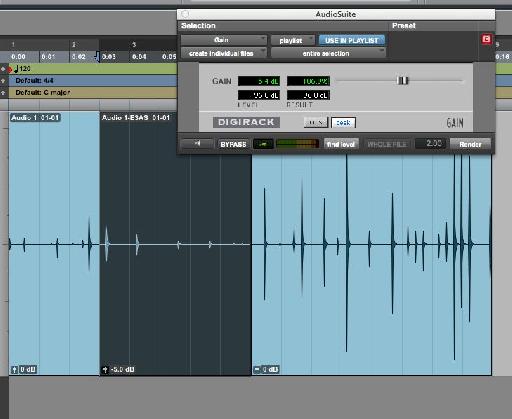 Clip di guadagno prima di applicare l'elaborazione.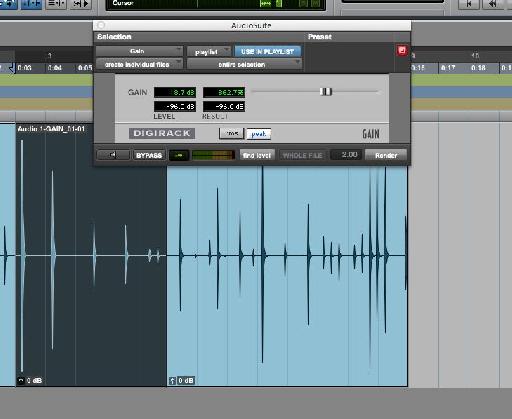 Clip di guadagno dopo l'applicazione di elaborazione.
Se invece avete scelto una delle opzioni seguenti poi il guadagno clip non verranno disegnati e saranno conservati con la clip:
File mode set to 'Overwrite File' (Rendering Mode set to 'Clip by Clip')

File mode set to 'Create Individual Files' (Rendering Mode set to 'Clip by Clip')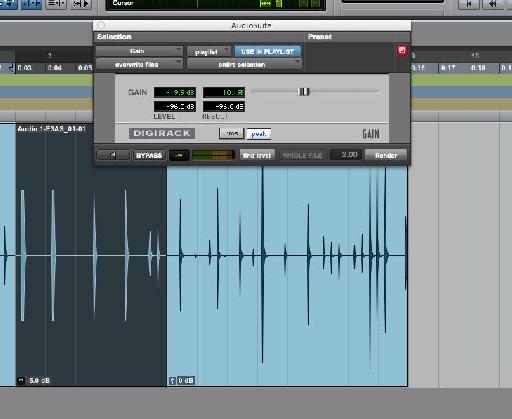 Clip di guadagno prima di applicare l'elaborazione.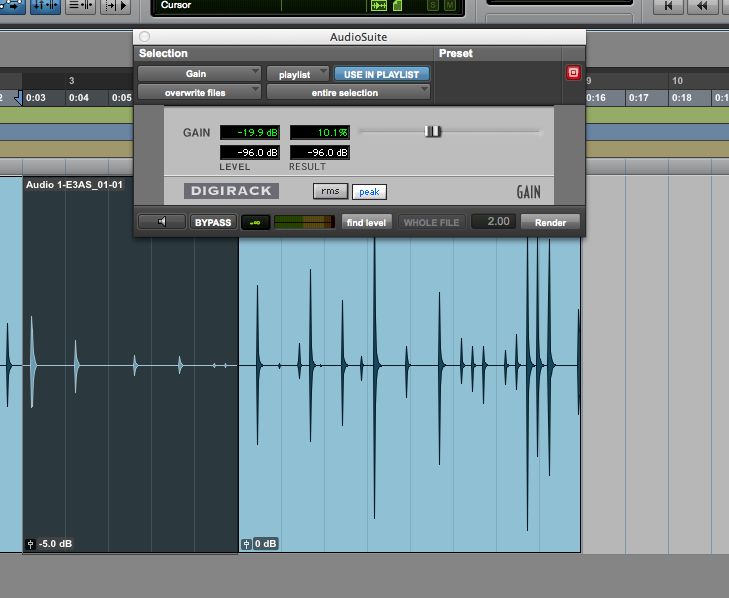 Clip di guadagno dopo l'applicazione di elaborazione (modalità di rendering impostato clip da Clip).
Vuoi saperne di più su Pro Tools 10 da un partner Learning Avid? Dai un'occhiata a queste Tools Pro 10 tutorial video .