Pre-Review: Behringer Neutron Analog Synth Walkthrough & Sounds Demo
Watch this 25 minute video overview and preview / mini-review of the new Behringer Neutron semi-modular analog hardware synthesizer. Find out what it really sounds like and how good it really is.
Behringer's new semi-modular analog monster synth, Neutron, is one of the most talked about synths of 2018. Just 2 months in and it's already captured a lot of headlines and minds.
Listed at a jaw-dropping (in a good way) $299 USD, you might be forgiven for thinking this analog semi-modular synthesizer is lacking in some areas when compared to more expensive synths of similar spec. In our week or so playing and testing (and playing some more) with the Neutron, we haven't found an achilles heel yet.
Instead we've been captivated by its sounds, impressed by its ease of use, wide-eyed when it comes to the expandability with modular and eurorack synths via the patchbay, and quietly pleased with what appears to be a very well-built synthesizer.
Watch our 25 minute 1st-look exploration / overview / demo / preview (with as little talking as possible when I can manage it):
(NOTE: This video was shot live in one-take and has minimal cuts and edits. We controlled it using the Arturia KeyStep MIDI controller. All sounds in the video are recorded direct from the Behringer Neutron through the Arturia AudioFuse into Logic Pro X.)
Although this video wasn't intended as a review (at the time I shot this 2-3 days ago I hadn't fully explored the patchbay or the external audio input) you'll get a good idea what kind of sounds the Behringer Neutron is capable of, how easy it is to use... and hopefully, how satisfyingly fun it is to play with too.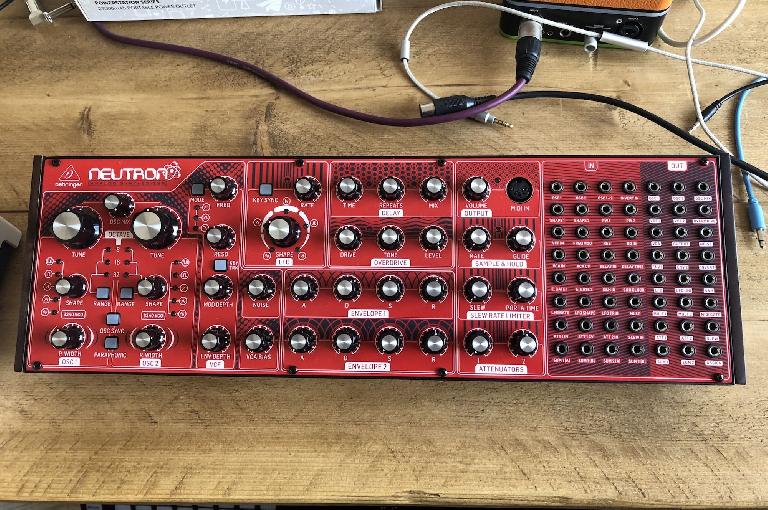 For those coming from a software-synth only, in-the-box world the Neutron represents a very capable and accessible first entry point into the world of real analog hardware synthesizers for just $299. You'll probably find it infinitely more enjoyable than tweaking a MIDI controller or mouse to operate a software synthesizer. Though you'll also miss not being able to create and recall presets too.
For those thinking about entering the world of eurorack but who are cautious and haven't jumped in just yet... Neutron is most definitely an excellent investment, much like the Moog Mother 32 was a couple of years back (though it is around double the price of the Neutron).
Yes, it keeps coming back to the price. In a way Behringer have made it difficult to be overly critical about the Neutron by making it so affordable. And while there are some areas I'd love to see improved, overall, even if this synth was $499 I'd recommend it. It sounds great. The Moffatt filter is gnarly and aggressive at times. Whether you're making percussive sounds, funky stabs, long drones or acid-style blips and blops, the 2-oscillator (paraphonic) Neutron can handle it all with ease.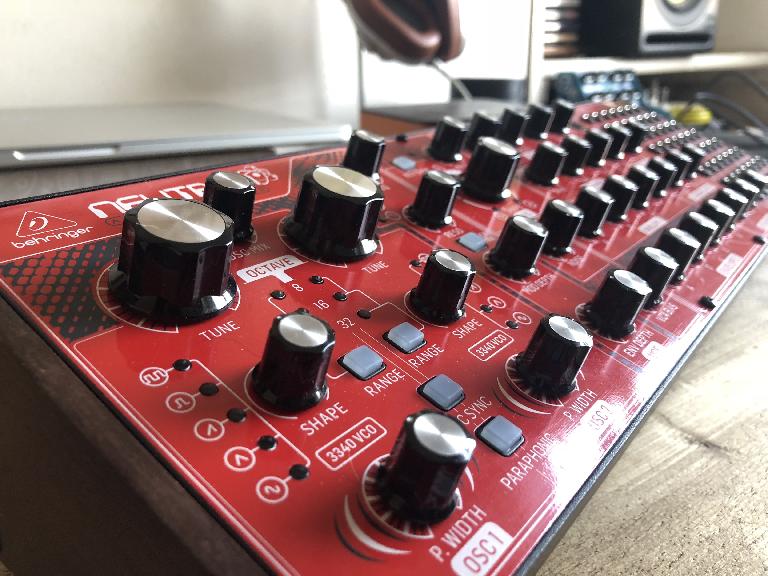 So, what's not to like? Well, the delay is slightly on the side of disappointing for me. I'd love a longer delay time. Believe me I'm splitting hairs at this point. Most good hardware delay units cost nearly as much (if not more) than the Neutron itself... so to have a useable delay built-in which can double up as a chorus is great.
The filter is also a bit on the aggressive side and needs a bit of taming at times. But really, that's not a negative point - rather an advisory note to self to respect the filter cuttoff and resonance more.
At the time of this preview / pre-review the Behringer Neutron isn't availble to buy. However, it should be shipping around beginning of May 2018. So, not long to go now.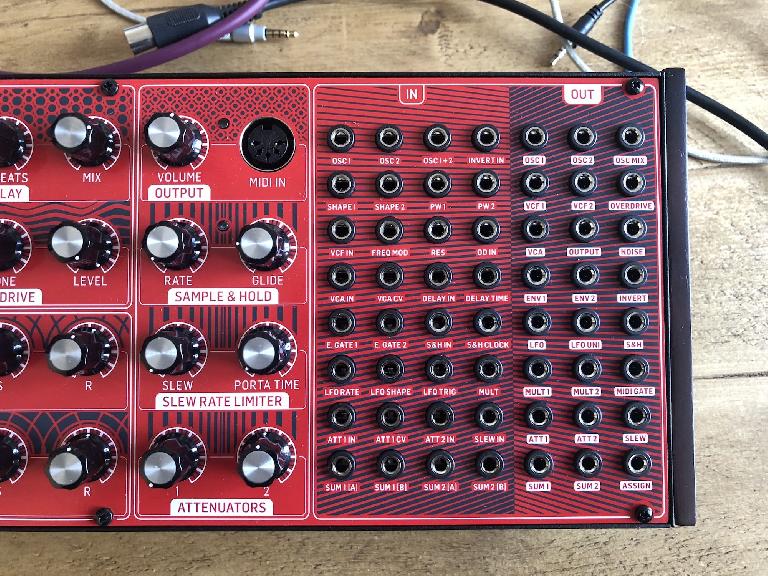 Look at that patchbay!
Conclusion
My advice? This synth is a no-brainer. There isn't a decision to be made here. For the same money you can buy a Behringer Model D (also great value) but with far fewer features than this latest synth. The Neutron also has its own character, and one I'm impressed by and learning to love the more I play it. I also think it looks lovely and I like the little advanced touches like being able to morph between the 5 waveforms for each oscillator, or hard switch between them.
The Behringer Neutron looks set to sell like hot cakes, and with good reason. If you have a spare $299 USD (UK and EUR prices not confirmed yet) and have been looking for a semi-modular analog synthesizer this could be the synth you've been looking for.
Here's the spec of the Behringer Neutron.
Behringer Neutron Features
Paraphonic synthesizer with authentic dual 3340 analog oscillators for insanely fat music creation
Pure analog signal path based on legendary VCO design to recreate classic sound performance
Semi-modular architecture with default routings requires no patching for immediate performance
Oscillator waveform control blends seamlessly between 5 shapes (tone mod, saw tooth, pulse, triangle, sine wave)
Individual pulse width / tone mod control provides ultimate sounds
Paraphonic mode allows both oscillators to be independently controlled
Flexible LFO with fi ve waveform shapes, MIDI clock sync, key sync and delay / fade in
Two analogue ADSR generators for modulation of VCF and VCA
Multiple stage analog delay based on legendary BBD (Bucket Brigade Delay) technology
Overdrive circuit adds rich analog warmth and edge to your sounds
Noise generator dramatically expands waveform generation
36 controls and 7 buttons give you direct and real time access to all parameters
Switchable, self-oscillating, multi-mode analog 12 dB/Oct VCF with dual output (e.g. LP+HP available on jacks) Utility functions including attenuators, multiples, slew rate limiter and summers for creative patching flexibility
32 in / 24 out jack matrix for an incredible amount of patching options
Patchable audio-rate sample and hold with glide for added creativity
Headphone output with dedicated level control
External audio input for processing external sound sources
Comprehensive USB/Midi implementation for connection to keyboard/sequencer
Designed and engineered in the U.K.
Price: $299
Availability: May 2018 (estimated)
Pros: Great sounding synth for double the price. Expandable. Semi-modular. Good modulation optoins. Can process audio through it. Morph beween oscialltor waveforms, capable of a multitude of sounds from earth rumbling basses to squeaky acid blips to funky stabs to soaring leads. Built-in delay and overdrive. The price is more than right, it's excellent value for money.
Cons: Neutron will probably be sold out. Delay time could be longer. Nothing else.
Web: (Not listed on Behringer website yet)