SANTA CRUZ, CA, USA: Plugin Alliance has announced the availability of Lindell 80 Series — Swedish plugin partner Lindell Audio's exacting emulation of original 1073 and 1084 (mic preamp/EQ) and 2254 (mono limiter/compressor) channel modules, plus the 1272 (line amplifier) buss module, from the Neve 8028, one of the last 80 Series hand-wired mixing consoles created by Neve Electronics, enhanced by Plugin Alliance sister company Brainworx Audio's proprietary TMT (Tolerance Modeling Technology) and THD (Total Harmonic Distortion) for added authenticity.
Lindell Plugins is proud to bring you their exacting emulation of original 1073/1084/2254 channel modules and the 1272 line amplifier buss module into your DAW. One of the classic hand-wired mixing consoles made by Neve Electronics, the 8028 is a truly magical desk on which countless seminal records have been cut in the last 30 years; think Queen, David Bowie, Nirvana, Red Hot Chilli Peppers, and Slipknot –– the sound of this analog legend is nothing short of extraordinary. In Lindell 80 Series, you will find aggression and power to make your records sound as analog as possible.
What Is TMT?
To complete their new console offering, Lindell Audio has licensed the patent-pending Tolerance Modeling Technology (TMT) from Brainworx in order to provide an authentic analog experience in the digital realm. Mix your songs with 32 different channels in order to replicate the various component tolerances found in the original hardware. As part of the Plugin Alliance family, Lindell are also offering a workflow and feature set with this new TMT console that will feel very familiar to all users of the current bx_console.
Lindell Audio's Lindell 80 Series is available for purchase (as an AAX Native-, AU-, VST2-, and VST3-supporting plugin for MacOS 10.9 through 10.14 and Windows 7 through 10) at an attractive introductory price of $199.99 USD — rising thereafter to an MSRP (Manufacturer's Suggested Retail Price) of $249.00 USD — from here: https://www.plugin-alliance.com/en/products/lindell_80_series.html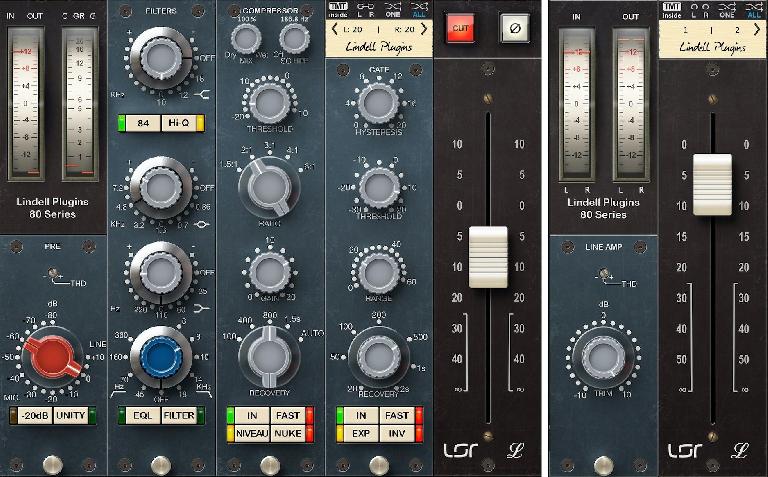 Note that Lindell 80 Series users are also provided with access to Lindell 80 Buss, a separate plugin providing an exacting emulation of the 1272 drop-in module used as a buss amplifier originally built for Neve Electronics' '80 Series' analog mixing consoles.

A fully-functional, 14-day trial of Lindell 80 Series is available to anyone registering for a free Plugin Alliance account here: http://www.plugin-alliance.com/en/registration.html