PhotoScore and NotateMe Ultimate Review
The combination of PhotoScore and NotateMe into one bundle is a pretty big deal for the music writing, scoring, and arranging world. Let's find out what Matt Vanacoro thinks about it!
Having a complete system of bidirectional notation recognition can speed up a workflow to previously unheard of levels. Whether you are trying to get printed music from a score into a MIDI file or hand-written music instantly converted into professional notation, this bundle from Neuratron has a solution for you. I tried both apps in a variety of workflows and I'm ready to tell the tale.
Scan a Score

The first use case I tested out was to scan an existing score to get into Sibelius for editing, transposition, and more. I spent a bit of time on the included demo scores to get used to the system before jumping into the 'deep end'. The workflow is actually fairly simple to understand. You take a clean photo of a score, ask PhotoScore to 'read' the score, make any tweaks necessary, then export into the format and app of your choice.

That's a real simplification of a very diverse suite of tools, but it's important to keep the steps in mind before you start analyzing the value of the suite as a whole. When importing, for example, there is a built-in tool to directly connect scanning devices and scan right into PhotoScore. This can save you the step of taking a picture, importing that picture from a camera roll, deleting the original off of your camera roll… you get the idea.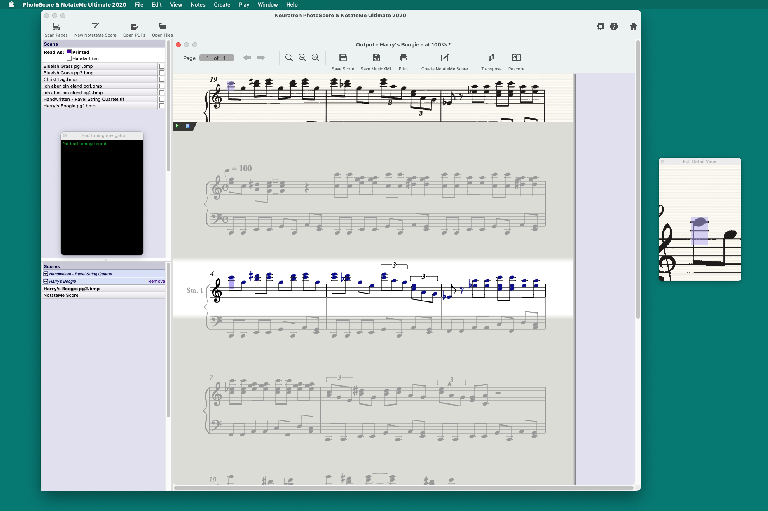 Once the photo is read / analyzed by PhotoScore, you then have a built in editing tool that allows you to confirm and compensate for any scanning errors. This is a lot more than just a MIDI editor - there is a 'scope' that zooms in on the original score wherever your mouse happens to be editing in the scanned copy. You can hear the pitches as you click and move notes around and this makes editing / confirming notes incredibly easy. All in all, I found the process of getting music into PhotoScore and MIDI out of PhotoScore to be intuitive and easy.
PhotoScore struggled a bit with some of my handwritten scores, but granted, I have terrible handwriting. This is where its partner, NotateMe was able to jump in and pick up the pieces.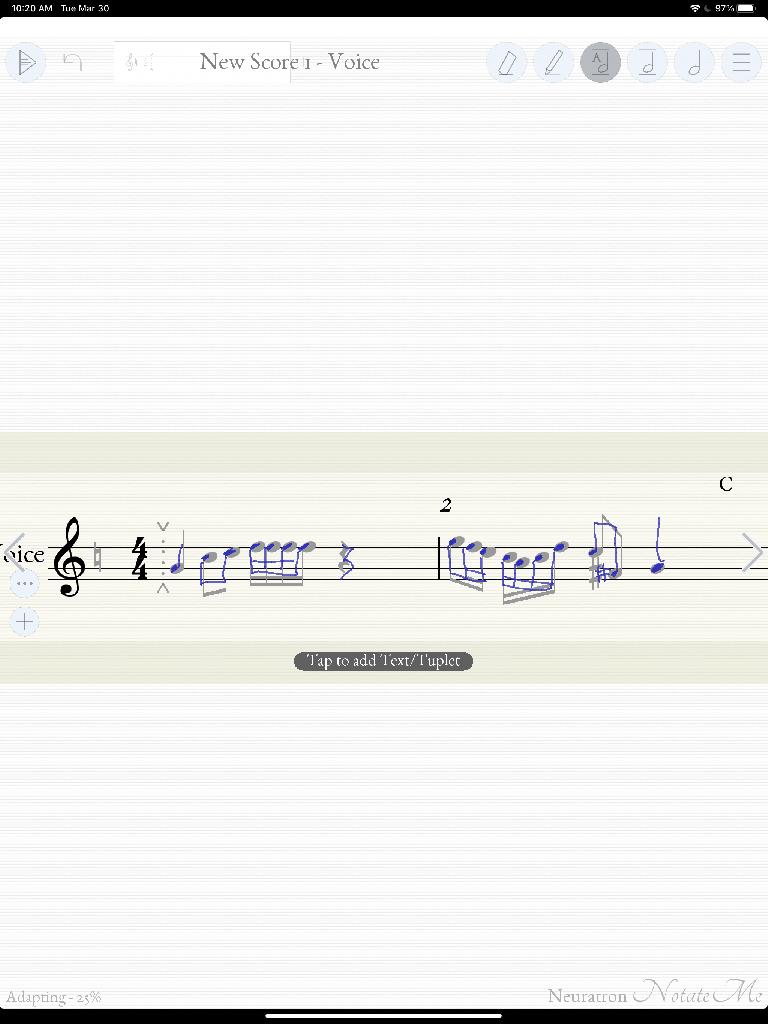 Next Generation Notation

NotateMe is a really fantastic tool for anyone who wants to quickly convert handwritten notation into printable / editable sheet music. You have the flexibility to use NotateMe with your computer device - and I highly recommend using a computing device with a pen input. Jotting in the notation with a mouse was do-able, but picking up NotateMe for iOS and using an Apple Pencil was just an absolute game changer.

NotateMe finally realizes the dream I've had ever since the iPad first came out. The ability to jot down notation at lightning speed on a computing device and have it spit out quality printed sheet music. This technology has been evolving since its inception and I can happily tell you, NotateMe is the real deal. The workflow of using your fingers to manipulate the score and zoom level while using a pointing device to jot down notation is smooth, efficient, and only gets better as you use it. Amazingly, while I got better at writing, NotateMe got better at learning my handwriting. This made the accuracy seem to skyrocket as time went on. Eventually, I got to a place where I had students in my classroom, I jotted down some quick notes on the staff for an altered part I wanted them to play, and I was able to email them a PDF right from my device within a single minute.
Better Together

The NotateMe desktop app is seamlessly tied in with PhotoScore, and you've even got the ability to send a PhotoScore document right into NotateMe and make handwritten additions / corrections as you go. The entire system works quite well together and is most definitely worth the investment of time in getting 'good at it'. I'm quite happy to see this bundle offered and if you work in scoring, have a sheet music library, or want to simply generate accompaniment from a score then PhotoScore + NotateMe is an absolute no-brainer.
Price: $249
Pros: Comprehensive notation OCR tools, great in-line MIDI editor, accurate scanning results, amazing handwritten notation converter, app gets 'smarter' as you use it

Cons: Documentation is print-only. I'd love to see a suite of tutorial videos
Website: www.neuratron.com