PATCH & TWEAK: New Book Explores Modular Synths From Makers Of Push Turn Move
Everything you ever wanted to know about modular synths and more can be found in this new book from the authors of PUSH TURN MOVE.
If there's one book on music machines and the designs that have made them iconic that's stood head and shoulders above the rest, it is of course PUSH TURN MOVE. It's a glorious, fresh and informative exploration of interface design in electronic music instruments across 350+ full color pages.
For some it'll look great on a coffee table, and others when they read it will appreciate how much there is to learn about the instruments many of us use daily to create music.
Well, here's some awesome, exclusive news for you... The author, Kim Bjorn has teamed up with Chris Meyer from Learning Modular to create the next book synth lovers will be lusting after. And this time we're going modular.
PATCH & TWEAK is a new book about modular synths, their makers and masters and features a foreword by Suzanne Ciani. It will be a 320+ page book packed full of knowledge about modular synthesizers, eurorack modules, interviews with modular artists and more. The book will be hitting Kickstarter on 1st May 2018, so stay tuned to AskAudio for more info as it becomes available.
In the meantime, here's the info Kim and his team have shared with us before the official launch on PATCH & TWEAK:
Following PUSH TURN MOVE, a new book exploring modular synthesis hits Kickstarter soon:
PATCH & TWEAK provides an opportunity for new and experienced users to become true masters of their modular synthesizer systems. Like its predecessor, PATCH & TWEAK contains inspirational interviews with noteworthy creators and major artists that share their passion for modular. The book lets you explore their systems, philosophies, patching secrets, and performance tips.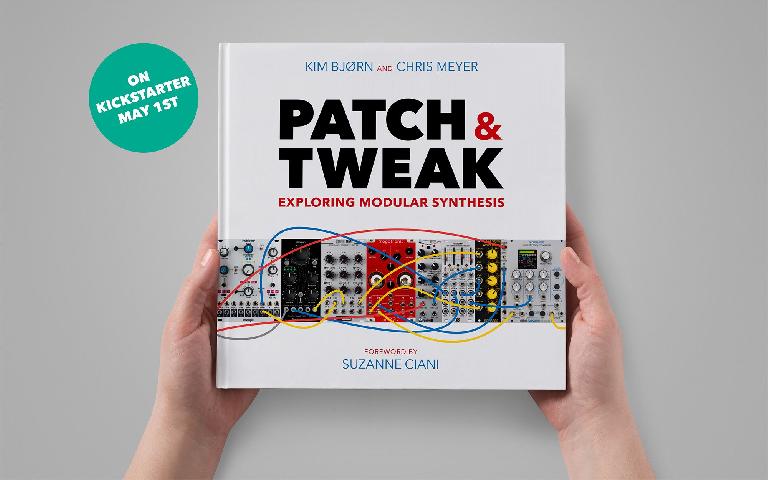 Besides a comprehensive introduction to synthesis and its history, PATCH & TWEAK covers systematic sections on concepts, purpose and creative possibilities of specific modules. There are colorful diagrams, presentations of both popular and rare modules, semi-modular and software, as well as techniques on patching and how to get started with a modular synth system. The book takes the reader on a unique journey of discovery, resulting in clarity and expanded knowledge of modular synthesis.

Kim Bjørn, Author: Kim is known for his international success PUSH TURN MOVE featuring a foreword by Jean-Michel Jarre, and got praise as "the bible of electronic music instruments". As both a designer and musician, he is passionate about investigating the relationship between electronic music instruments and their users.
Chris Meyer, Author: Chris Meyer learned modular synths as a teen in the 70s. He went on to create Vector Synthesis, and helped design electronic music tools for Sequential Circuits, Digidesign, Roland, and others. Today he's sharing his knowledge with new generations of musicians through LearningModular.com.
Suzanne Ciani, Foreword: Suzanne Ciani is a five-time Grammy-nominated composer, recording artist and pioneer in the field of electronic music. She has released more than 15 albums, and her work has been featured in countless commercials, video games and feature films. In 2017 she received the Moog Innovation Award.
Paul Nagle, Editor: Paul is an experienced synthesizer enthusiast and reviewer for Sound on Sound Magazine in the U.K.
Interviews with modular artists: Hans Zimmer, Robert Rich, Bana Haffar, Caterina Barbieri, Russell E. L. Butler, Ian Boddy, NODE, Robin Rimbaud / Scanner, Hataken, Lady Starlight, Andrew Huang, Richard Devine, and many more.
Creators and brands in the modular world: Modular creators and brands, which are particularly evident to the scene, are featured in specific interviews, including: Verbos Electronics, Fraptools, Mutable Instruments, WMD, Make Noise Music, Intellijel, Endorphin.es, 4ms Company, Noise Engineering, Rossum Electro-Music, Erica Synths, and Music Thing Modular. Others including Doepfer, Buchla, Serge, Moog, Synthesizers.com and others will also be featured.