Overview & Sound Demo of Dreadbox Abyss 4-Voice Analog Synth
This 4-voice analog synth, the Abyss, captured our attention at Superbooth 2017. Dreadbox have put time and passion into this synth. In this 10 minute video they give us an in-depth overview.
Without doubt, one of my favorite synth interviews from Superbooth 2017 was with Yannis from Dreadbox. We were initially hoping to check out the NXY, but unfortunately somebody (investigation is still ongoing) screwed it up and walked off...
If you have any information on this tragic crime against a synth, please contact the superbooth police on: +41 808 303 909 001 (your call will be completely confidential).
So instead we spent more time with the soon to be released Abyss, 4-voice analog synthesizer. And I'm very glad we did. From the feel, layout, design, controls to the sound itself, Dreadbox have created a really intuitive to play and control, and sonically pleasing synth.
But don't take my word for it, check out the video from Superbooth here:
Although the price hasn't been confirmed we're expecting it to be in the $1,200 USD / £999 GBP price bracket.
Dreadbox Abyss Main Features:
4 Voice Analog Synthesizer
All Analog Discrete Components
4 playing modes :
– Unison
– Polyphony
– Chords (+ user chords)
– Multi channel (multitimbral over selected controls)
1 VCO + 1 Sub Oscillator per Voice
White Noise Generator
Independent Wave shaping Modulator
Polyphonic Glide function
4 independent LFOs (1 for each voice) to control Vibrato
Variable Speed Depth and Delay
Vibratos and Glide can be set out of phase via the Detune (Vibrato) control
VCO autotune function
24 dB/oct 4-pole Resonating Low Pass Filter (based on the Murmux series)
Dedicated ADSR Envelope Generator to the Filter
Velocity sensitivity over the EG Attack Rate or the EG Level
Dedicated ADSR Envelope Generator to the VCA
OTA Drive circuit
Reflector: 1024 BBD Delay for Chorus/Flanger or Static Flangers
Hybrid Delay Circuit as found on the Erebus
4-stage Analog Phase Shifter
2 Analog LFOs with 4 waves each to control the Filter, Reflector, Delay, Phaser
4 Modulation Wheel Choices
Fine Tune Control
CV Control over Filter, Phaser, Delay and Reflector
Dry output (without effects)
Signal Input ( at the effect stage)
Midi In / Midi Through
Aluminum Case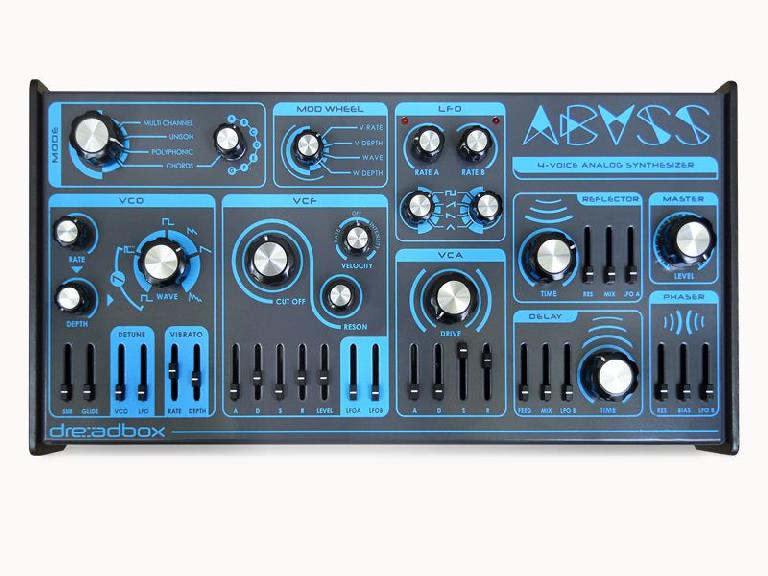 Stay tuned to AskAudio for a full review. We're expecting it to begin shipping next month (May 2017) and hope to have a unit then to review.