A Los Angeles based music software company is opening it's doors Nov 12, 2013 and launching REV - the world's first collection (and a massive one) of instruments, loops, rises, pads, pulses, swells and more all in REVERSE. Released in partnership w/ Native Instruments, REV is built w/in the Kontakt en- gine and installable through the NI Service Center.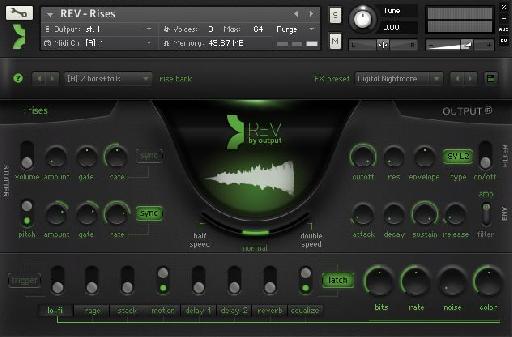 REV offers users the first chance to play instruments in real time in reverse and includes over 1,000+ pre- sets spread over 4 unique engines. All sounds lock to tempo and work within all major DAW's. Engines include a wide array of filters, stutters and FX that can help the user tweak the sound both in the studio and on the fly. Available from outputsounds.com, REV will be sold as a full collection for $199 and is built for anyone looking to push their sonic envelope - Producers, Composers, Artists, DJs, Sound Designers, etc.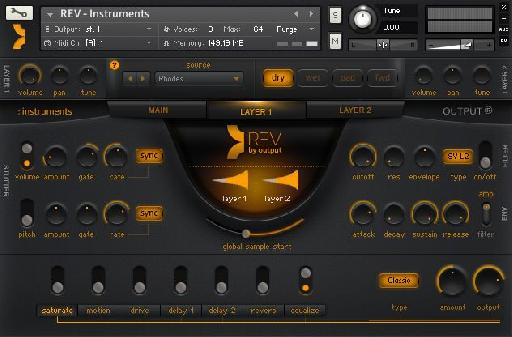 A few early endorsers include:
Harry Gregson-Williams (Shrek, Chronicles of Narnia, Man On Fire)

David Kahne (Producer of Paul McCartney, Lana Del Rey, Sublime, The Strokes, Kelly Clarkson) Bill Brown (Composer: CSI)

Triniti Coclough (Producer: Public Enemy)

Jeff Beal (Composer House Of Cards, Ugly Betty)

Greg Townley (Mixer: Sideways, Up In The Air)

Jeff Rona (Composer, Lead figure in Building MIDI)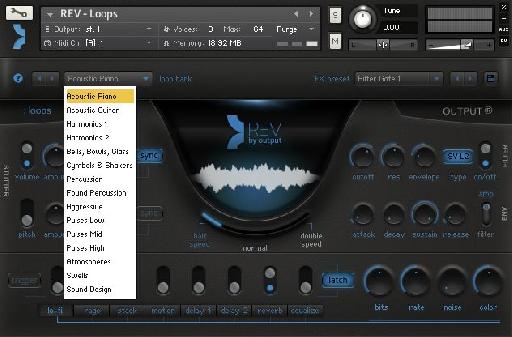 REV gives users the opportunity to play their favorite instruments and complex new ones backwards and in real time.
Key Points:
REV is a collection of 4 unique engines: Instruments / Timed instruments / Loops / Rises

REV has over 1,000 patches, including 14 GB of content (uncompressed)
ALL sounds lock to tempo and come with cutting edge features (filters, stutters, tweakable fx, trigger fx, on screen-help, etc.)

REVERSE sounds are universal. REV will find a home equally amongst producers, composers, artists, etc... anyone looking to push the envelope.
REV is built w/in Kontakt and is installable through Native Instrument's Service Center.