Editor's Note: We've teamed up with Sample Logic and AudioPlugin.Deals to bring you Arpology for a mere $99 (normally $399). That's 75% off and this special offer ends on 4 October 2017 and won't be repeated again here!
Now, we think very highly of Arpology indeed, and firmly believe most of you reading this will appreciate how it can be used musically and for sound design purposes. So, here's a couple of videos showing it in action.
First up is the popular reviewer and musician, trainer and all round-awesome, Matt Vanacoro, who took Arpology for a spin for the first time earlier this week...
Click here to grab Arpology for $99 (75% Off) until 4 October 2017
Arpology by Sample Logic is the first virtual instrument that I know of whose complete and total focus is on arpeggiated and sequenced sounds. The library is filled to the brim with sounds that contain motion both in the arpeggiated sense as well as modulated and effected tones.
Control Freak
The very first thing I noticed about Arpology is that the interface allowed for complete customization of every step in the sequence of a sound. It is completely in the realm of possibility to create a patch with 64 steps, adjust the volume of each step, have each step arpeggiate in a different direction, pan to a different place in the stereo field, utilize a separate gate for the arpeggio, and transpose pitch. It's staggering, and even a little intimidating.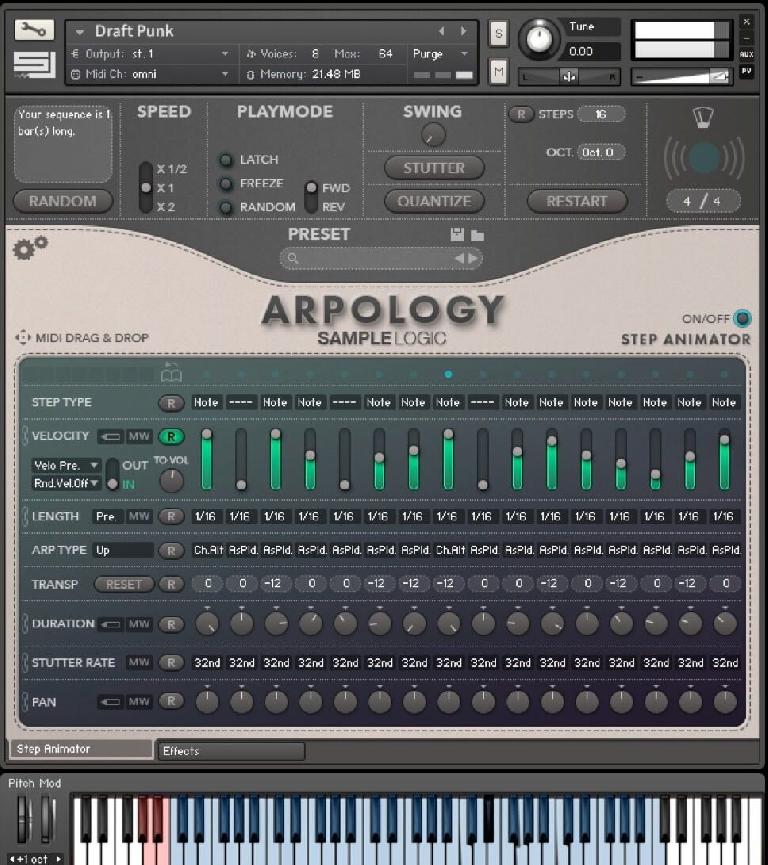 In the Box
Fortunately for all of us, Sample Logic put a lot of thought into the presets, and you don't have to start from 'square one' anywhere. The presets are plentiful, and do a good job running the gamut from standard arps to patches with wild, swirling motion that spans the stereo field. Check out the video above, where I run through a few of the patches and explore some of the options a bit more in depth.
Bonus Features
Another cool thing about Arpology is that you can utilize drag and drop to bring your carefully crafted patterns to other virtual instruments! The step animator will produce MIDI that can be dropped into a track and applied to any other instrument in your project. It's the perfect tool for when you dig the patterns and variations you've created with the animator, but would really like to apply it to, say, Alchemy in Logic or another instrument.
Arpology also integrates with TouchOSC for tablets, so you can load up the template into your iPad and actually get your hands on the instrument. This allows you to utilize Arpology as more of a 'live performance' instrument, and definitely enhances the usability of Arpology. You can adjust parameters with a swipe of your finger in real time..
Multi Core
I've gotten used to Sample Logic being one of the few companies to really make liberal use of the Kontakt Multi architecture, and this instrument is no exception. After playing through the presets, I switched over to the multi bank and my speakers started shaking. Arpology has some multis that use a staggering amount of instances (a testament to its own processor efficiency!) and take up a huge amount of sonic space. You can absolutely punch out a film cue using nothing but an Arpology multi and a few fingers.
I was able to pick up the 'vibe' of Arpology pretty quickly, but it was also clear that with time I could really craft some very specific atmospheres with incredible motion. I'm excited to see Sample Logic develop this engine, and I can't wait to try it out with some of their other instruments (I'm looking at YOU Cinematic Guitars Infinity)!
SPECIAL DEAL: 75% off Arpology (until 4 October 2017) with our friends at AudioPlugin.Deals
Still not convinced? Check out this video from Game and Film Composers - the further you get into this video the more you'll hear some excellent sounds and effects Arpology is capable of creating:
Grab Arpology for $99 (75% Off) until 4 October 2017