Oscillatoscope 2B Converts CV and Audio Into Glorious VGA Visuals
Seeing representations of sound has fascinated music makers and listeners since forever. It's what makes oscilloscopes so seductively hypnotic. Now you can turn CV or audio into VGA visuals with this.
This new oscillatoscope 2b creation by Gijs Gieskes gives you VGA visuals (and audio) from CV and audio. Gijs explains that "it works by changing the frequency of oscillators that are synced to a VGA sync generator. The signal that is generated is output as audio on a mini jack connector, and as video on the VGA connector."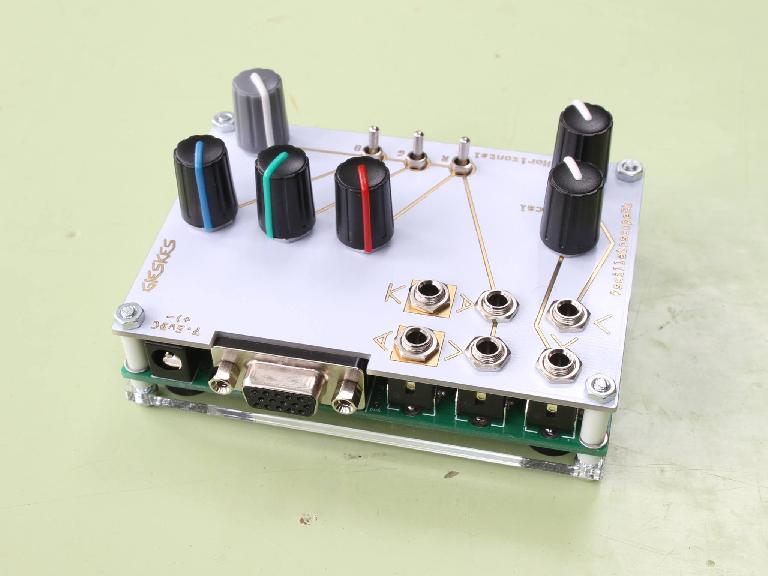 You can buy Oscilloscope 2b in kit form or as a fully assembled unit (no soldering required). Curious about the connections on this cool device? Here you go...
inputs:
cv in for R,G,B pitch (starve)
high gain audio in for R,G,B pitch (starve)
cv in for sync horizontal
cv in for sync vertical
VGA out 640x480 60hz (actual resolution is that of the screen itself, because it is a analog signal)
power in +)- 7.5v DC

outputs:
audio out
vertical sync out
USB 5v out (only for use with VGA to HDMI converter shown in image on my website)
Curious about the controls on the Oscilloscope 2b? Check out the manual on Gijs' website.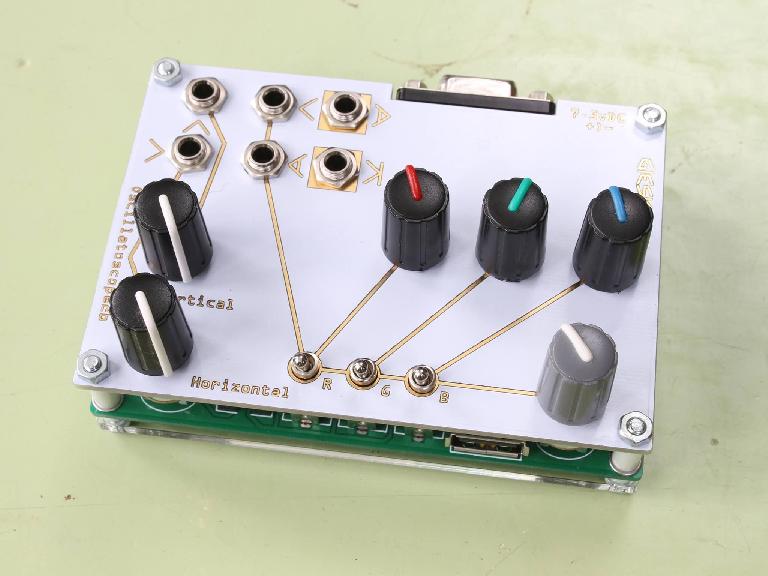 Oscillatoscope 2b is super affordable. See the prices below:
Kit (SMT is already soldered onto the PCB):
(w VAT) 107.69 euro
(w/o VAT) 89 euro
Pre-Built black (power socket topside):
(w VAT) 145.2 euro
(w/o VAT) 120 euro

Pre-Built white (power socket backside):
(w VAT) 157.3 euro
(w/o VAT) 130 euro

Web: http://gieskes.nl/visual-equipment/?file=oscillatoscope2#p2