At Ask.Audio we've got the world's largest online music production & audio skills video course library. It's called The Academy. That's over 1,728 hours of training in 30,287 tutorial videos, with more courses added weekly! And you can have it all for only $99 for a 1 year pass!
[Get a 1 Year Pass for $99 Now]
Inside The Academy
What's in The Academy? Everything audio and music production you can imagine. You can learn complex music production software and techniques that used to cost $1,000s of dollars to learn in universities for a fraction of the cost and at your own pace wherever you are in our Academy.
Here's a small selection of our many categories you'll be find in The Academy:
Ableton Live
Bitwig
Cubase
Electronic Artists Revealed
iZotope
Logic Pro
NI Maschine
NI Komplete
Melodyne
Mixing & Mastering
Music Theory
Pro Tools
Reason
Recording & Studio
Studio One
Synthesis
Sound Design
Waves plugins
Our massive selection of courses take you through from beginner through to advanced levels and there's lots in between.
You can discover more about performing with the latest and greatest hardware controllers, from Ableton Push to Akai Advance, Komplete Kontrol, Maschine, Traktor & more.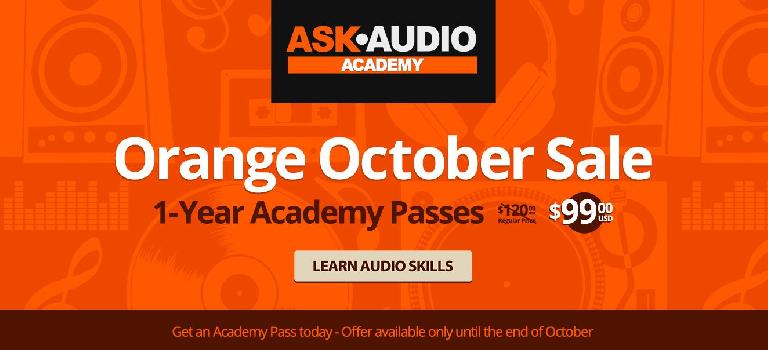 Instant Access
It's all online and you can access your tutorials wherever and whenever you want. The training brought to you by pro experts with years of experience, who know how to teach and make complex, potential head scratching topics fresh and easy to grasp.
Each tutorial is like being in the studio with the trainer showing you their personal tips, tricks and techniques in a bite-sized, easy to digest video.
Normally a 1 year pass to The Academy is $120, but you can have it for just $99!!
This offer ends on November 5, so act soon. For just over $8 a month you can get world-class training to help you become a better music producer, sound designer, recording engineer or DJ.