If you're reading this, then it's likely you've spent a bit more money than most folks on your work computer. Those of us in the music production, video production, composition, and recording world have needs that are incredibly more technical than your typical user who looks at a computer as a window to Facebook. You've spent the money, you picked up a powerhouse of a workstation—now let's talk about how to wring every last drop of performance out of it.
1. Thunderbolt Drives and Displays

Thunderbolt is awesome, isn't it? I mean, come on—it beats the hell out of wrangling with PCI cards and worrying about SCSI bus termination (wait… am I the only old guy around here at AskAudio headquarters?). However, it can be easy and a bit dangerous to look at a technology as simple as a single cable and write it off as 'plug and play'. If you're a producer and you've got a hard drive with thousands of samples, a 4K display, and an editing hard drive all plugged into various Thunderbolt ports… you could run out of data bandwidth quickly. This could present itself as audible clicks/pops in your audio, monitors that don't work right, or hard drives that get miserable speed and take forever to load up samples.
You can avoid these pitfalls by being aware of what bus you're putting things on. If you're working with a Mac Pro, there are actually three completely separate Thunderbolt buses as outlined by the following.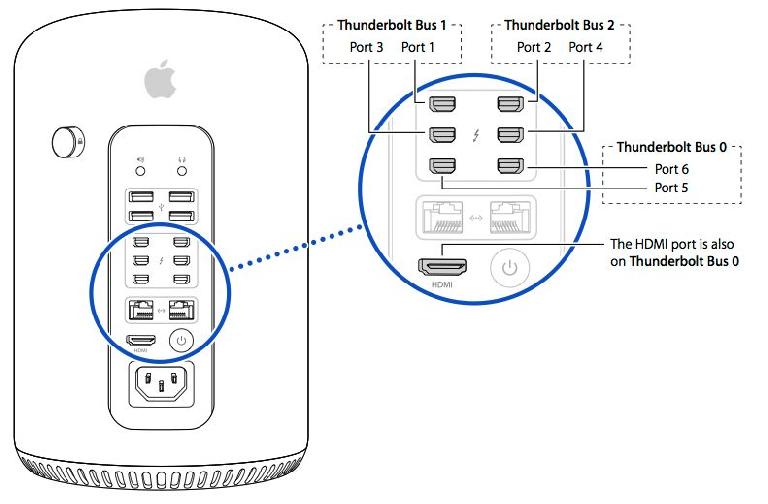 If you've got power-hungry devices or hard drives that you need to have operating at their peak speed, you'll want to separate them onto different buses. Note that the HDMI port even occupies some space on a Thunderbolt bus! It's definitely worth a look before you simply plug things in and assume everything's OK. On my Mac Pro, I've got my 4K display separated from my audio interface, which is also separated from my editing hard drive. Everything runs perfectly, and at the speed I paid for!
2. Hard Drives and RAID
SSD hard drives are now in the affordable range for any audio professional. If you haven't tried one yet, stop being a hipster and get on board. Samples will load incredibly fast, fan noise will disappear, and the weight of the devices you may have to carry around will decrease. If storage space is also at a premium, you'll likely want to RAID together several SSD drives into a bigger unit. You'll need an enclosure for this, and some of the best, quietest, and most reliable drive systems can be snagged from Other World Computing. OWC gives you the flexibility to bring your own drives to their enclosures, or purchase a turnkey solution. I have a Thunderbolt 2 RAID from them that is almost completely silent, has 4 SSD drives inside of it, and routinely tops 1,000 MB/s.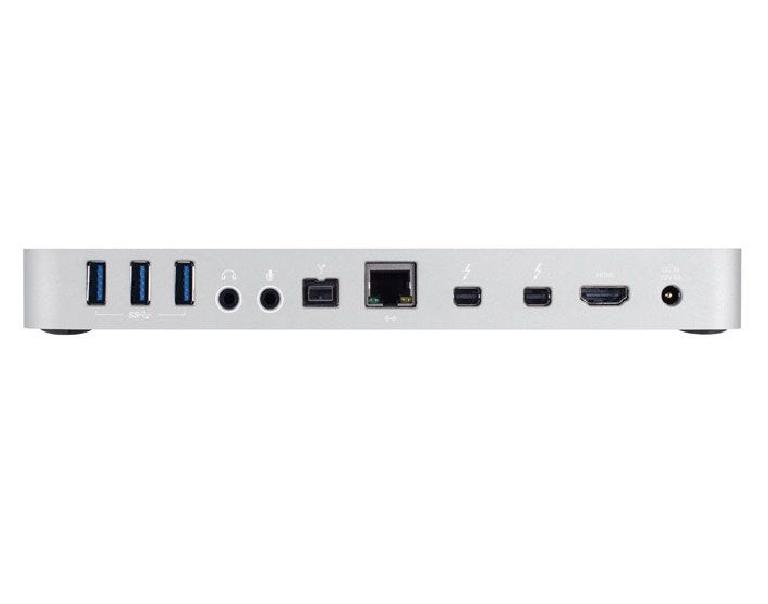 I'm also a fan of their Thunderbolt 2 Dock, which we reviewed earlier this year. I use that dock to extend a whole bunch of ports out to the front of my desk, but it has a secret purpose as well. I plug all of my 'non-mission critical' stuff into it and I know that anything I put in that dock is on a completely separate Thunderbolt bus than any of my 'important stuff'. If I've got a client hard drive, spare audio interface, or network cable to hook up then I know that if I plug it into the OWC dock it isn't going to slow down any of my 'mission critical' devices.
3. All USBs are NOT Created Equal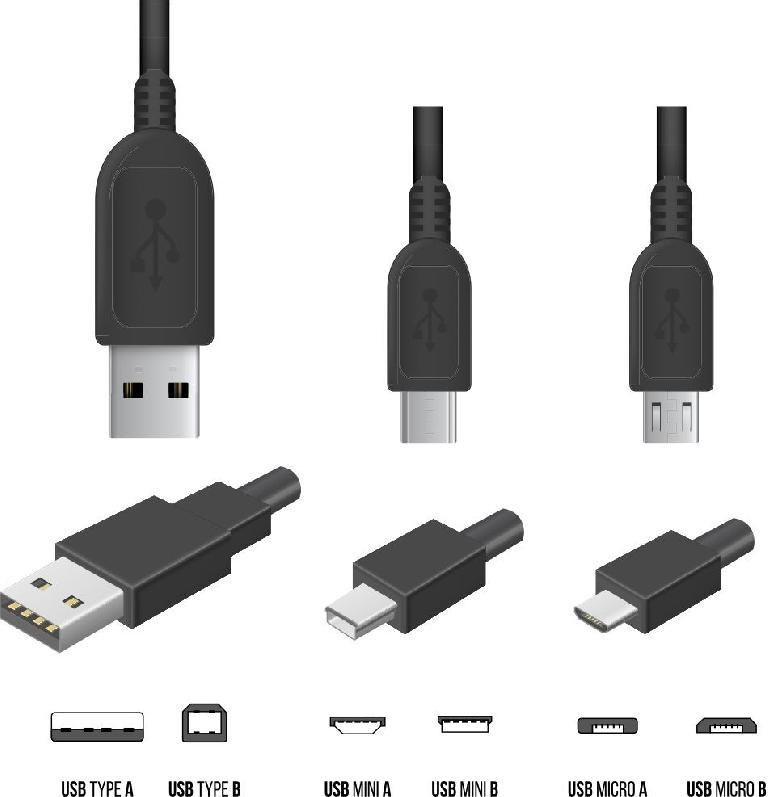 Here's a quick tip that may seem simple, but I'm not exaggerating when I tell you I find this issue pop up in almost every studio I've ever been inside. USB cables are now so ubiquitous that you find them at a corner drugstore (no, really, I bought one at Rite-aid once!). Sometimes we've upgraded our devices so quickly and often that we leave the USB cables they came with plugged into our machines. When was the last time you've done a 'USB-audit'? That blazing fast new Mac or PC you bought probably has USB3 on it, but if you're using the USB cables that came with your original MIDI controller from 2003, then you're probably not getting the best throughput that you can out of your device. Of course, for a MIDI controller which is sending very small amounts of data this isn't a problem (although controllers are getting smarter and pushing way more data these days!), but if you're plugging in a USB3 hard drive with a USB1 cable… well, let's just say you can probably read quite a few chapters of Game of Thrones while you wait for your sample library to load up! Take a look at your cables, make sure each device is matched with the proper USB version it's supposed to be using. You'll avoid incompatibility issues (just because it SAYS it's backwards compatible doesn't actually mean that's true) and you'll gain back some speed on more power-hungry devices.
4. Offloading Plugin Power

If you're a fan of using tons and tons of high-quality plugins, then you might want to consider moving to a plugin system that offloads processing power to your audio interface or external unit. There are many companies that offer this now, but the Universal Audio UAD2 plugin system and suite of audio interfaces/Thunderbolt expanders are most likely the most common choice by industry pros. You can load up EQ after EQ or delay after delay and your computer won't feel even the slightest sting. I've reviewed both the audio interfaces and the standalone effect hosts, and I can tell you confidently that UAD devices are a solid choice for both the beginner and professional alike.
The Future is Now
CPU power isn't really ever going to reach the point where you can run everything on the market all at once. We've been around long enough to know that the minute the fine folks in Silicon Valley announce the newest way to pack more power into a CPU that all the software developers around them start working on the newest way to use every ounce of power it offers. It's a vicious cycle, but it's one that you have to learn to navigate if you want to live in the world of audio, music, and video production!
Learn audio and music production skills, tips & techniques in The Ask.Audio Academy here.