There's something beautiful about randomized synth sounds, where the artist or programmer has put themselves to one side and allowed for synchronicity to take over and design the sounds. Not all randomized sounds are pleasant or desirable, but more often than not, you'll stumble upon sounds that inspire and you'd probably never have intentionally created by yourself.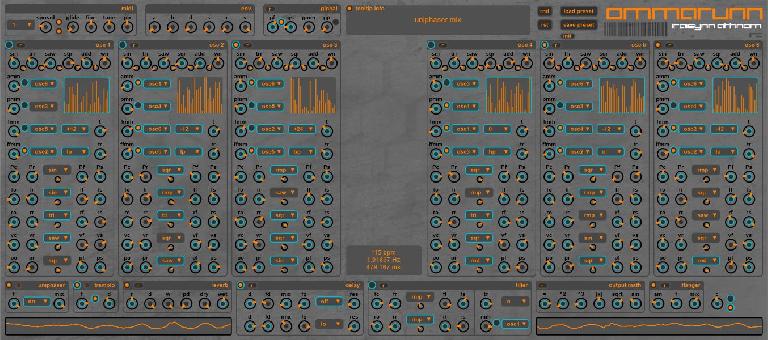 This synth, Ommarunn, could be the new king of sonic happy accidents and discovery. It's a randomizable beast of a synth / sound design tool. Here's what the developer says about it:
"It offers frequency modulation, amplitude (ring) modulation, phase modulation, additive and subtractive synthesis techniques, all at the same time. It has 6 filtered oscillators modulated by 32 LFOs.
"ommarunn does not rely on presets. It is completely randomizable and produces very complex and unique sounds at the push of a button."
Ommarunn Features:
6 oscillators.
32 LFOs.
uniphaser unit.
flanger unit.
tremolo unit.
compression.
delay unit.
reverb unit.
modulated post filter unit.
output math unit.
unison and monophonic / polyphonic modes.
randomization algorithms for global or per unit parameter randomization.
Fully automatable controls.
Preset saving and loading.
Loudness protection / auto-gain function (no signal will be too loud or too quiet).
Full SSE and SSE2 support.
You can download a demo... (mutes for one second every 33 seconds) to try it out or buy it for a reasonable €25 EUR.
Bad news for Mac users... yes, you guessed it, ommarunn is 32bit windows VST plug-in / standalone only.
Download the demo: https://iraisynn.attinom.net/demos/ommarunn.zip